Lagos Mob Sets Alleged Car Thief Ablaze
A suspected thief who was caught stealing a brain box from a car this morning, August 19, was reportedly beaten and set ablaze by an angry mob in Apapa area of Lagos state.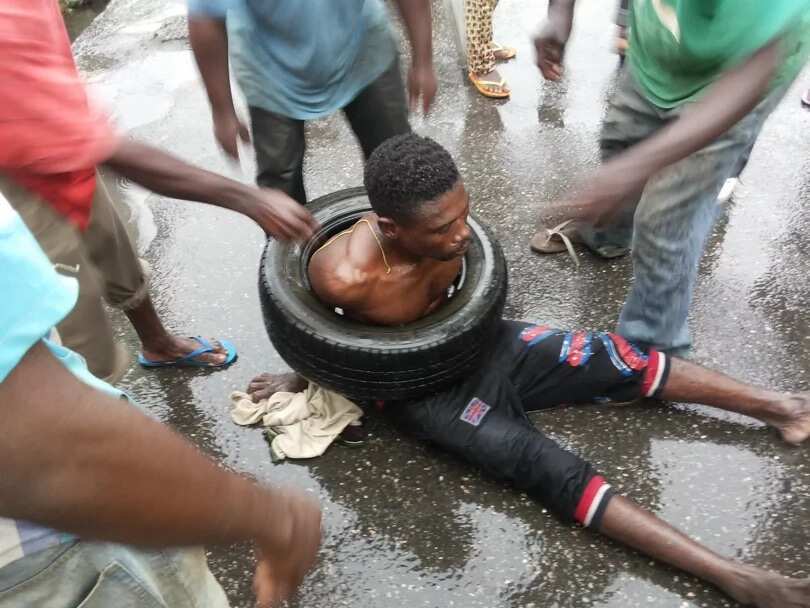 The unfortunate incident took place at Isikalu street junction, Olodi-Apapa, when the young man was allegedly caught breaking into a car.
According to Pulse, the suspect was nabbed around 4am by some residents. After beating him thoroughly, he was tied down till about 6am until other residents woke up and met him.
The angry mob immediately set him on fire, ignoring suggestions that he should be handed over to the police, with some believing that he would be set free by the law enforcement officers.
READ ALSO: See What Happened To Alleged Thief Caught In Ikeja
[article_adwert]
An eyewitness at the scene said the youth brought used tyres, petrol and a match box with which they used to burn the suspect, causing traffic jam in the area.
"People in the area are not happy about how the brain boxes of their vehicles usually develop wings overnight. Many vehicles in the area have been vandalised and many of the parts removed," he said.
Meanwhile, a 27-year-old robbery suspect identified as Ahmed Rewanu has alleged that the police arrested him with the aid of charm because he was caught by surprise, with no option for escape.
Source: Legit.ng