How Comedian Akpororo Proposed To Girlfriend
The fast-rising comedian, Akpororo, who just bagged millions from the Telecommunications giant Airtel, is set to join his married colleagues in the industry.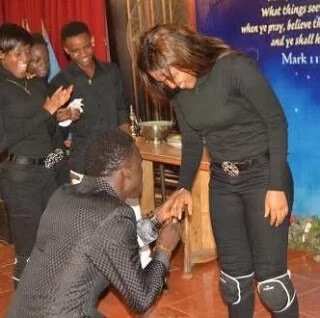 The comedian cum singer on Sunday, August 1, proposed to his longtime girlfriend Josephine, during a church service.
READ ALSO: Telecoms Giant Unveils New Ambassadors
A close friend of the comedian, who narrated the proposal story, disclosed that Akpororo and his girlfriend attend the same church, Ultimate Power Ministry.
"The life changing anointing service did not come to an end without entertainment infused in between as some of house of the finest comedians trilled the congregation with unending laughter! The comedians at the service include, Shortfamily, Laffdoctor, Wiseone and Ovie (The generous). Akpororo was not left out as he cracked jokes and also performed four of his songs from his album. His joy knew no bound as he sang and danced as never before, nobody knew what his plans was.
However, somewhere in the middle of the whole activities, the comedian was no-where to be found. Just as the pastor was rounding off the closing prayer, four children walked up to the altar with each of them carrying a cardboard paper, and when they got to the middle, they all turned to face the congregation as they open the cardboard paper with "WILL YOU MARY ME" boldly written on it. The whole church thought it was a joke; still, Akpororo was no-where around. At that point, the Bishop in-charge of Ultimate Power Ministry, Bishop Isreal Mathew, walked up and said, "One of my sons is asking someone here this question".
READ ALSO: Celebrities To Fight Malaria With Charity Match
Just then, AKPORORO walked up to the altar and knelt down in front of Jossy or Josephine (the only light skinned lady among the Explicit Dance Crew) and popped the one million dollar question, "Will you marry me"? with tears and smile of joy, Josephine said, "YES!"
However, all efforts to speak to the comedian Akpororo proved abortive.
Source: Legit.ng