President Buhari Vaccinates A Grandchild Against Polio
President Muhammadu Buhari personally vaccinated one of his grandchildren against polio in Abuja on Saturday, July 25, 2015, to show commitment in eradicating the deadly virus in Nigeria.
According to Femi Adesina, a presidential special adviser on media and publicity, the action demonstrated safety and efficiency of the vaccine as well.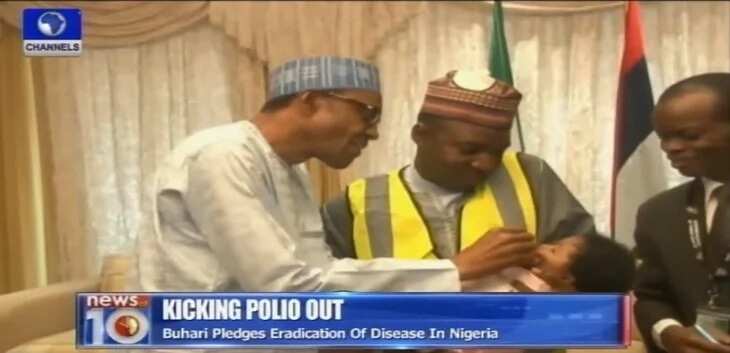 During his speech President Buhari declared that his administration will do all within its powers to ensure that no Nigerian child is ever infected with polio again:
"Today, 25 of July, 2015, Nigeria has successfully completed one year without any case reported of the wild polio virus.
"Achieving this feat has placed us firmly on the path to eradicating this paralyzing disease from our land.
"I seize this opportunity to call on governors, our traditional and religious leaders, the private sector and our mothers and fathers to redouble their efforts to ensure that every child and every new-born baby is vaccinated with the polio vaccine and other life saving routine vaccines," President Buhari said.
He further thanked all the Nigerians and foreign partners who have support the country's polio eradication programme in several ways.
Polio cannot be cured, but can be prevented by vaccination.
Nigeria's successful completion of one year without any reported case of the wild polio virus is not enough to declare the country as 'polio-free'. This is possible by 2017 only.
Source: Legit.ng