News filtering in say students of the University of Benin in Edo State, South-south Nigeria have laid siege to the Benin-Lagos expressway in protest of the death of two students allegedly knocked down by an Army patrol vehicle.
President of the Student Union Government, Comrade Omorogbe, demanded an overhead pedestrian bridge and a speed breaker on the expressway to avoid such occurrences.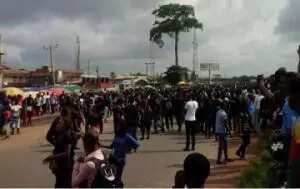 The students said the families of the victims must be compensated within seven days or risk another protest while also asking the state government to build an overhead bridge within a year.
Travelers cannot move on the expressway as students demand the relevant authorities come to their attention.
Meanwhile Dean of Student Affairs, Professor Francis Osagiede, begged the students to end the protest promising the chool will look into their demands.
See PHOTOS below: