There Is No Rift Between Buhari And Tinubu - Presidency
The Presidency has denied claims of any rift between leader of the All Progressives Congress (APC) Asiwaju Bola Ahmed Tinubu and President Muhammadu Buhari over the leadership crisis rocking the National Assembly.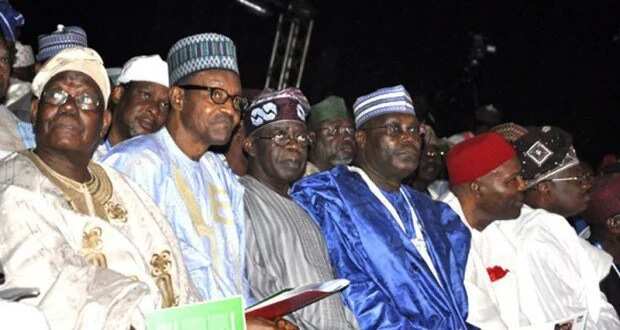 The Presidency described the emergence of Senator Ike Ekweremadu as Deputy Senate President with majority of APC members in the senate as "unfortunate".
It was gathered that the party's leaders are working closely with the president to deliver his electoral directive to the people.
READ ALSO: Buhari To Stay Away From Nass Crisis- Presidency
According to the Senior Special Adviser to the President on Media, Mallam Garba Shehu, the challenge before the key leaders of the APC is more than the leadership tussle in the National Assembly as they have regular meetings to discuss how to meet the expectations of Nigerians.
According to The Nation, Shehu, said the idea by some people that the president is slow in effecting change is misplaced.
He said Buhari had been busy working out an action plan that would include "taming the monster of corruption, assets recovery and making the power sector functional".
Shehu said there is absolutely no rift between President Buhari and Tinubu.
"The President maintains excellent relationship with his friends and who are these people? They include Baba Bisi Akande, one of the most respected individuals that you see around the President; Asiwaju Bola Tinubu who, a week or so ago, was in Aso Rock and had a hilarious discussion with the President. Just two days ago, they were inquiring about former Vice President Atiku Abubakar to attend the Ramadan breakfast. The President keeps his friends," he said.
READ ALSO: Buhari Avoids Meeting With Saraki - Sources
The Senior Special Adviser to the President on Media, noted that the government's strategy in the fight against Boko Haram is reaping positive results despite an increase in the attacks on soft targets by the insurgents.
Shehu said Buhari will not meddle in the ongoing crisis rocking the National Assembly following the emergence of Senator Bukola Saraki as Senate President and Yakubu Dogara as Speaker of the House of Representatives, contrary to the wishes of the party's leadership.
Meanwhile, President Buhari has reportedly refused series of moves by the Senate President, Bukola Saraki to meet with him.
Source: Legit.ng