President Muhammadu Buhari and Vice President Yemi Osinbajo have announced that they will take only 50% of the salaries that were approved by the Revenue Mobilisation Allocation and Fiscal Commission (RMAFC).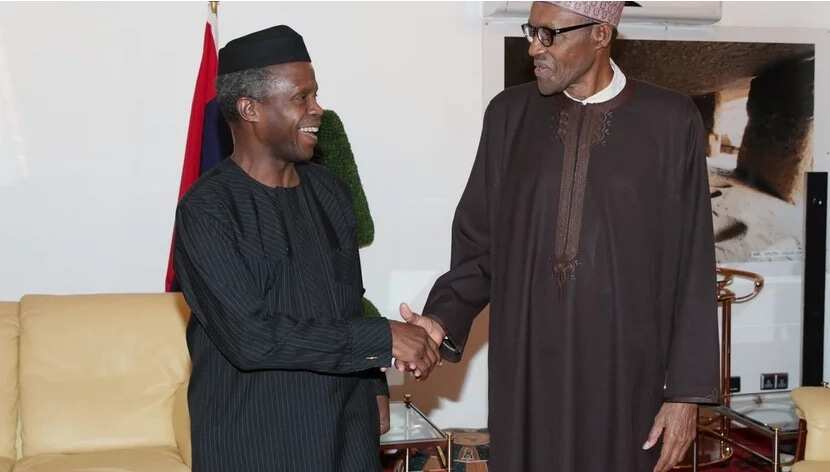 The decision of the president and vice president was contained in a statement made available by the senior Special assistant to the president on media and publicity, Mallam Garba Shehu.
According to The Punch, Buhari's current annual remuneration as approved by RMAFC is N14,058,820.00.
READ ALSO: Buhari Orders Demolition Of Military Checkpoints 
But now he will earn N7m per year throughout his four-year tenure.
Shehu said the president's decision to slash his salary by half had been sent to the office of the secretary to the government of the federation today by the permanent secretary of the State House, Nebolisa Emodi.
"I write to forward the completed IPPIS registration form of Mr. President and to draw your kind attention to Mr. President's directive that only 50% of his salary be paid to him," the presidential spokesman quoted Emodi as writing in the letter with reference number PRES/81/SGF/17."
According to Shehu, Osinbajo has similarly given up half of his official pay.
READ ALSO: PMB To Calm Tinubu With More Ministerial Positions?
In a telephone interview with The Punch, Shehu said Buhari by his action was sending a clear message to Nigerians on the need to make sacrifices for the nation.
In a another development, President Buhari on Wednesday turned down an offer by the federal government to procure five new armoured Mercedes Benz S-600 (V222) cars for his use.