Brave Nigerian naval officer Seaman Amaseimogha Paul ensured he died alone after noticing landmine while fighting Boko Haram insurgents in Borno state.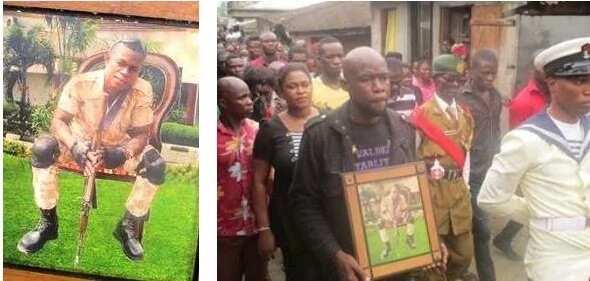 Paul who hails from Bayelsa, was posted to Borno state to fight Boko Haram. While he stepping on a landmine he told his colleagues to stay far away from the area while he tried to diffuse the explosive.
READ ALSO: Last Words Of A Nigerian Fallen Army Hero
His touching story was shared by his colleague, Okunima Patrick, below:
"You weren't the first Naval personnel to die in the battle against insurgency, but the special thing about your death is that when you stepped on a landmine, you knew death was unavoidable (considering our present level of technology, training and other factors I wouldn't want to mention), so you alerted your colleagues to steer clear as far as they could go, away from the mine, before detonating the explosive. What an act of bravery?
"All those whom you have saved will forever remain in your debt. Those of us who were not in the battle field with you also appreciate your gesture. It's only in the movies we find a soldier with your kind of heart."
READ ALSO: A Patriotic Hero Falls To Boko Haram
At the burial colleagues and relatives of Amaseimogha couldn't betray emotions as they broke down in tears.
Amaseimogha, who was killed in the battlefield, was buried according to the tradition of the Nigerian Navy.