NASS Top Posts: Saraki Rejects APC's Recommendations
The ongoing crisis at the National Assembly witnessed a further dip as the senate president, Bukola Saraki reportedly rejected moves by some All Progressives Congress (APC) senators to read a letter of recommendation from the party leaders.
According to Premium Times, some senators had Wednesday, made the move to read the letter, recommending some senators for specific principal posts in the Nigerian senate, but Saraki, a former governor of Kwara state, only 'noted' the letter as he ruled it out order.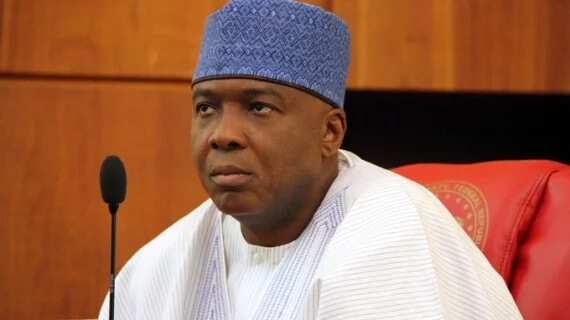 READ ALSO: Saraki Ignores APC Chooses PDP Man
John Odigie-Oyegun, national chairman of the APC had in a letter dated June 23, recommended senators Ahmed Lawan as senate leader; George Akume as deputy senate leader; Olusola Adeyeye as chief whip; and Abu Ibrahim as deputy whip.
And in his submission, senator Gbenga Ashafa representing Lagos-east, who relied on Order 15 of the Senate Standing Order, appealed to the president of the senate to allow him read on the floor of the chamber, the letter from the party.
He said: "yesterday (Tuesday), most of the media houses carried a letter that was written by the chairman of our great party, the APC.
"We were expecting that that letter which has been received in your office will be read in order to see to the resolution of the party's leadership tussle."
READ ALSO: APC Governors Want National Chairman Sacked
The senator, while quoting from Order 28 (1), stated further: "there shall be a Majority Leader of the Senate. The Majority Leader shall be a senator nominated from the party with the highest number of senators.
"I believe that that letter should have been read to the hearing of all senators here present. Perhaps that will be the solution to the leadership tussle in the Senate."
But the senate president, who presided over plenary, ruled Mr. Ashafa out of order and declined to read the said letter, saying: "I have listened to Senators Ashafa and Na'Allah. Going by the rules and what has been said earlier, I think I will just note what Senator Ashafa has said.
"We will leave the matter as that and in that case, rule that out of order."
As the challenge of seeking to unite the party members in the senate lingers, the APC governors have also called on president Muhammadu Buhari to wade into the issue and save the party from falling.
Source: Legit.ng