Are You Really Ready For Ramadan?
Editor's Note: This article asked a critical question that is meant to be answered by all Muslims fasting during this Ramadan month: How prepared are you physically, socially and mentally?
This article expresses opinion of  Oladele Hakeem. The views and opinions expressed here do not necessarily represent those of Legit.ng.
A large number of the over one billion Muslims across the globe welcomes the blessed month of Ramadan yet once again. A month that is accorded so much honour among the followers of Islam and even non-Muslims.
A month that signifies a lot to Muslims in terms of reshaping their thoughts and deeds. It is a month that congregational members who hardly say the five daily prayers become consistent with the five daily prayers and the mosques over-fill with known and unknown faces.
It is a month Muslims abstain from eating, drinking, sexual relationship and other acts that vitiate Ramadan fast between fajr and maghrib.
However, the pertinent question that should be asked is that are you really ready for Ramadan fast?
READ ALSO: Sultan Announces The Start Of Ramadan
To some Muslims, Ramadan fast to them is like a bolt from the blues. It creates so much fear in their minds that they do wish that the month should come once in ten years and not in a year as it is or even for the month to be once in their lifetime. Their hearts pound hard against their ribcage when they hear and see announcements regarding the commencement of Ramadan both in the electronic and print media.
One of the reasons also for this unnecessary fear is that these sets of Muslims do not want to do away with acts like drug/alcohol abuse, illicit sex and other vices. Although, it is never easy abstaining from what a person has been doing consistently for 11 months, but a combination of god consciousness and self restraint are the major ingredients needed to prepare for Ramadan fast right before someone starts fasting.
READ ALSO: How Muslims Can Manage Their Time
It is incumbent on every Muslim that has gotten to the age of puberty to know that Ramadan fast is obligatory on him if he has no adverse medical issues or any other thing that could excuse him from fasting.
The role of God consciousness or simply piety before the commencement of Ramadan fast is revealed by Allah in chapter 2 verse 183 in the glorious Qur'an as follows: "O ye who believe, fasting is made compulsory on you all as it has been made obligatory upon the generations before you, so that you all will be god conscious."
Going through a whole month without eating or drinking or having legitimate sexual intercourse at specific time of the day is never easy. However, passing this test of Ramadan fast comes from self restraint.
People of earlier times and some of their prophets also prepared for fasting and also fasted. Some of the men of God of old got to their esteemed positions because of God consciousness and self restraint in them before they were assigned to preach the messages of oneness of Allah to their people.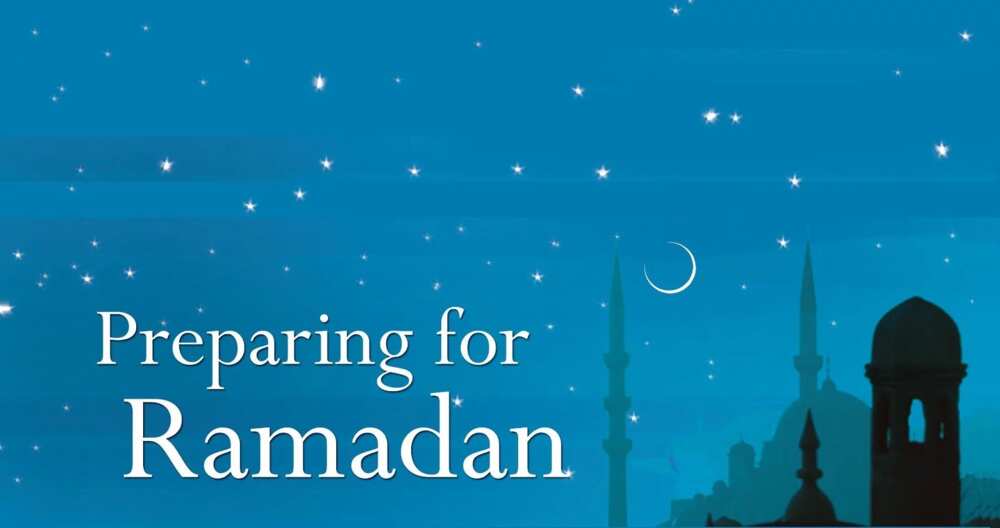 Likewise, fasting brought them closer to Allah. Examples include Jesus Christ who prepared with piety and self restraint and fasted for 30 days before he passed the three temptation tests of the devil; Moses fasted for 40 days before he was handed the tablets containing the 10 commandments and David with his own unique way of fasting where he fasted for a day, ate and drank the subsequent day and continued in this way for the rest of his life.
According to Abu Huraira (Allah be pleased with him) in a Hadith in Sahih Bukhari said that Prophet Muhammad (peace be upon his soul) said that: "whoever does not give up lying speech, that is false statements and acting on lies and evil actions, etc, Allah will not accept his Ramadan fast." This Hadith shows why some Muslims are ill-prepared and not ready for Ramadan fast because they find self-restraint difficult to practice.
Furthermore, the companions of prophet Muhammad (Allah be pleased with them) prepared themselves six months earlier before Ramadan fast started. This provided them with ample opportunities for thorough preparation thereby making them to welcome Ramadan fast with so much joy. This should serve as a big lesson to Muslims who still see fasting as a herculean task.
Preparing for Ramadan fast goes beyond not eating or drinking or abstinence from sexual intimacies during the day. It goes beyond filling the food store with various forms of assorted food items. It is about knowing that someone's Ramadan fast might be an exercise in futility if such a person does not stop telling lies or harbour ulterior motives towards his fellow human beings prior to the commencement of Ramadan.
Preparing for Ramadan fast is about eschewing hatred and acrimony towards our neighbours. It is about doing away with classism, tribalism, religious intolerance, nepotism and all shades of evils, crimes and sins. It is about the Muslims showing love and radiating kindness towards other people irrespective of what they profess.
Source: Legit