Chief Olabode George the former deputy chairman of the Peoples Democratic Party, has challenged the national leader of the All Progressives Congress (APC) Asiwaju Bola Ahmed Tinubu to a war of political ideologies.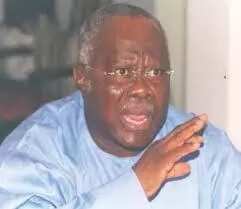 The PDP chieftain in an earlier dialogue had accused the national leader of the All Progressives Congress (APC) Asiwaju Bola Ahmed Tinubu of playing primitive and dictatorial politics. He had also described Chief Bisi Akande as being naive over his comment on the zoning of political offices among the six geopolitical zones.
Akande went on to further stress that zoning was not part of APC's programme but an agenda of the Peoples Democratic Party(PDP).
This he made clear while speaking on the crisis that erupted from the National Assembly leadership elections which produced Bukola Saraki as Senate President and Yakubu Dogara as Reps Speaker, George said that he was happy that all the geopolitical zones had got all the principal offices.
He went on to say that: "The six geopolitical zones have come to stay. Anybody that disregards this does so at his own peril. I remember that in the 1950s, when Chief Obafemi Awolowo and others went for the constitutional conference, the suggestion of Papa (Awolowo) and the Action Group was that there should be six geopolitical zones."
Buttressing his point he added that there should be a North-East and a North-West in which the minorities within the zone would be placed into the North-Central.
Then a South-East and South-West where the minorities will fall into the South-South.
READ ALSO: 7 Priority Areas For 8th National Assembly
Chief Bode ensured to affirm that this was the concept upon which the PDP had operated, he stated categorically that this is the ideology that has sustained our democracy in last 16 years.
He further explained that according to the PDP's style, the President, the Vice-President, the Senate President, the Speaker of the House of Representatives, the Secretary to the Government of the Federation and the National Chairman of the party must reflect the six geopolitical zones.
In conclusion he made it clear that he was happy all the geopolitical zones got principal offices.
"North-West got President, South-West got Vice-President, North-Central got Senate President, North-East got Speaker of the House of Representatives, South-South has APC national chairman and the South-East will get the SGF by all indication. Doesn't that augur well for the unity of this country? You see, Nigeria is not a natural country, it is a forced union by the British and not a union willingly entered into by the people, therefore there is no united culture. Therefore, zoning is here to stay."Nigeria is Africa's biggest oil producer and its largest economy, yet many Nigerians do not feel the benefits with nearly half the population living below the poverty line.
The question remains, just like Bode George claims, is zoning the solution?