Nigeria is Africa's biggest oil producer and its largest economy, yet many Nigerians do not feel the benefits with nearly half the population living below the poverty line.
The general feeling is that Nigeria's economy is growing but the wealth is not being spread around. Continued corruption, failed institutions and misgovernance are seen as partly to blame.
Since 1999, Nigeria's attempt at constitutional, electoral, anti-corruption, judicial, health, power, federal structure, security and oil and gas reforms have suffered, largely due to political drawbacks.
President Muhammadu Buhari proposed reforms in governance, economy and security sectors will require legislative approval from the newly inaugurated 8th National Assembly which is led by Buhari's political party ilk - the Senate president, Bukola Saraki, and the Speaker of the House of Representatives, Yakubu Dogara of the All Progressive Congress (APC), - but backed by the opposition Peoples Democratic Party (PDP).
Monitors says having opponents in powerful positions in the legislature will not make Buhari's job any easier.
READ ALSO: 5 Reasons Why Saraki And Ekwremadu Partnership Won't Last
Meanwhile, Buhari has expressed readiness to work with Saraki and Dogara.
Saraki said the new Senate would make laws that would reform the oil sector, the security systems, diversify our economy, create jobs and make doing business in Nigeria more competitive.
Dogara said the 8th House will wage a "mortal combat with the cancer of corruption, incompetence, insecurity, bad governance and infrastructural decay. We shall wage an unrelenting legislative war on insecurity, unemployment, poverty, lack of power supply, educational inadequacies, health problems and social decay." He also promised to work in harmony with Buhari's administration and the Senate to bring about the "change" voted for by Nigerians in the last general elections.
1. Petroleum industry bill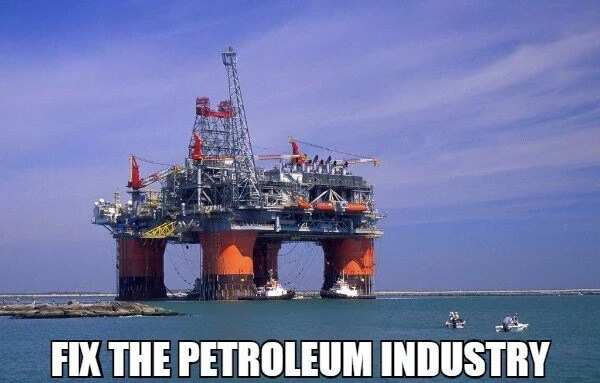 The immediate past 7th National Assembly failed to pass the controversial Petroleum Industry Bill (PIB), a re-occurring development that have greeted past assemblies which have failed to pass the bill since its introduction in 2008.
The Nigerian Civil Society Situation Room comprising more than 60 civic organisations on Monday tasked the newly inaugurated 8th National Assembly to pass the PIB and other critical outstanding Bills from the past 7th Assembly within 12 months.
Convener of the civic organisations coalition and Executive Director, Policy and Legal Advocacy Centre, Clement Nwankwo made the call in Abuja during a courtesy visit to the newly elected Speaker, House of Representatives, Yakubu Dogara.
Dogara assured speedy passage of the PIB and other priority Bills by the 8th Assembly.
"On the issue of pending Bills, we recently amended the rules of the House to provide for a situation whereby those [outstanding] Bills will not commence denovo.
"As soon as we start legislative business, we are going to prepare a compendium of all those Bills that we consider critical as quickly as possible for onward transmission to the President for assent," Dogara said.
2. Forgotten probes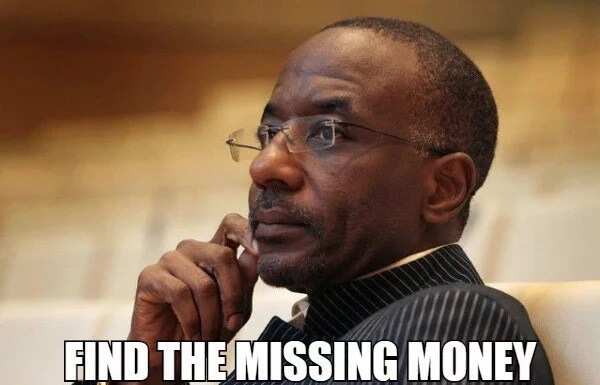 Nigerians expect the 8th National Assembly to continue probe of missing monies from the country's federation account as well as alleged fraud in some government sanctioned contracts, agreements and other transactions.
Last year, a former governor of the Central Bank of Nigeria, Lamido Sanusi, accused the Nigerian National Petroleum Company (NNPC) of failing to account for $20bn in oil revenues. Months after, Sanusi was suspended.
Sanusi (now the Emir of Kano) accused the NNPC of failing to explain missing funds, a claim which the NNPC disputed with some documents. Sanusi also called for a parliamentary probe to find out why Nigeria's Excess Crude Account had fallen from $11.5bn to under $2.5bn in a year – arguing that Nigeria's savings are a vital buffer against any drop in the global oil price and without this "rainy day" account, the economy is vulnerable and exposed.
A government-appointed auditor, PricewaterhouseCoopers, ordered the NNPC to refund $1.48 billion (about N248.6 billion Naira) to the federation account.
In 2012, the House of Representatives debated a report which revealed that $6bn has been defrauded from the fuel subsidy fund in the past two years.
READ ALSO: NNPC Can't Name All Their Accounts – Buhari
The lawmaker who headed the fuel subsidy probe, Farouk Lawan, was charged with corruption after a video showing him collect bribe from one of an indicted oil dealer leaked.
The 205-page parliamentary report uncovers a long list of alleged wrongdoings involving oil retailers and the NNPC. According to the report, a total of 15 fuel importers collected more than $300m two years ago without importing any fuel, while more than 100 oil marketers collected the same amount of money on several occasions.
The fuel subsidy fund report was abandoned after Lawan's bribery allegation broke.
In November 2013, the Socio-Economic Rights and Accountability Project (SERAP) petitioned the Independent Corrupt Practices and Other Related Offences Commission (ICPC), urging them to investigate alleged shortfall in the remittance of accrued funds for the Subsidy Reinvestment and Empowerment Programme (SURE-P) projects.
SERAP's call was made after a Senate probe alleged that over N500 billion SURE-P funds from January 2012 to September 2013 was missing. The scandal reportedly led to the resignation of then SURE-P Chairman, Christopher Kolade. The matter remains unresolved.
3. N195bn pension fraud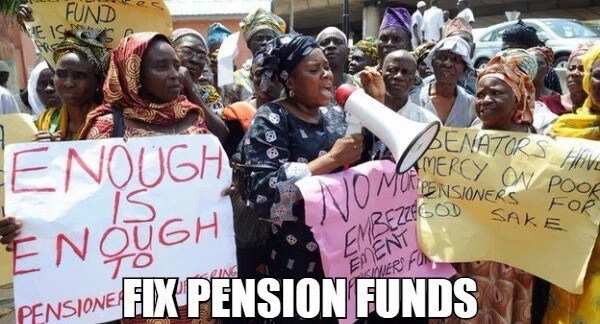 It is believed the head of the defunct Presidential Task Team on Pension Reforms, Abdulrasheed Maina, misappropriated billions of naira worth of pension funds, which he claimed to have recovered from pension thieves. The Senate committee probing pension funds management accused him of mopping up pension funds from banks and depositing the money in his private accounts.
According to the committee, this mopping of such funds had made it impossible to pay thousands of pensioners across the country for months. When he was summoned to appear and clear the air on the committee's findings, Alhaji Maina instituted a N1.5bn case against the senate and the Inspector General of Police. Although the presidency had initially insisted that only the head of service could sack Maina, it subsequently changed its tone and ordered that disciplinary action should be taken against him for absconding from his duty post without permission. The probe was not concluded by the 7th Assembly.
4. Oil prospecting licence 245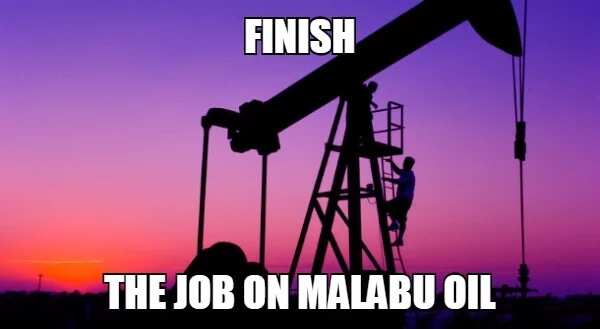 Oil Prospecting Licence (OPL) 245 is estimated to hold up to 9.23 billion barrels of crude oil, equivalent to nearly one-quarter of Nigeria's total proven reserves, according to industry figures.
Proceeds from the oil well is said to be capable of servicing the country's debt for the next 30 years.
Police in the UK and magistrates in Italy are now formally investigating the OPL 245 sale, following allegations of bribery and round tripping of sale proceeds that has trailed the deal.
London-based anti-corruption campaign group, Global Witness, has been at the forefront of an international campaign to expose the illegal dealings surrounding the OPL 245 and have sought to bring parties connected to the contentious sale and bribes to book.
Shell and ENI deny any illegal conduct compared to the copious attention given to the OPL 245 deal by the international community, there is perceptible government aloofness from the now tainted deal in the country.
READ ALSO: OPINION: Nigerians Will See Fuel For N40 Per Litre If…
During the regime of late military dictator, Sani Abacha, the OPL 245 concession was originally awarded in 1998 by the then Nigerian oil minister, Dan Etete, to Malabu Oil and Gas, a company that he set up and owns . In effect, Etete awarded one of Nigeria's most lucrative oil blocks to himself.
The deal effectively converted into money, an asset that had been acquired by Malabu Oil and Gas in highly suspicious, possibly illegal, circumstances.
In 2011, Shell and ENI paid $1.1 billion, plus a signature bonus of $210 million, to the Nigerian government for the concession. In a back-to-back deal negotiated by the country's attorney-general of the federation and minister of Justice, Mr Mohammed Adoke (SAN), the Nigerian government then undertook to transfer $1.1 billion to Etete's company, Malabu.
Shell and ENI deny paying any money to Malabu Oil and Gas but they were aware and in agreement that the deal was for the benefit of Malabu.
Etete, who was convicted for money laundering in France, claimed in a British court in 2013 that people close to former president, Chief Olusegun Obasanjo, demanded a slice of the oil block as bribe.
5. Fuel subsidy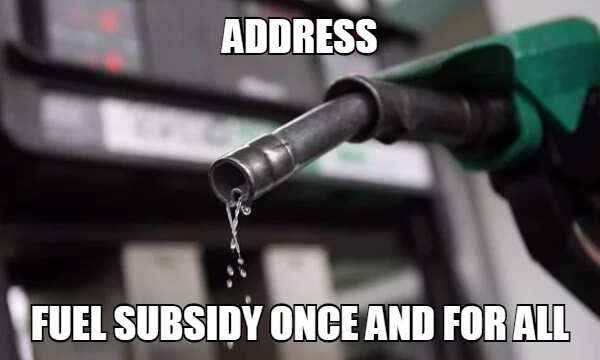 President Muhammadu Buhari has not made clear his plans on fuel subsidy. For economic reasons, monitors have questioned the practicality of retaining the tainted subsidy regime.
Past governments have tried to remove the fuel subsidy but have backed down in the face of widespread public protests, and reduced it instead. There were protests nationwide when President Goodluck Jonathan's administration attempted to remove fuel subsidy in 2012.
The steep drop in world oil prices would have cushioned consumers from any withdrawal of subsidies, but petrol prices would still jump by roughly 30% if the current capped price of 87 naira per litre is allowed to move closer to the 115 it would cost without the government support.
Additionally, as subsidies cover the difference between the capped price and the cost to buy the fuel on the international market, marketers worry Nigeria could end the payments without letting capped prices rise, leaving them to shoulder the potentially sizeable price difference.
Tuesday, May 5, 2015, the House of Representatives rejected a motion seeking the removal of the tainted fuel subsidy regime by the incoming Muhammadu Buhari administration.
READ ALSO: Nigeria Lost $32 Billion Due to Fuel Subsidy Fraud – Saraki
The motion entitled: "The recurring crisis of fuel subsidy", was sponsored by Hon. Sunday Karimi (Kogi/PDP) .
Karimi called for a "permanent solution" to the lingering nationwide fuel scarcities while urging the Buhari administration to "muster the necessary political will" to end the fuel subsidy regime.
A total of N145 billion subsidy component were embedded in the 2015 Budget which the House passed on Thursday, April 23, 2015. These were made up of N100 billion for subsidy on Premium Motor Spirit (PMS) popularly known as petrol, and N45billion for kerosene .
Nigeria relies on oil exports for 80% of its revenue and has already burned through half of its borrowing allowance this year.
It could follow Angola and Indonesia in cutting expensive subsidies, but with crude prices now edging back up after last year's slump, the most ideal moment may well have passed.
"The time to cut was January/February, when oil prices were so low," said Stanislas Drochon, a director of Africa oil and gas with IHS. "That was really a missed opportunity, but it's not too late."
Nigeria is Africa's biggest oil producer exporting around two million barrels per day of crude, but imports refined petrol. Inadequate refineries, years of mismanagement and corruption has made Nigeria almost wholly reliant on imports for the 40 million litres per day of petrol it consumes.
The effort is expensive, accounting for an average of 2.5 per cent its gross domestic product from 2006-2012, according to the IMF. The government set aside 914 billion naira ($4.6 billion) for it in 2014.
Critics say the subsidies are not only inefficient but open to abuse by corrupt operators.
6. Constitutional review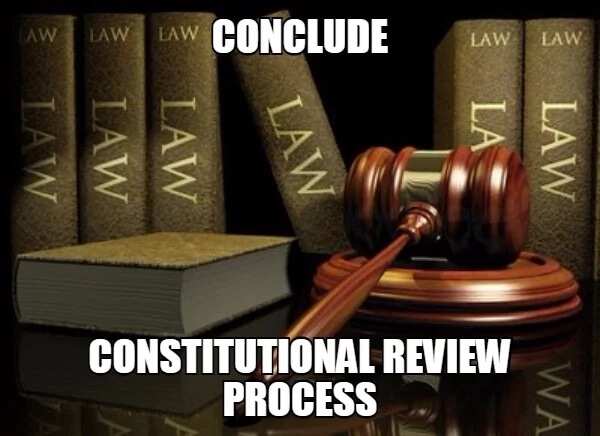 In April, former President Goodluck Jonathan rejected multiple proposals laid out by the National Assembly as part of a new Nigerian Constitution, including clauses stipulating free education and healthcare for every Nigerian child.
Jonathan said he could not sign the new proposals into law, as expected of him to conclude the Constitution Amendment process, due to irregularities and an attempt by the lawmakers to violate the doctrine of Separation of Powers.
The former president said a proposed clause to give free education and health to Nigerians, cannot stand as presently proposed as the lawmakers failed to state clearly that such privileges could only be accessed from a government school or hospital, respectively.
Jonathan also said he could not sign a proposal seeking to dispense with the president's consent in future Constitution Amendments, until the Senate and the House of Representatives provide "credible evidence" showing the plan was approved by the required number of federal and state lawmakers.
It is unclear what move the 8th National Assembly will take in respect of the constitution amendments.
7. Legislative independence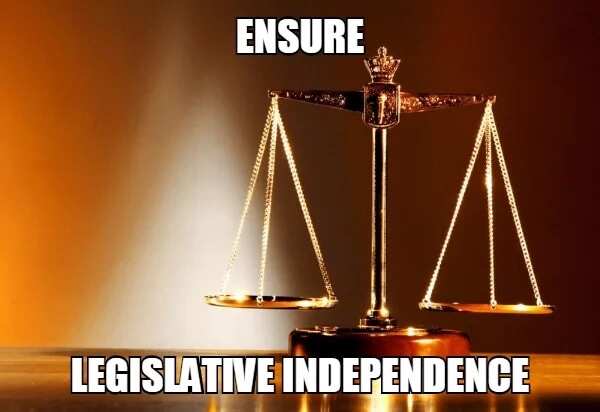 The 8th National Assembly is expected to review its oversight activities following series of racketeering and bribery allegations that have trailed legislative committees in past assemblies.
It is standard practice for legislative committees to collect funds from government Ministries, Departments and Agencies (MDAs) which they oversight in the guise of "logistical support".
READ ALSO: NASS Members To Receive N8.64bn As Wardrobe Allowance
Recall that the Security and Exchange Commission (SEC) Director-General, DG, Arunma Oteh, had in the heat a 2012 legislative probe into alleged rot in the Nigerian Capital Market, insisted that the sacked chairman of the House probe panel, Heman Hembe was "unfit" to superintend over the investigative panel, accusing him of bribery and corruption.
Oteh had alleged that Hembe and his panel demanded money totaling N44 million from SEC to fund the public hearing on the unhealthy state of the Nigerian Capital Market.
She alleged that SEC gave Hembe estacode and a first class ticket to attend a capital market conference in the Dominican Republic but did not travel for the event.
In a swift reaction, Hembe, who subsequently disqualified himself from heading the probe panel on the basis of the allegations, presented documents to the lower legislative House indicating that it was SEC, with Oteh's approval, that offered N30 million to the committee, contrary to her allegation that the lawmakers demanded bribe.
Source: Legit.ng