Labaran Maku Reveals How GEJ Became Nigeria's President
Having worked closely with former president of Nigeria, Goodluck Jonathan, former information minister, Mr. Labaran Maku, has spoken up on how Jonathan emerged as Nigeria's leader.
In an interview with THISDAY, Maku, governorship candidate of the All Progressives Grand Alliance (APGA) in Nasarawa state at the last gubernatorial election, also spoke on the legacies of the former Nigerian leader.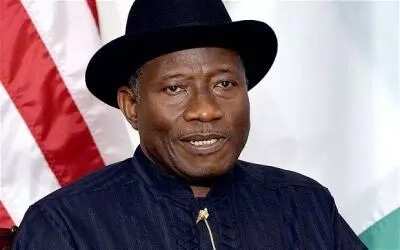 READ ALSO: Jonathan Expresses Feelings As He Returns Home
On how the president came to power, he said: "I must say that the presidency of Goodluck Jonathan is a historic one. He came to power by accident in the sense that he was not one of the gladiators. As God will have it, because of his calmness, because of his simplicity, he was chosen as the vice-president from among so many other gladiators.
"There are many profound legacies that the five years administration of President Jonathan will be remembered for. The first is the deepening of democracy through electoral reforms. Prior to his coming, everybody looks at Nigeria as a country where people steal elections.
READ ALSO: APC Appreciates Jonathan And PDP
"I remember President Jonathan once telling us that whenever he sat with his colleagues at international forum, Nigeria does not get the kind respect that is due to the country as the notion had gone abroad that the leaders were not properly elected.
"And he said he must reverse the ugly trend that Nigeria must cultivate the right influences around the world that we deserve by making its democratic process transparent and that leaders were elected according to the wishes of the people. So, he set out for himself from the beginning to achieve this objective.
"We encouraged him to do so and in the last five years, this country will remember him for making our democracy more efficient and consolidating on the gains so far made".
READ ALSO: Jonathan Promotes 72 Senior Police Officers
Maku also extolled the reforms of the former president, stating that he set up the Justice Uwais committee in electoral reforms as well as his appointment of Attahiru Jega to head the electoral commission which was commended for its conduct of the recently-held elections.
According to Maku,"president Jonathan completed the process thoroughly and tabled the reports to the National Assembly. Today, the Independent National Electoral Commission that we inherited in 2007 is a different INEC. The electoral commission is now more independent, assured of its funding – takes decision breathing over their head.
"If you look at the President appointing a Professor Attahiru Jega that he didn't know purely on the basis that he didn't want someone who could be easily influenced, then you would appreciate the sincerity of President Jonathan".
Recall that the former president also explained that he never intended to get into politics when he was picked to be the deputy governor of Bayelsa state under Diepreye Alamieyeseigha's regime.
Source: Legit.ng