Editor's note: Legit.ng contributor Attamah C. Malachy does not deny that Nigerian police officers are often tempted to accept bribes from the hands of Nigerians. However, he hopes to convince the Inspector General of the Nigeria Police Force, Solomon Arase, that the opposite also happens quite often. Extortion of money from ordinary Nigerians and their humiliation by law enforcement officers has to stop as soon as possible.
Have you ever been subjected to any form of harassment or violation of your rights by the Nigerian police?
The views and opinions expressed in this article are solely those of the original author. These views and opinions do not necessarily represent those of Legit.ng, its editors or other contributors.
Story highlights:
— "Nigerians are victims of extortion and other kinds of harassment by your men, an unfair conduct that has turned the Nigerian police into an enemy instead of a friend"
— "The case of human rights' violation by your men has been in existence for decades. I put the blame on the leadership of the NPF for their inability to tackle the menace"
— "Corruption in the Nigerian police system can only be tackled when officers found guilty of such practices are dismissed and punished in line with the due process of law"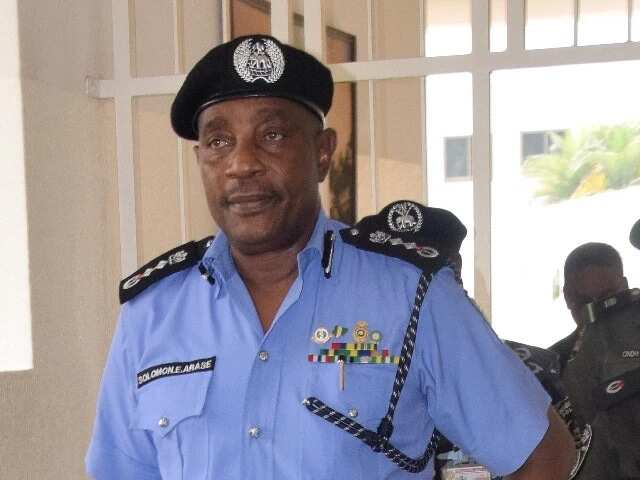 Photo credit: Leadership
Sir, the purpose of this memo is to respond to your appeal to Nigerians that they should not corrupt your men with bribing, and also to bring to your notice some 'unfriendly' attitudes of your men which you may not be aware of.
Honestly, I was surprised when I read your appeal to Nigerians where you said: "We have a zero tolerance for payment of money to free suspect. I am appealing to members of the public, not to corrupt my men; it takes two to tango. If they ask you for bribe and you refuse to give, and you have avenues where your grievances can be ventilated, I do not see any reason why you should give them bribe. The commissioner of police is there; the area commander is there; the DPO is there; and the technical platform [to report corrupt policemen] is there. We have opened ourselves to public accountability. So, you cannot say the whole problem should be blamed on the police force."
Sir, in case you don't know, Nigerians do not give your men bribe to free suspects; rather, your men extort from them. Nigerians are victims of a variety of unfair conducts that has turned the Nigerian police into an enemy instead of a friend.
Sir, going by the definition of extortion by the Black's Law Dictionary, Standard Ninth Edition: "Extortion is the offence committed by a public official who illegally obtains property under the color of office; especially an official's collection of an unlawful fee. It is an act or practice of obtaining something or compelling some actions by illegal means, as by force or coercion". Extortion is recognized as a crime both in the criminal code and penal code laws of Nigeria.
My observations
I doubt if it is obligatory on your men to force the poor innocent Nigerians to give them bribe. Even if an offer for bribe is made by a corrupt Nigerian to your men, is it legally binding on them to accept the offer? The police as a law enforcement agency and a professional body with ethics has no option but to arrest and prosecute such individuals for violating the law of the land. Does it mean that your men no longer have integrity? Does it mean they can no longer maintain professional ethics?
Sir, I am surprised also that your appeal to Nigerians centered only on not to pay your men money for bail. Have you forgotten what your men do on our highways? In case you don't know, what they do on the highways is worse than the money they extort from civilians for bail. They harass poor innocent Nigerians daily by forcing them to give them money on the highways. In fact, it has become their daily routine exercise. Just imagine, when a pure water dealer passes by, the police on checkpoints will demand water for free, same with, say, bread dealers. Even the ordinary bicycle riders are not safe; they are also compelled to make the 20 naira offering. It has become a normal transaction in the marketplace, with the police providing change of currency notes in different denominations to those road users who do not have the appropriate denominations to give them.
Nigerians are not willing to give them the items, but they don't have a different option because of fear of harassment and torture. With this kind of unprofessional conduct, one begins to wonder if the Nigerian police still have respect in the eyes of the civilians. This unfair conduct of the police has snatched and thrown the integrity of the Nigerian Police Force [NPF onwards — Legit.ng] to the wind. I suggest that something more than just addressing Nigerians should be done in order to put an end to these unfriendly acts of our former friends.
It does take two to tango, so an offer needs to be made before there will be an acceptance. What do you expect from a vulnerable Nigerian who is threatened by an armed police officer?  An innocent man has no option than to dance to the tune of your men. Many Nigerians have been shot to death as a result of their inability to offer the bribe demanded from them by your men. Many have also died in the police custody as a result of torture by your men, simply because they were unable to comply with the extortion. With this kind of treatment, every reasonable man would prefer to give them the money and live, than to refuse and face the devastating effect.
Your intentions are clearly the best. But so many of your predecessors made similar appeals and promises in the past... and Nigerians could not see the result. Hence our natural doubts on whether your own will be different.
Selling justice and public safety
Sir, I don't know if you are aware that crime victims are being forced to pay for the feeding of the detained suspect(s) after their arrest. I'mot sure if you are aware victims are obligated to pay from the moment they enter a police station to report a crime to make sure their case is referred to the court for prosecution. Those with no means of paying are left frustrated without justice. Many Nigerians now prefer to leave their matters for God's judgment instead of going to the police station. I was once a victim of similar circumstance and I have also made up my mind not to patronize your men again.
Negative effects
Many innocent Nigerians have lost their lives as a result of their inability to offer the demanded bribe by your men. Many drivers, okada men, and other innocent civilians were shot to death, many others died in the police custody after being tortured and neglected.
In 2010, Human Rights Watch reported that on a daily basis, countless Nigerians traveling on the country's roads, buying or selling at markets, running daily errands, or working in their offices are accosted by armed police officers demanding bribes. To extort money, these officers frequently threaten victims and commit human rights abuses.
Sir, the case of human rights' violation by your men has been in existence for decades. I put the blame on the leadership of the NPF for their inability to tackle the menace. Charity begins at home. When a child becomes notorious in the society, no matter the kind of bad company he keeps, the blame always bounces back on the parents for improper upbringing. Same is the case with the NPF. The leadership of the body has failed to discipline the erring officers, and, as a result, others do not see bribe as a criminal offence.
I think the objective of deterrence as one of the theories of punishment in criminal law is to set example by punishing an offender with the aim of stopping members of the society from committing crimes in future. Why aren't corrupt officers being punished and dismissed from their jobs so that others could learn and do the right thing while discharging their duties?
In your appeal, you advised that the victims should always report junior officers to their seniors for disciplinary actions. Almost all senior and junior officers are birds of same feather. This unfair act of extortion is not committed by the junior officers alone. In fact, in most cases, senior officers assign junior ones to go on the highways and extort from the civilians and bring them return at the end of the transactions. Have you forgotten that the senior officers were once juniors?
Roots of the problem
The following are some of the factors responsible for corrupt practices in the Nigerian police:  
— the NPF does not make recruitment based on merit. Instead, candidates bribe their ways to training colleges even without requisite qualifications. Those who have strong zeal and passion for the job are denied the chance because they don't have the wherewithal to also bribe their way in;
— the majority of your junior officers are not well-educated. Many of them are recruited with academic qualifications they do not own, and they use other people's academic documents to get the job. As a result, their minds become corrupt even before joining the force;
— the orientation and sensitization programmes in your organization are inadequate. Junior officers are not given sensitization, hence, they don't know the worth of human rights and cannot develop the strong will for protecting them. It is said that when the purpose of a thing is not understood, abuse of it becomes inevitable;
— the Ministry of Police Affairs and other officials charged with police oversight, discipline, and reform have failed to purge out corruption in the Nigerian police system due to lack of seriousness. Public complaint mechanisms, internal police control, civilian oversight mechanisms remain weak and ineffective.  Officers feel the permissiveness, and it gives them the courage to repeat similar acts at any time because they believe they can always go unpunished;
— tribalism, favoritism, religious and ethnic affiliations also contribute to the ineffectiveness of the police oversight. Those who are found guilty of professional misconducts are not punished as the law requires simply because they have one or two things in common with the disciplinarians.
My recommendations
I am of the view that corruption in the Nigerian police system can only be tackled when officers found guilty of such practices are dismissed and punished in line with the due process of law. For this reason, those with the police oversight responsibility should wake up and perform their functions with integrity. Their interest to protect the integrity and the Constitution of Nigeria should supersede their interest to protect their personal religious and ethnic norms. The Nigerian police oversight should be made of people with credible record of integrity and outstanding service to humanity; not necessarily by age or rank. The same thing should apply when appointing divisional police officers.
Let there be regular seminars and sensitization programmes for the Nigerian police officers. This will serve as an avenue for acquiring knowledge, especially for those who are not academically-balanced. Nigerian police officers are supposed to be familiar with the provisions of the Nigerian Constitution, especially the fundamental human rights, Criminal Procedure Code, Criminal Procedure Act, Penal Code and Criminal Code.
Apart from the normal promotional courses, junior officers should be allowed to go to school routinely to advance their knowledge. NPF is an intelligent agency, and without sound knowledge, the officers cannot fetch from the pool of intelligence. Those without requisite academic qualifications should be dismissed from the service: they don't make any contribution for the good of both the police and the Nigerian populace.
Sir, I believe that adhering to these recommendations will help Nigerians to have a reformed, more caring and friendly police system.
I wish you a distinctive success in your leadership.
Attamah C. Malachy is a law student of the University of London (Int'l Programmes). He lives in Yola, Adamawa state.
Your own opinion articles and news/photo reports from your area are welcome at info @naij.com. More details in Legit.ng's step-by-step guide for guest contributors. Drop us an email at info@corp.legit.ng telling us what you want to write about and why. Contact us if you have any feedback, suggestions, complaints or compliments. We are also available on Facebook and Twitter.