The major oil marketers association of Nigeria (MOMAN) has finally reached an agreement with the government to begin supplying country with much needed petroleum products.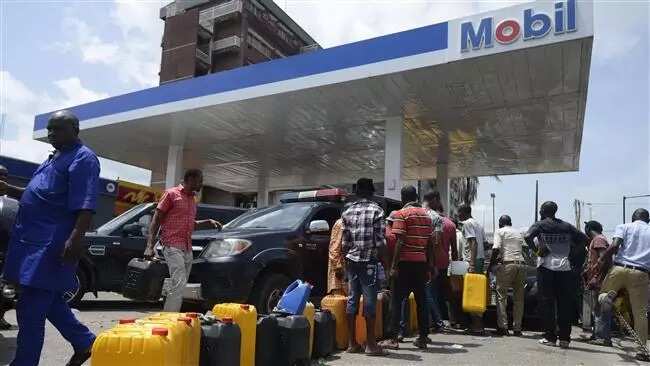 Magnus Abe, the chairman of the senate committee on petroleum resources, informed press that a solution to fuel crisis has just been worked out during the meeting of MOMAN representatives, major stakeholders in the oil and gas sector, senate committee on petroleum resources, and Ngozi Okonjo-Iweala, minister of finance.
"We have agreed on the following:  first is that the minister of finance will give an undertaking to the Major Marketers and Depot Managers that the work of the committee being headed by CBN and PPPR, on the outstanding claims, would be concluded and be reflected in the hand over notes to the incoming administration", told senator Magnus Abe.
The senator also stated that MOMAN officials had agreed to begin lifting of petroleum products nationwide within the next six hours. Besides that the transport cost would be determined by the National Association of Road Transport Owners.
READ ALSO: Fuel Crisis Ruins Nigeria's Economy
He added that the Depot Managers had agreed to open all their depots nationwide. According to that decision, petroleum products delivery across the country will be restarted "in six hours".
READ ALSO: Fuel Scarcity: MTN To Shutdown
At the same time the Nigeria union of petroleum and natural gas workers (NUPENG) and the petroleum and natural gas senior staff association (PENGASSAN), which had suspended their activities previously, have also decided to call off their ongoing strike to end fuel crisis hitting Nigeria's economy.
READ ALSO: Funny Side Of Fuel Scarcity
During the meeting, it was agreed that the department of petroleum resources has the right to revoke the license of those oil marketers which refuse to lift petroleum products across Nigeria.
Earlier on Sunday Ifeayin Ubah, the chairman of Capital Oil and Gas Ltd issued a statement, declaring intention to curb fuel crisis causing heavy negative impact on Nigerian economy.
"We call on other petroleum marketers to follow suit and save our nation from this impending economic and social crisis,'' was told in his statement.
"Our facility has the capacity to load over 13 million litres of product before dawn. This comes to approximately 400 trucks of petroleum products. With this act, it is our belief that once again our citizens will begin to smile, return to normal family and work life" assured Nigerians Ifeayin Ubah.
The scarcity comes as the result of dispute between government and fuel marketers and transporters over unpaid bills of $1 billion. Since October 2014 they were unpaid the difference between real cost of products and fuel price subsidised by outgoing Goodluck Jonathan's government.
READ ALSO: What does aeroplane use as fuel in Nigeria?