- Neymar senior was rather offended by Caen boss' remarks after the Brazilian superstar's latest injury
- The PSG forward, 29, is set to be out for at least a month with a thigh injury
- Caen boss, in a post-match interview, seemed to suggest Neymar was a 'cry baby'
- Neymar's dad hit out in an untamed rejoinder, calling the Caen boss a coward
PAY ATTENTION: Join Legit.ng Telegram channel! Never miss important updates!
Neymar's father on Thursday, February 11 hit out at FC Caen boss for suggesting his son is a "cry baby" in a post that has since gone viral.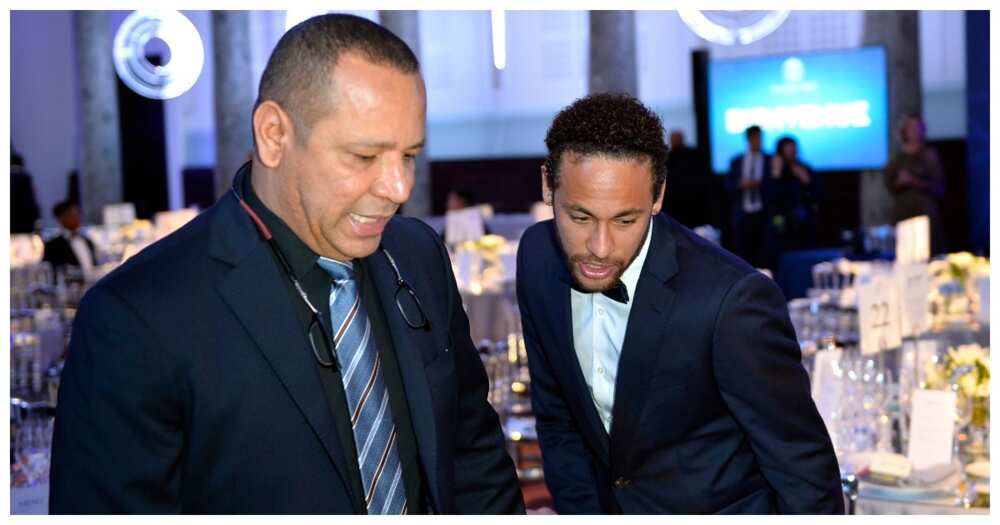 The PSG superstar, in an unlucky coincidence, will once again be out for another month after suffering a thigh injury while playing against Caen in the Coupe de France.
With the latest injury setback, Neymar himself took to his own social media to lament on his consistent injuries as he strongly suggested he was considering switching his style of play from his signature dribbling.
"The sadness is great, the pain is immense and the crying is constant," Neymar said in a Thursday Instagram post.
Caen manager Pascal Dupraz was of a different opinion after the game as he complained about some refereeing decisions in the game while at the same time slamming Neymar for allegedly being soft in the game.
"Maybe we would have liked a penalty for [Steeve] Yago's action which earned him a yellow card. In my opinion that is a penalty. But I'm not going to cry, I'll leave that to Neymar". Dupraz said in an interview after the game.
His remarks have since gone viral and reached Neymar's father who did not take the latest wave of his son's criticism kindly.
Neymar senior went on an Instagram rant, calling out the Caen boss and labelling him a 'coward' for the comments he made towards his son.
"I think he has to cry because there are coaches like you, referees of that level, negligent leagues, biased referees and cowards in the sport," his post said.
"But through our crying and his, my son's, the athlete's, the magic of football will last another night and after that he will rise up, as always, to win again."
With his thigh injury, Neymar is set to miss another four weeks of action, at least.
Within that time, he will miss a number of crucial games including the Champions League round of 16 first leg against Barcelona at the Nou Camp.
He is also set to miss Ligue 1 games against Nice, Monaco, Dijon and Bordeaux.
Ibitoye Shittu is an award winning Sports Journalist with more than 10 years experience in News-writing, reporting and Public Relation. He is an HND and B.SC holder of Mass Communication and can be reached on Twitter @Ibishittu