Pele, Van Nistelrooy, Mbappe among 5 superstars who picked Cristiano Ronaldo over Lionel Messi
- Cristiano Ronaldo and Lionel Messi are arguably the best players of their generation
- Fans across the world are split on either side - over the greatest player of all time
- Brazilian legend Pele is among legendary stars who chose CR7 over Messi
PAY ATTENTION: Join Legit.ng Telegram channel! Never miss important updates!
As the world continues to debate over who the greatest player between Cristiano Ronaldo and Lionel Messi is, there is no doubt that the two are the best players of their generation.
The eternal rivals have made the football world their own in more than one decade, splitting a staggering 11 Ballon d'Or titles between themselves – as Messi has 6 while Ronaldo has claimed 5.
From Manchester United to Real Madrid and Juventus, Ronaldo has replicated the same goalscoring form as he continued to set and shatter records.
Ronaldo was on song as Juventus edged AS Roma 2-0 in a highly entertaining Serie A cracker on Saturday night, February 6.
This is coming barely 24 hours after the Portuguese sensation clocked 36 - with many believing he is already in the twilight of his career.
Here are five football greats who chose Ronaldo over Messi.
5. Gini Wijnaldum | Liverpool
"Sometimes I say Lionel Messi, sometimes I say Cristiano Ronaldo. It is not fair to pick between the two, because what one player has, the other player doesn't. They are both the players in the world, for me."
4. Michael Owen | Ex-Liverpool, Manchester United, Real Madrid
"Goalscoring is the hardest art in football and [Ronaldo] makes it look so easy. Head, left foot, right foot.
"Messi is a decent header of a ball but if you're looking at all-round players, you go head-to-head with Messi and Ronaldo, you'd say Ronaldo has a lot more different attributes let's say."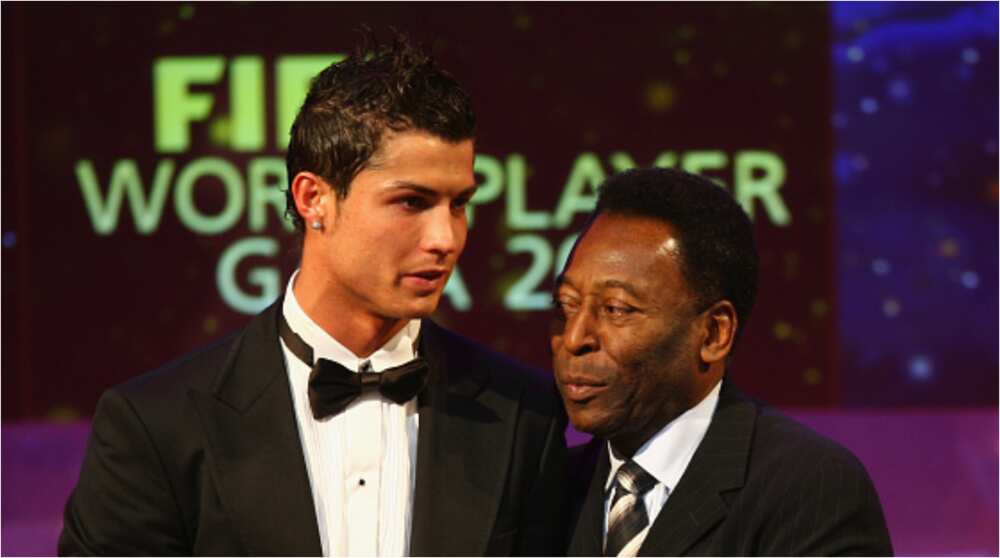 3. Ruud van Nistelrooy | Ex-Manchester United, Real Madrid
"I never saw him as an arrogant guy. He was always open to advice and not arrogant at all. He was a great guy in the dressing room."
2. Kylian Mbappe | Paris Saint-Germain
"From one year to the next, my choice changes between Cristiano Ronaldo and Lionel Messi, even if I have to admit to picking Ronaldo more often. I loved him when I was younger."
1. Pele | Ex-Santos
"Today the best player in the world is Cristiano Ronaldo. I think he's the best, because he's more consistent, but you can't forget about [Lionel] Messi, of course, but he's not a striker."
Meanwhile, Legit.ng earlier reported that Uruguayan striker Luis Suarez produced another fine performance for Atletico Madrid on Monday night, February 8 in their 2-2 home draw with Celta Vigo in the La Liga.
Both goals took his tally to 16 in just 17 appearances for Atleti to become the first man to reach such a feat for a Spanish club in the 21st century.
Source: Legit