Jubilation in Argentina as Messi bags 'greatest' award of the decade ahead of Ronaldo and Pele
- Lionel Messi has continued to set and shatter records despite being 33 years of age
- The Barcelona captain has been awarded the world's best playmaker of the decade
- His fiercest rival Cristiano Ronaldo is not even in the top 10 as he emerged 12th
PAY ATTENTION: Join Legit.ng Telegram channel! Never miss important updates!
Argentina legend Lionel Messi has edged other superstars to the World's Best Playmaker of the decade title, with fiercest rival Cristiano Ronaldo not making the top 10.
The Portuguese star is named in 12th position according to a latest compilation by the International Federation of Football History & Statistics.
This special recognition has been on annually since 2006 but now they have taken time to give a winner over the last decade.
Last year, Manchester City's Kevin de Bruyne beat the Argentine to win the to the title, but Messi had won it four times previously - 2015, 2016, 2017 and 2019.
For the playmaker of the decade, the Barcelona captain finished with 174 had 127, while Ronaldo received 54.
IFFHS said:
"We have taken in consideration the TOP 20 of each yearly ranking of each category concerned and allocated points to each place.
"So the first placed received 20 points, the second placed 19 points, the third placed 18 points … and 1 point for the 20th place. Adding the points from the individual years provides a World Ranking for the Period 2011 – 2020."
12) Cristiano Ronaldo – 54 points
11) Xavi Hernandez – 55 points
10) Yaya Toure – 60 points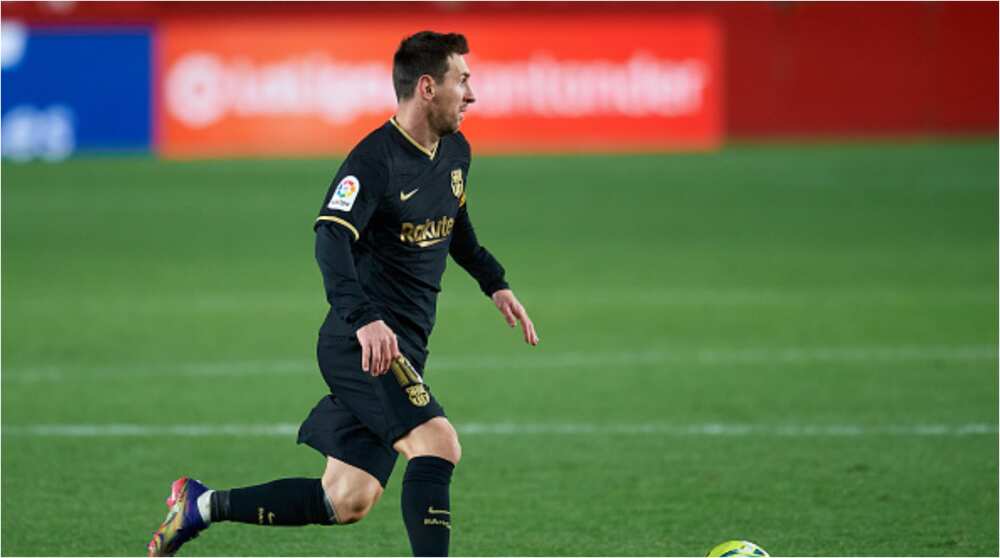 9) Andrea Pirlo – 63 points
8) Mesut Ozil – 69 points
7) Neymar – 71 points
6) Eden Hazard – 77 points
5) Toni Kroos – 90 points
4) Kevin De Bruyne – 103 points
3) Luka Modric – 113 points
2) Andres Iniesta – 127 points
1) Lionel Messi – 174 points
Meanwhile, three-time Champions League winner Samuel Eto'o believes Ansu Fati has the qualities to take over from Lionel Messi if the Argentine decides to leave anytime soon.
The six-time Ballon d'Or award winner has less than six months on his current deal with Barcelona and it is left to be seen if he will sign an extension with the Catalans.
However, Legit.ng earlier reported that Mesut Ozil has played alongside Cristiano Ronaldo and has met Lionel Messi severally at club and national team level.
Commenting on the GOAT debate, the German midfielder still believes his former teammate still has a slight edge over his fiercest rival.
Ozil was quoted on Twitter:
"Messi has proven himself to be one of the best ever in Spain, but Ronaldo was always the best in every country he's played in!"
3 interesting footballing moments between Maradona and Nigeria | Legit TV
Source: Legit.ng