Reactions trail Financial Times claim about Nigeria
- A terrible claim has been made about the Federal Republic of Nigeria
- According to the Financial Times, the country is facing serious challenges that can affect her
- Meanwhile, Nigerians have taken to social media to react to the claims by the newspaper
PAY ATTENTION: Click "See First" under the "Following" tab to see Legit.ng News on your Facebook News Feed
In what will be a big embarrassment to most Nigerians home and abroad, a UK-based newspaper Financial Times, in an editorial on Tuesday, December 22, claimed that Nigeria is at risk of becoming a failed state.
The newspaper made the claim in the editorial titled, 'Nigeria at Risk of Becoming a Failed State'.
In arriving at this conclusion, the news outlet cited insecurity, stalled economic growth and weak institutions as some of Nigeria's biggest challenges.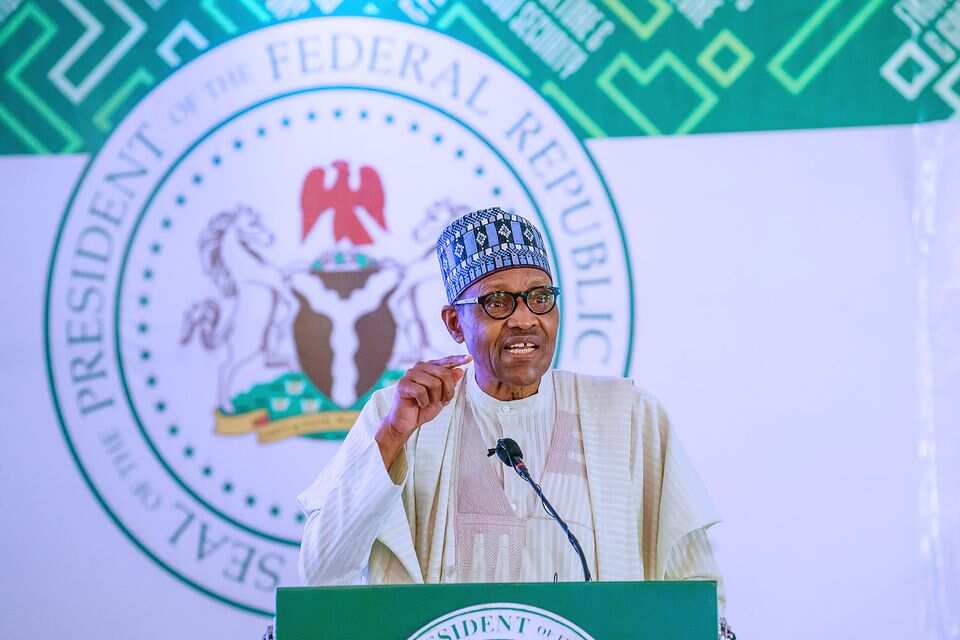 The editorial read in part:
"The government insists no ransom was paid. Scepticism is warranted. In a country going backwards economically, carjacking, kidnapping and banditry are among Nigeria's rare growth industries. Just as the boys were going home, Nigerian pirates abducted six Ukrainian sailors off the coast.
"The definition of a failed state is one where the government is no longer in control. By this yardstick, Africa's most populous country is teetering on the brink."
"If the latest kidnapping turns out to be its work, it would mark the spread of the terrorist group from its north-eastern base. Even if the mass abduction was carried out by "ordinary" bandits — as now looks possible — it underlines the fact of chronic criminality and violence.
"Deadly clashes between herders and settled farmers have spread to most parts of Nigeria. In the oil-rich, but impoverished, Delta region, extortion through the sabotage of pipelines is legendary."
However, the editorial has generated diverse reactions from Nigerians on social media. Titilayo Ogbesoyen Elemah in her reaction offered what she thinks can help Nigeria survive.
"Nigeria has been structured to fail right from the beginning. If you know, you know. To make it work now, we have to eschew all the tendencies that work again her development to greatness. No to religious bigotry, tribalism, nepotism and all the negative things that work against her greatness."
Rich-Osaro Jon on his part prophesied that Nigeria will not end up as a failed country.
"In 2014, during his electioneering campaign when majority of Nigerians said again and again that even if it was a goat or a dead animal, they were ready to vote such into Power just to ouster Goodluck Jonathan, I guess they didn't see this coming.
"I stand as an Oracle of God to declare Nigeria will bounce back to unimaginable glory. Nigeria will never fail says the Lord. This is a land of righteousness. Very soon, people from all over the world will come to Nigeria to learn righteousness. And in the name of Jesus Christ, this is the last clueless, evil, insensitive, tribalistic, visionless and egocentric government Nigeria will ever know. A God-sent messiah is rising to federal Power come 2023 general election whether the devil like it or not in the name of Jesus Christ."
Edwin Ekpo wrote:
Hope should not be lost over our beloved Nigeria. This plagued nation still remains the giant of Africa. If Uganda that suffered in the hands of Idi Amin could bounce back, we will recover. Let there be a national repentance and Amendment of our attitudes. Whether you believe it or not, Only the God of heaven can turn things around.
Blessing Mandy Jumbo also wrote:
"No matter what happened we are not giving up on us, we are not giving up the fight, we are strong, brave, courageous and determined.
"We must make Nigeria great again, they wil not make us run away from our country instead we will chase them away."
Kpanti Dobile added:
"People is making the country to be a failed State.
"As far as God Almighty love & bless this country with vast mineral & Human resources, he would protect the country from the wicked leaders of the country. Amen.
Meanwhile, Legit.ng had reported that following the Nigerian Communication Commission (NCC)'s directives mandating the telecommunication operators to block SIM cards not linked to the National Identification Number (NIN), the federal government has announced approved 173 centres and 30 state government institutions to conduct enrolment.
Legit.ng recalls that Ikechukwu Adinde, NCC director of public affairs, on Tuesday, December 15, in a statement in Abuja announced that Nigerians must update and link their data with telecoms companies with NIN.
Adinde said the new rule applies to new SIM cards, stressing that sim not linked with NIN will be disconnected in two weeks time.
Buhari should put an end to banditry, unrest in Zamfara - Nigerians cry | - on Legit TV
Source: Legit.ng