Christmas Star: Jupiter and Saturn set to merge at Winter solstice
- The two largest planets in our solar system Jupiter and Saturn are set to merge
- This process, according to reports, is knowns as Conjunction
- Many people around the world will be able to see this on Monday, December 21
PAY ATTENTION: Click "See First" under the "Following" tab to see Legit.ng News on your Facebook News Feed!
In what many have described as once-in-a-lifetime incident, the world's two largest planets - Jupiter and Saturn - will appear to merge.
This process is widely known as a conjunction. The last time such spectacle occurred was said to be around July 1623, CNN reports.
This is happening just in time for Christmas -- hence, it is nicknamed the "Christmas Star."
According to experts, those who are lucky enough will be able to see the event with the naked eye by 17:00 GMT.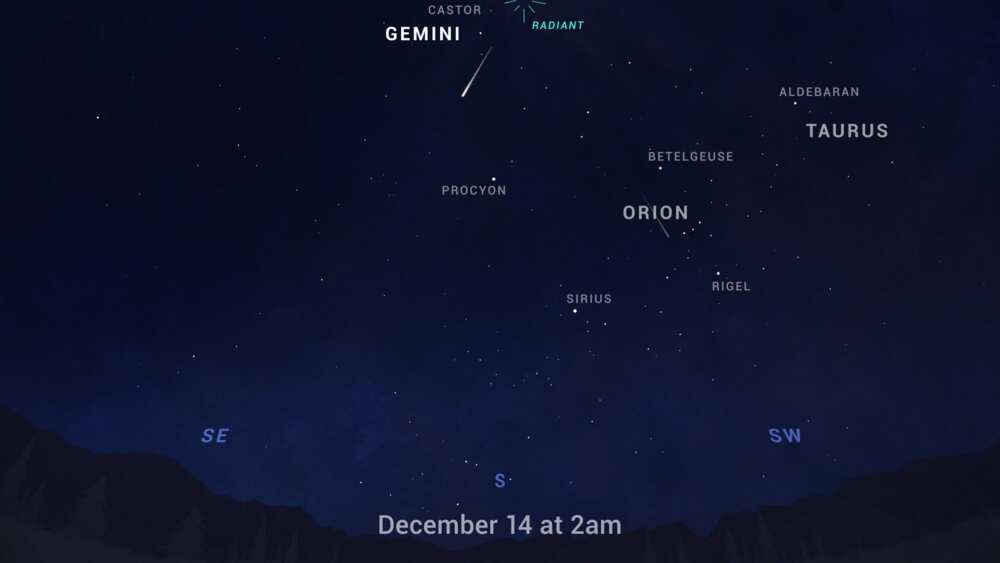 The Irish Astronomical Association (IAA) said:
"If you have good binoculars you may be able to see some of the four big bright moons of Jupiter. With a telescope you should be able to see Titan, the largest moon of Saturn."
Meanwhile, some social media users have reacted to the development, with many sharing their views on what is to come.
Eric Goodall on Facebook wrote:
"When I was a kid in northern Illinois, one holiday season we took in the show at the Aldler Planetarium. Their holiday show featured conjuctions of multiple planets, I think including Jupiter and Saturn, and then later with Venus, all occurring in the western sky.
"This was supposedly dated to around the birth of Christ and was speculated to be the Christmas star that the three kings, who came out of the east, were following. Thought of this last night as watched the two planets coming together, but also moving closer to the sunset horizon in the west. As we sweep past Mars in its orbit, I expect it will also grow closer to the pair, although probably not before they disappear into the sun's glare."
Tim Taylor added:
"They are far apart. Really really far apart. Their orbits aligning from our perspective doesn't mean they aren't far apart."
Connie Fetzer also added:
"This Jupiter/Saturn conjunction is the first in the sign of Aquarius ushering in a new era. corruption of government and big businesses will fall away. It's all about community and people."
Meanwhile, Legit.ng had reported that Nigeria's minister of health, Dr Osagie Ehanire, said that the country may be facing a big challenge if it goes for COVID-19 vaccines that must be stored in ultra-cold freezers.
Osagie said that the country does not have such a facility and Nigeria may have to raise funds to buy them to preserve the vaccines.
Vice-chancellor of the Redeemer's University, Nigeria, Oyewale Tomori, earlier said that Nigeria may be facing what he called a "humongous problem" when storing the vaccines.
How Nigeria's COVID-19 cases rose from 7000 to over 20,000 in one month | Legit TV
Source: Legit.ng