Meet Igbo herdswoman making waves online
- Ekene Obaye is making name for herself in the cattle rearing business
- She is the first documented Igbo herdswoman who is being celebrated by Nigerians
- Meanwhile, some Nigerians have commended her for her brave decision to go into the business
PAY ATTENTION: Click "See First" under the "Following" tab to see Legit.ng News on your Facebook News Feed!
The maxim that read: What a man can do, a woman can also do - seems to have gradually become a universal truth. This is evidenced by the profession of Ekene Obaye, the first documented Igbo herdswoman.
Obaye who is a native of Nguru Nsukka in Nsukka local government area of Enugu state has turned to a job believed to be only reserved for men, especially, those from the Fulani extraction of northern Nigeria.
The job which she does with her husband has garnered her star-like attention from Nigerians who mostly don't believe that a woman can adopt the work as a daily profession.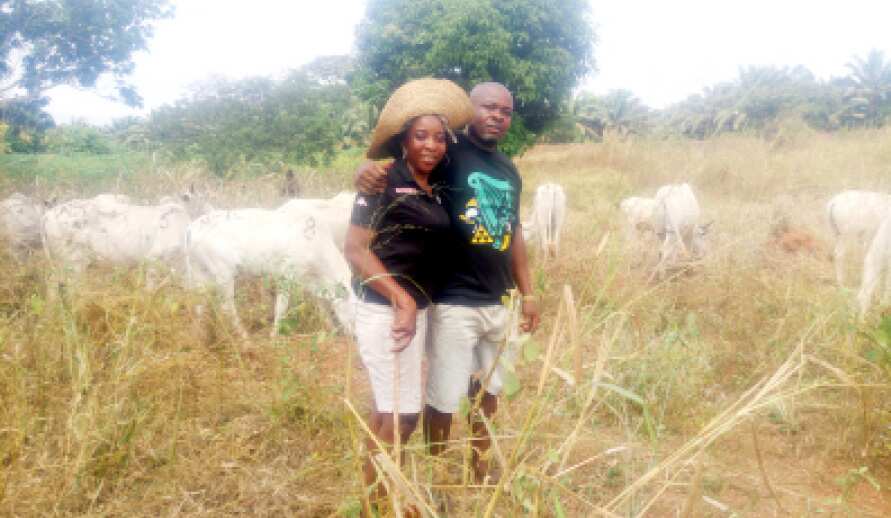 According to the 38-year-old mother of two, she turned to the profession of cow rearing as a result of two things: 1) an accident that almost took the life of her husband and 2) lack of job.
A graduate of Archeology and Tourism from the University of Nigeria Nsukka (UNN), Obaye admitted that her husband's family had been known for cattle rearing long before she married into the family, Daily Trust reports.
She said:
"The first day I entered the bush with many cows, the natives rushed out with their cutlasses, screaming "Nwayi Fulani n'achi efi!" That is a Fulani woman who is rearing cows. They were restive so I spoke Igbo and introduced myself as the wife of Patrick Obaye. They calmed down and showed some excitement at a young Igbo woman who is not afraid of cows. They encouraged me after I told them what happened to my husband. They said they knew my husband but didn't know me as one who could herd cows so fearlessly."
Meanwhile, the narration by Obaye has generated mixed reactions on social media with many people appreciating the efforts of the woman.
Sadiq Muhammad Al-Ameen Nuhu wrote:
"Good move by Mrs. Obaye I wish you and your family well. God will direct you towards the money you need for ranching and don't forget to train other Nguru/Nsuka women. God bless Nsuka God bless Enugu and God bless Nigeria."
Vincent T Yahuan added.
"An inspiring story. If the traditional Fulani herders had been thinking this way , they would have made great progress in the cattle rearing business and have greatly improved their standards of living.
Unfortunately, even those among them that are educated and enlightened, are instead, misleading them into keeping to an outdated practice of wandering from place to place without permanent abodes with resultant disastrous consequences."
Meanwhile, Legit.ng had reported that all Farmers' Association of Nigeria (AFAN) on Thursday, December 10, called for the creation of ranching policies for farmers and herders to adopt across the country.
The association made the call at a 2-day Stakeholders' Meeting on Farmer-Herder Relations And Banditry organised by the Centre for Democracy and Development (CDD) in partnership with the United States Institute of Peace (USIP) and the Kaduna State Peace Commission (KSPC) in Kaduna state.
Speaking at the event witnessed by a Legit.ng reporter, the chairman of AFAN, Alhaji Nuhu Aminu, said there is an urgent need to identify bandits who are posing as herders to cause mayhem in Kaduna state.
Buhari should put an end to banditry, unrest in Zamfara - Nigerians cry | Legit TV
Source: Legit.ng