Abuja man accused of sexually assaulting singer Benna shares his side of the story
- A Nigerian singer identified as Queencybenna on social media claimed that a guy in Abuja took advantage of her and raped her
- She shared photos of the guy identified as Alaskaobi and recounted how they met in Abuja and he allegedly raped her
- In a new development, the guy has spoken up on what transpired and said that they had agreed to have sex for an amount which he didn't end up paying
- Obi also shared screenshots of their chats that showed places Benna omitted in her own shared chat
PAY ATTENTION: Click "See First" under the "Following" tab to see Legit.ng News on your Facebook News Feed!
It is no longer strange for ladies to seek for justice on social media after claims that they had been molested or sexually assaulted by guys. That was the case between one singer, Queencybenna and an Abuja-based man, Alaskaobi.
Benna was the first to take to Instagram to claim that Obi had raped her and she proceeded to explain how they met and what transpired.
According to her, she met the guy at Transcorp Hilton in Abuja and she refused to hang out with him because she felt he was fake. She added that he kept persuading her and she agreed to dinner with him at the hotel.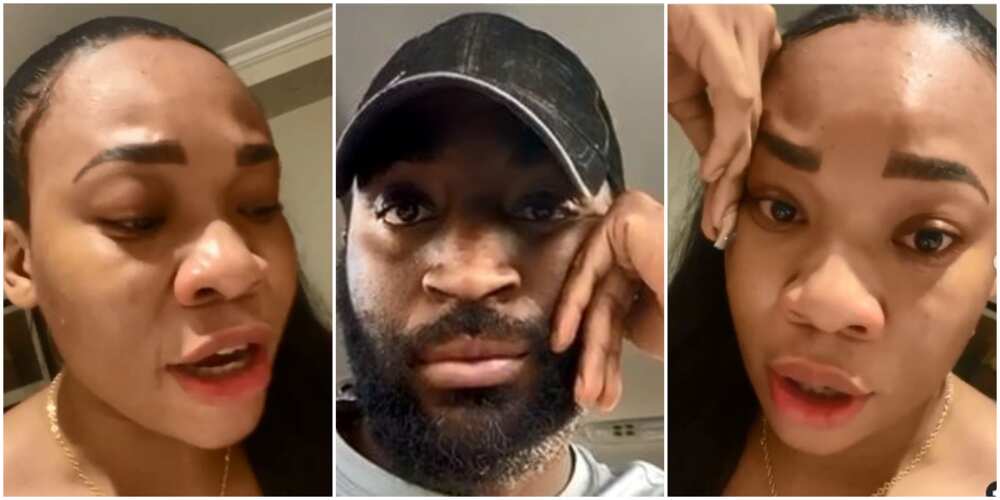 Benna said Obi took advantage of her in her high state as she called on authorities to fight for her.
The singer also went ahead to post a screenshot of their chat and it showed a bit of what transpired between them.
See her posts below:
Well, things took an interesting turn when the young man also shared his side of the story. Alaskaobi during a video chat with celebrity blogger, Ubi Franklin, said he met Benna sometime this year and that they had been friends on social media. He added that he had once invited her for a party in Abuja and she told him to pay for her flight, book her hotel and also give her money. Obi then said he did not continue his chat with her after that.
The young man noted that Benna later reached out to him herself and told him she wanted to relocate to the city. He then told her they should hang out since she was around and she agreed to dinner with him.
Obi said Benna moved into Hilton the following day and he went there to meet her and they had dinner and went to the casino together, which he paid for.
The young man then admitted that he was straight with her and told her he wanted to have sex with her and that she told him to pay $1000 before he could. Obi said he told her he could only pay N200,000 and she turned it down saying it was poor.
Explaining the gist further, Obi said they parted ways and he went to the club with his guys when he got her message asking where he was. He told her his location and she responded that if she did not see him in her room in five minutes, she was going to change her mind.
The young man said he rushed down to meet her and they did the do. After which he told her he wanted her to stay till the following day and she agreed on the condition that he would pay for the room.
He also promised to transfer N100,000 to her and send her the rest the following day and she agreed. Obi, however, admitted that he did not actually do the transfer.
Some other ladies also came online to accuse Alaska Obi of being a serial rapist in Abuja and that he always rolled with big guys and pretended to have money.
See the video below:
Obi's chat with Benna also made the rounds on social media and it showed that some of their conversations had been deleted in the version Benna posted.
See the chats below:
Nawa o.
In other news, Legit.ng reported that actress, Christabel Egbenya, said that money was sweeter than sex after receiving a lot of it on her birthday.
In a video posted online, the actress was showered with crisp N500 notes from friends who attended her party as they sang a birthday song for her.
PAY ATTENTION: Do you have news to share? Contact Legit.ng instantly
We are tired! Nigerian women protest against rape | Legit TV
Source: Legit