Iconic Scarface quotes every fan of the movie knows by heart
Scarface quotes are sought out for because the movie, Scarface, made a significant impact on many of its viewers. Tony Montana, whose nickname is Scarface, is the main character of the movie. He is a Cuban immigrant who moved to the US in 1980. This role is played by Al Pacino.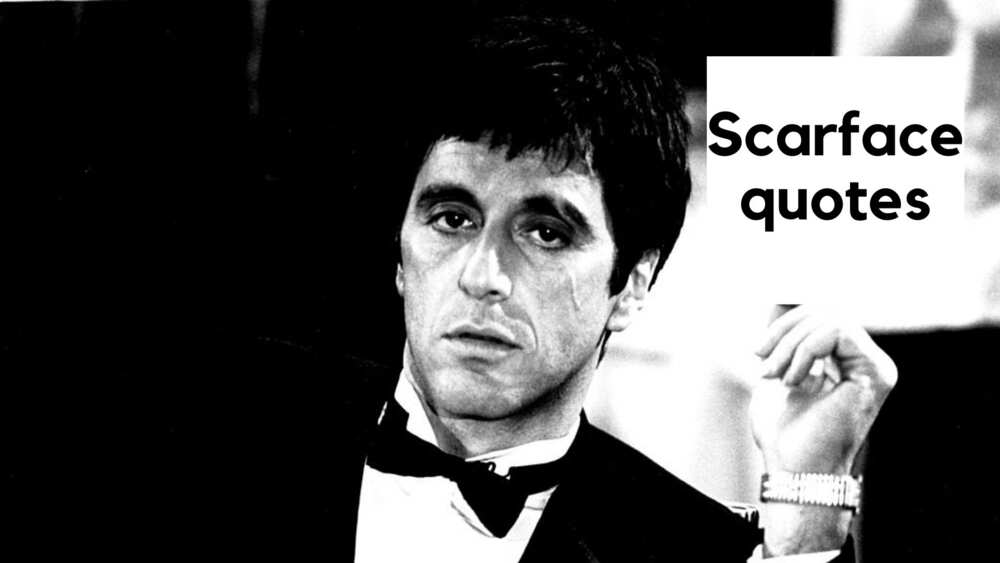 The authorities check his data and verify that he has a record, therefore, denying him the ability to move freely in the country. This lands him in a Cuban refugee camp. After a month, he gets an opportunity to leave the camp to work at a Latin food restaurant in Miami.
While working at the restaurant, he undertook other businesses related to dealing with illegal substances. This allowed him to make more money to grow an empire.
10 famous Scarface quotes
Which are the best scarface quotes? Here are some interesting and famous lines from Scarface that were stated by different actors and actresses in the movie.
All I have in this world is my balls and my word, and I do not break them for no one.
This quote from Scarface was stated by Tony Montana during a conversation initiated after Alejandro Sosa, a drug Lord, exposes an accomplice of Tony Montana known as Omar.
Omar was exposed as a police informant, therefore, Alejandro found it wise to interrogate Tony so that he could find out if he was the real deal or just another police informant. This led to Montana challenging Alejandro with this statement.
Who put this thing together? Me, that's who! Who do I trust? Me!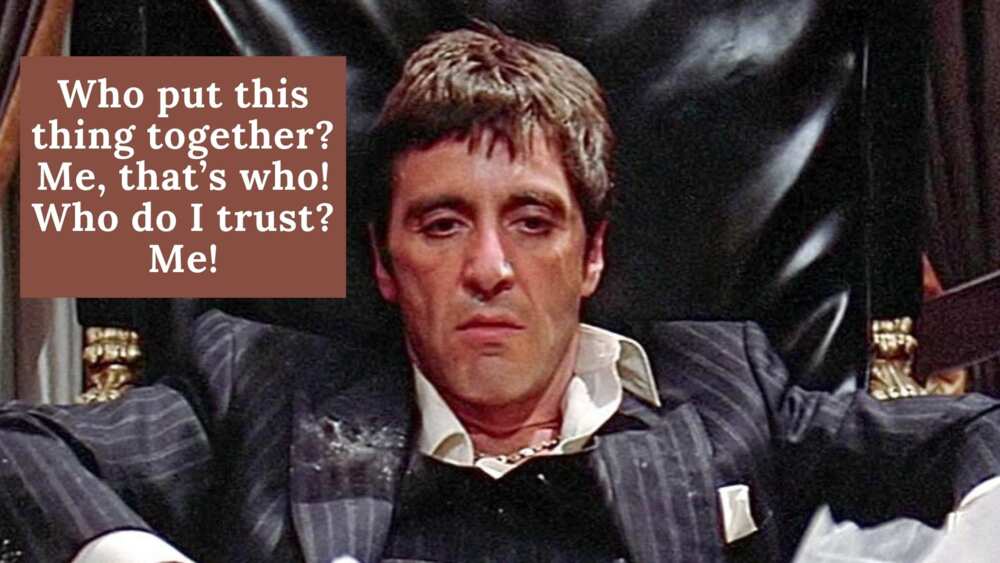 Sometimes, we have to accept the fact that people can be unreliable. In the criminal world, this is expected to even be more relatable as each person looks out for themselves.
Therefore, if you want something to be done well, there is a high possibility that you are the most qualified person to do it. This is because you are the one who clearly understands the results you want.
In this country, you gotta make the money first. Then when you get the money, you get the power. Then when you get the power, you get the women.
This is a Scarface line stated by Tony. He was revealing the order in which the best things in life can be acquired, according to him. He stated that the first possession should be money. This is because it facilitates the sustainability of life, as well as the livelihood of a family in future.
Once the money is acquired, power follows. Now, with both money and power, this is the time in which one should get women. At this point, if one wishes to start a family, then he should go ahead and do it.
I always tell the truth. Even when I lie.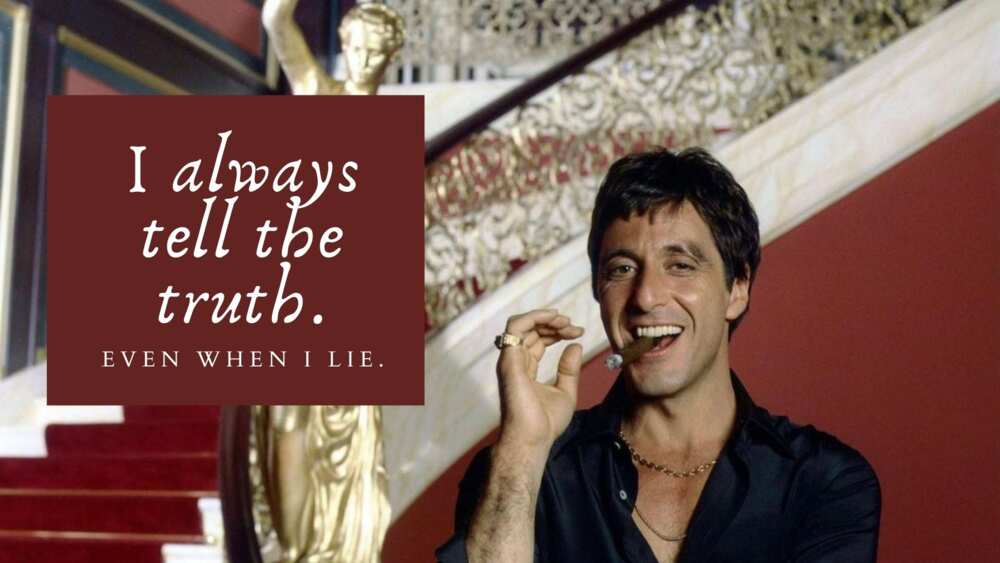 Montana utters these words after having a fight with Elvira at a restaurant. While Montana is drunk, he leaves the restaurant talking about how every person needs someone like him so that they can call him the bad guy.
This is because people know how to hide and tell lies, but he does not suffer from this problem. Instead, he is always truthful, even when lying.
The only thing in this world that gives orders is balls.
Tony believed that the world is ruled by men. This was an interesting thing to highlight, considering all the masculinity that the movie already displays.
Okay, here's the story. I come from the gutter. I know that. I got no education, but that's okay. I know the street, and I'm making all the right connections. With the right woman, there's no stopping me. I could go right to the top.
This is one of Tony Montana quotes that describe his background and brief life story. His story is relatable to many who do not come from well off families, as well as those who did not attend the best schools or have certain privileges. Despite not having any or all of these privileges, Tony believes that it is still possible to make it to the top.
Some of the important things that can aid making it to the top, especially for those coming from a humble background, is being aware of one's environment and also knowing that the right people can massively contribute to your life.
Montana also highlights the importance of having someone special beside you as this makes one unstoppable. This is because genuine love, care, and support go a long way.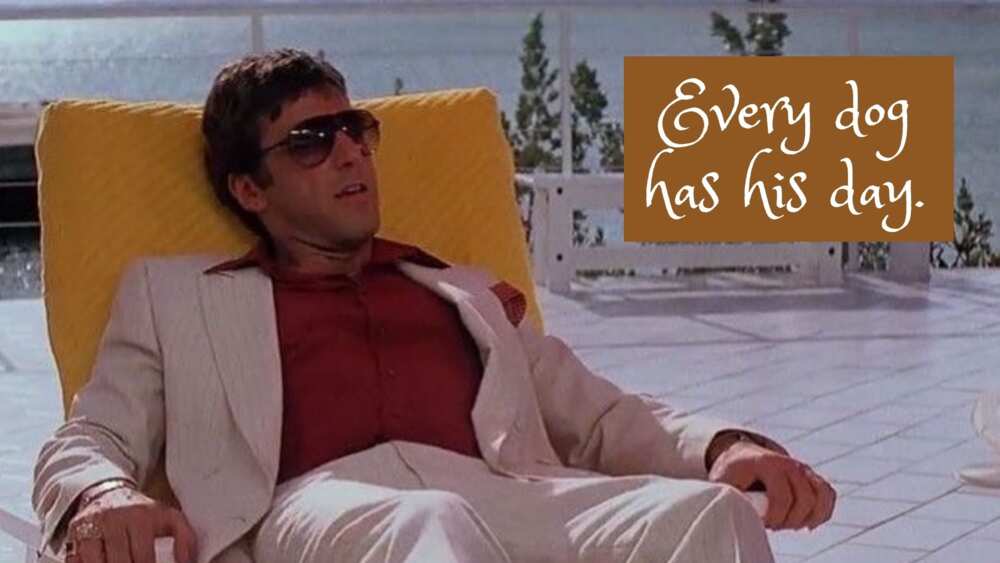 Tony's drug lord employer, Frank, makes a plan to eliminate Tony so as to protect his empire. However, the plan does not go as expected, and Montana survives. He then decides to confront Frank and a crooked cop called Bernstein, the people behind the hit.
The conversation between Frank and Montana escalated that Frank went to the extent of kissing Tony's shoes. Despite showing deep regret of his actions, Frank is killed shortly after by Manny. After the murder, Montana sits and speaks out this quote.
Don't underestimate the other guy's greed!
Robert Loggia played the role of Frank Lopez in the Scarface movie. According to this statement, he identified that it is important not to underestimate the lengths that one's opponents are willing to go.
Don't get high on your own supply.
The role of Elvira Hancock was played by Michelle Pfeiffer. According to what she stated, she advises against getting high on what is one supplying or offering.
Every day above ground is a good day.
Despite not having a major role in the movie, Mel Bernstein, played by Harris Yulin, made an interesting statement that caught the attention of many viewers.
There are times when human beings forget that waking up and getting a chance to experience life is a great blessing, especially when experiencing unpleasant occurrences. However, Bernstein reminds us all that every day we get the chance to wake up and experience life, it is a good day.
Considering the fact that this movie was acted on several decades ago, it is highly impressive that most of the Scarface quotes are still enlightening, informative, and applicable today.
READ ALSO: Incredible imagination quotes that will change your view on things
Legit.ng published imagination quotes that can allow you to perceive both the usual things and your life in a completely new way. All brilliant ideas were once developed because of the ability to form images and build plans in the mind.
Good imagination quotes can brighten your day and make you feel inspired. You could try reading them every day and see if you will notice any positive changes.
Source: Legit.ng