Buhari at 78: Characters of president by Femi Adesina
President Muhammadu Buhari on Thursday, December 17, turned 78 and a flurry of encomiums has been pouring in for the man who "walked" the rough paths from his Daura village to Nigeria's most powerful and respected stool at the Aso Rock.
PAY ATTENTION: Click "See First" under the "Following" tab to see Legit.ng News on your Facebook News Feed!
And in his birthday message titled "Buhari at 78: If only we knew this president", Femi Adesina, the president's media adviser, described him (his principal) as a kind "ramrod straight man from Daura"
He also took the avenue to address some major issues that have been generating concerns including high-flying "ridiculous" insinuation that the president is dead and has been replaced with another figure known as Jubril from Sudan.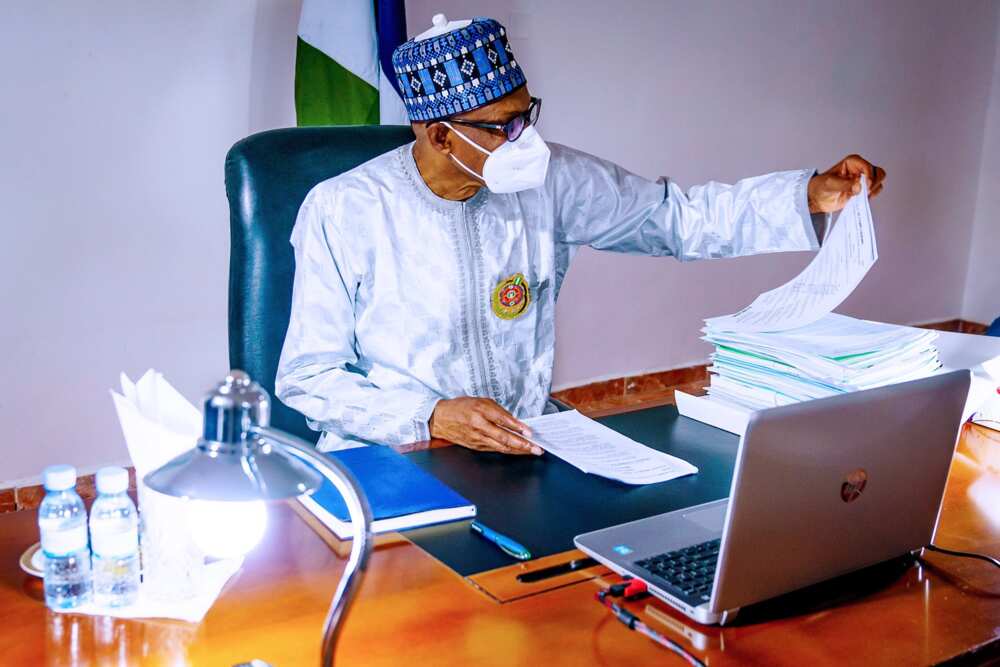 Legit.ng highlights some of the virtues of the president as stated by Femi Adesina.
1. Buhari is a quintessential patriot and gentleman
"If only more Nigerians knew this President. If only they knew the essential Buhari, the quintessential patriot and gentleman, they would behave differently, handle him with more care, and show him more kindness. Yes, everyone needs kindness, even Presidents."
2. He's not a religious bigot
"He's a religious bigot. Really? I've not seen a scintilla of evidence in the past five years. Every Christmas and Easter holiday, he calls those of us who are Christians, working with him, and asks us to stay off work, and enjoy the season with our families. That's not the way of bigots, who would never acknowledge any religion, except their own.
"As a military commander, history has it that Buhari would always give soldiers working under him time to go for worship on Sunday mornings, just as he did to the Muslims on Fridays. Yet, bigot, bigot, some people continue to shout."
3. Buhari and his obsession for his cows
"He's a Fulani, he rears cows, and all Fulani herdsmen are criminals, that's why he tolerates them. Really? Some people even say all Fulani are herdsmen, whether they see them with cattle or not. Truth is; every ethnic stock has its deviants, its criminal elements. You can't just demonize all Fulani, simply because you want to excoriate the President."
4. He's not nepotistic
"He's nepotistic. A common refrain, but non-scientific. About three years ago, we did a scientific exercise. We chronicled all the appointments made by the President since 2015, and allocated them to states and regions.
"The result showed that the Southwest had the largest share. Followed by Imo and Kano states. Then Edo and Katsina. And on and on. But the naysayers ignored facts and figures, and stuck to their false narratives. Nepotism.
"One day, the President had given me an appointment to announce in the early days of the administration. By then, some people had started talking of northernisation agenda. So I said, "Mr President, this is the murmur we hear. Why don't you consider giving this position to another part of the country?"
5. He's a loyal man
"Ask me for a loyal man, who never forgets a good turn, and I'll show you Muhammadu Buhari. Among the last class of Ambassadors, he had personally picked Justice George Oguntade, who was sent to United Kingdom, and Justice Sylvester Nsofor, who he deployed to America. The latter died only last week, aged 85."
6. He is a kind man
"A kind man. I have lots of stories to tell, but let me restrict myself to a few. In December 2015, I had lost my elder sister, a Professor of Dramatic Arts, in an auto crash. While I was crying like a wailing wailer, who was on the phone, consoling and condoling with me? Muhammadu Buhari.
PAY ATTENTION: Get the Latest Nigerian News Anywhere 24/7. Spend less on the Internet!
"And before he became President, when my mother passed on in 2013, and we had a commendation service for her in Lagos, who flew in all the way from Kaduna to attend? Muhammadu Buhari. He sat through the Christian service. Yet, they say he's a bigot. I hear. Bigot from Sudan."
5 years after, Nigerians speak about Buhari's administration | Legit TV
Source: Legit.ng