Man narrates how he inspired 3 youngsters who wanted to become 'street lords' with football
- A Nigerian man, Nsukka Okpa, on social media has narrated his encounter with a set of young apprentices
- The individual said he heard one of them tell the others about becoming a 'street lord' in future
- Okpa said he was moved to talk to the kids and learnt about their love for football
- The individual took it upon himself to start training them and has now considered handing them over to a professional team
PAY ATTENTION: Click "See First" under the "Following" tab to see Legit.ng News on your Facebook News Feed!
A social media user identified as Nsukka Okpa has left members of the internet community touched after sharing his personal encounter with a set of youngsters.
Okpa said the young boys are apprentices at a barbershop where he cuts his hair and he occasionally teases them about their interest in football.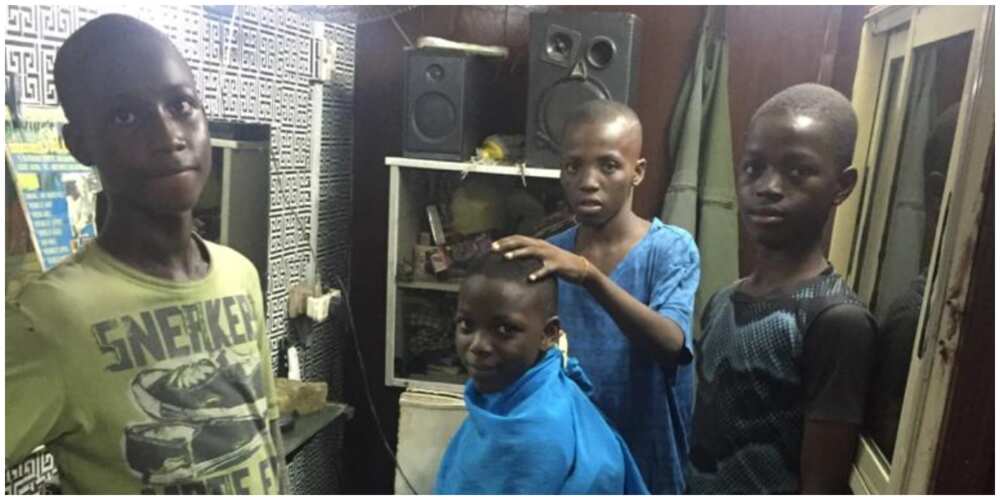 "I use to see then around and sometimes I tease them with football arguements cause they enjoy football alot.. and we have the most funny back and forth banter.. sometimes I hit their nerve and support one of them you know it's fun sha."
See tweets below:
He, however, said sometime around June, he came to cut his hair and overheard one of the boys talking about his future aspirations.
According to Okpa, the young man told his other friends that he wants to become a 'street lord' when he grows up and the others nodded in support.
A touched Okpa said he was moved to engage the kids later on and educate them about the danger of such.
More tweets below:
According to Okpa, he took it upon himself to start training the youngsters every Sunday and even went as far as buying them some sports kits.
Okpa said sometime around December, the boys brought one other friend to join them and the group has in fact grown to a large number of 15.
However, Okpa, said he intends to hand them to a professional team as he cannot handle the training on his own again.
More tweets below:
PAY ATTENTION: Do you have news to share? Contact Legit.ng instantly
Meanwhile, Legit.ng earlier gathered the report of a young Nigerian set to change the whole face of fintech as he made a machine he labelled an ATM.
The talented boy demonstrated how his invention works for people with new banknotes and he received accolades.
Top 5 Nigerian Football Players: Who is The Best? | Legit TV
Source: Legit