Big Naija independence: Nigerian women from pre and post-colonial era and their contributions
Legit.ng organised Big Naija Independence prominent student contest to celebrate Nigeria's 60th Independence. The contest was aimed at spotting young talented students passionate about journalism and writing. A total of 650 students across over 50 tertiary institutions and colleges participated in the competition.
This piece by Ake-Abasi Ekpot, University of Uyo, lists a number of Nigeria women from pre-colonial days to the present day who have continued to strive not to let their heroes labour be in vain.
Women are generally defined based on their roles in the home and family as caretakers, housekeepers, bearer of children, kitchen managers, 'The-other-room' occupier, and all underrated terms used to define a woman which ironically do not define her.
Well, a woman can not really be defined as she is versatile in all roles she decides to play. A mother, a wife, a politician, an activist, a nationalist, a protester, a leader and much more. It is in this versatility that women alongside male nationalists like Herbert Macaulay, Nnamdi Azikiwe, Obafemi Awolowo, Anthony Enahoro, and others fought for the independence of Nigeria.
Nigeria, invaded by British forces in 1851, incorporated in 1865, a British protectorate in 1901, amalgamated in 1914 thus lived in colonisation for 109 years (1851-1960) finally claimed her independence from the colonial masters in 1960. The fight for her independence was a gradual process, constituting of different actions until success was finally achieved. We can proudly and boldly say that together with male counterparts, women also played roles in this fight directly and indirectly.
Women's fight for independence
The most memorable and major revolt against the colonial masters was carried out by the women in 1929. It was the Aba women's war. The women greatly dissatisfied with the colonial rule and rumours of taxation confronted the British authority. Organised and led by women, this war spread from Owerri and Aba where it originated to Calabar and Opobo. This deeply threatened British colonial rule until it was suppressed in 1930. This war had an impact in the fight against British colonial rule as it was a quest for freedom from the hands of colonial masters.
Another woman worthy of mention when talking about Big Naija Independence is Chief Funmilayo Ransome-Kuti, a mother, a wife, a politician, human rights activist, a teacher, and more. Funmilayo's popularity as the 'Lioness of Lusabi' and 'Mother of Nigeria' was well deserved as she was the founder of one of the first proto-nationalist feminist group in Nigeria; the Abeokuta's Women Union (AWU). This union fought for women's rights and unfair taxation on market women. Funmilayo also played roles in Naija independence by attending conferences and joining overseas delegations to negotiate Nigeria's independence from Britain. She was also a founding member of NCNC nationalist party along with Herbert Macaulay which was its first president.
Immortalised in an airport in Calabar in 2001 is a woman of great exploits, Chief Margaret Ekpo, a nationalist, a politician, a social immobiliser, an activist, let's not forget a mother and a wife. Her contributions to Naija independence began when she started attending meetings on behalf of her husband to discuss the colonial master's maladministration. She together with Ransome-Kuti mobilised women to become more involved in politics after she was the only woman present at a political rally organised by Herbert Macaulay-a nationalist also. Even after independence, she became one of the few female politicians in the country.
Post-Colonial women and their contributions
Even now in this post-colonial era, women haven't failed to show their importance. Margaret Ekpo is a good example as she wasn't only involved during the pre-independence struggle but also after independence.
In 1961, she won a seat in the Eastern Regional House of Assembly. With her position, she helped women insert themselves into the first republic and also fought on issues concerning women at that time and also paving way for more women into politics.
Kudirat Abiola is also not to be left out when talking about our post-independence heroines. Wife of Moshood Abiola, Kudirat was a voice when Nigeria's democracy and long-fought independence was beginning to die. Following the annulment of her husband's win in the June 12, 1993 presidential elections, Kudirat joined pro-democracy groups and Anthony Enahoro (a nationalist) to march for freedom not just for love for her husband but also for love for her country Nigeria as the military dictatorship was eating deep into her (Nigeria).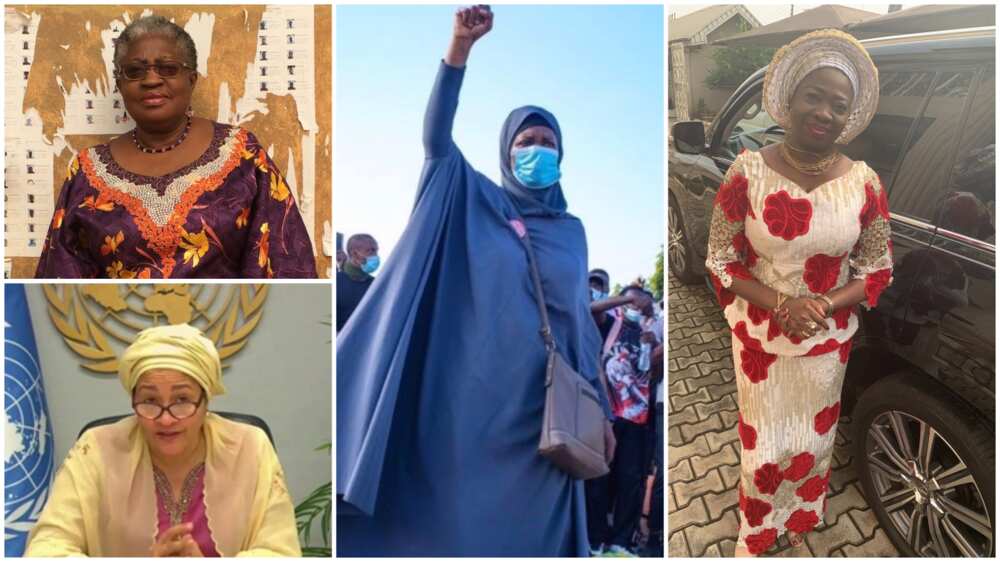 Fast forward to the 21st century, women despite struggles, challenges, opinions, religious views and all other obstacles are still here making an impact in Big Naija today, home and abroad. Women worthy of note in Big Naija include:
Oby Ezekwesili
A former minister of education, one-time presidential candidate, leader of Bring Back Our Girls (BBOG) advocacy group (a group that demanded the release of Chibok girls in captivity at that time) and one time Word Bank vice president.
Ngozi Okonjo-Iweala
A former finance minister (first of her kind), former coordinating minister of the economy, and WTO director-general (elect).
Amina Mohammed
This is another woman representing Nigeria at her full best globally. Former minister of environment involved in Ogoni land cleanup, now deputy secretary-general UN.
Kemi Adeosun
She removed Nigeria from recession.
Adebuko Banjoko
An incorruptible judge.
Abike Dabiri-Erewa
A good representative of Nigeria in the diaspora.
Late Dora Akunyili
A threat to fake dr*gs manufacturers at her time.
Sarah Nnadzwa Jubril
The first female presidential aspirant and more are not left out.
The most recent demonstration which showed Nigeria's true independence and fight for their rights in Big Naija was the EndSARS protest where youths came out to speak against police brutality and killings done by the Special Anti-Robbery Squad (SARS) in Nigeria.
Women were not left out as nursing mothers, wives, female activists, an amputee were seen on the protest grounds. The most interesting and widely spread image of the EndSARS protest is the iconic image of Mrs Aisha Yesufu, a 47-year-old Muslim, mother of 2, wife, activist with her clenched fist in the air calling for an end to the brutality meted out by the men of the Special Anti-Robbery Squad.
Aisha was one of the numerous women out there, standing for what was right, fighting for her rights and securing the future of her children and her country's independence despite her religion's stance.
It is in this love for Big Naija that precolonial women and men fought. It is in this love for Big Naija that women all over the country have and are contributing immensely to the sustenance of her independence. It is in this love for Big Naija that they strive not to let their heroes labour be in vain. It is in this love for Big Naija that women arise and are still arising to serve the nation with one heart, one mind and one spirit. It is in this love for Big Naija that women through the works and actions join hands in unity to say 'Yes to an independent Naija! Yes to a legit Naija! and Yes to a big Naija!
Nigerian women face a lot of problems, we deserve better - Stephanie Linus | Legit TV
Source: Legit.ng News