Internet users choose Omah Lay as their Best New Artiste 2020
- Music from fast-rising stars like Omah Lay, Olakira, Laycon and Bella Schmurda are all everyone is dancing to
- In a recent Facebook poll carried out by Legit.ng, fans voted for who amongst the stars was their favourite of the year
- Omah Lay who was recently arrested and released in Uganda topped the list
PAY ATTENTION: Click "See First" under the "Following" tab to see Legit.ng News on your Facebook News Feed!
The year 2020 saw several musicians rising to stardom and watching their lives change for the better, with hit songs that got people dishing out their best dance moves.
Amongst the many artistes that made 2020 is Omah Lay, Bella Schmurda, Olakira and BBNaija Lockdown winner and rapper, Laycon.
Just recently, Legit.ng carried out a poll to find out who readers believed was the best new artiste of 2020 between Omah Lay, Bella Schmurda, Olakira and Laycon.
Majority of Legit readers voted for Omah Lay as their Best New Artiste of the year 2020. For many of them, the Bad Influencer crooner did not deserve to put in the same category as the others.
Coming right behind him is Laycon whom many people said made 2020 worthwhile.
See how some fans voted:
For Laycon:
Busie Maniza Phiri said:
"Laycon made 2020 interesting and memorable after we lost hope of any good thing in 2020 #Laycon2020"
Okunbor Rita commented:
"Laycon is my best artist of the year, who nor agree fit drink sniper o."
Busola Adams:
"Laycon because his kind of music is kinda different with good and motivating lines.His good in using words and u kinda need to follow his lines closely to understand the meaning.In short he has a good vibe."
Agofure Progress:
"Laycon made my 2020 memorable because this is wolf season and I always learn something new each seconds from him. Laycon spread the word Love & Light to every individual out there to embrace peace and live as one no matter where you're from we just want that love to remain forever. Laycon is indeed a Wolf and GOAT in our time, so he decided to win THIS."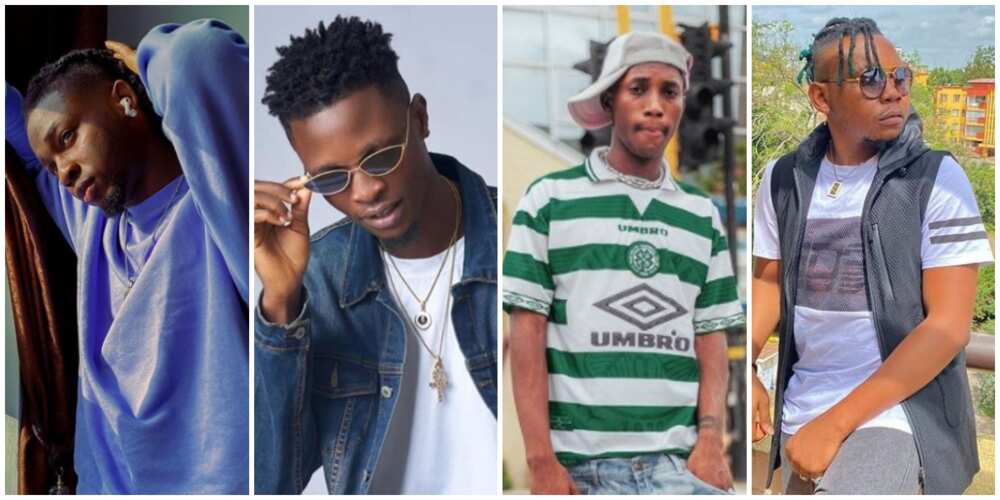 For Omah Lay:
Uchechukwu Sab David:
"Omah lay is better than most old artists these days. See lyrics, see voice, see vibes everything just de blend in."
Flacko Picanche:
"We All Know Say No Body Sing Reach Omah Lay For That List. And Also Numbers Don't Lie... That Man Been Puttin Up Hit After Hit Jus This Little Time‍♂️"
Kingsley Etta:
"Even if them nominate omah for every category... E go win am. Too talented."
Flourish Anastecia Ndidiamaka:
"Omah Lay is my best artiste for the year. I just love the way he sings. The lyrics..... Hmmm. I like laycon, he is OK too but not yet into it. OK bye."
Sophie John:
"Omah lay is the best, I like laycon but when we see truth, we should accept it."
Mackins Offor:
"We shouldn't even be compering,everyone knows omah lay is de best among all,apart from having a good voice,rim's and flows dat guy is very creative with lyrics."
Dandy Kings:
"Omah lay. It seems he has hijack the music industry cos he is the only one I can see or hear is album with a good lyrics and a candid verbs for dis year 2020. Pls dis year 2020 should pack and go cos there is nothing good about the year."
For Bella Schmurda:
Steven Crown:
"Bella Shmurda"
Joana Otache Okaula:
"Am i allowed to pick two? If yes Omah lay and Bella shmurda abeg All these Bbn extremists don't even think at all, Shouting Laycon upandan... At the moment Laycon is a reality TV star nothing more! If he sings we go know.... The fierce song is good but e no fit compete with these people abeg."
MacWise Thaddeaus Ezra:
"Laycon is good, but he is not sopos to be in this list.it was big brother that makes us know that guy sings..(rapper)...so I go for OMALAY and SHMURDA."
Click here to read more comments from music lovers on who their best new artiste of the year is and why.
Meanwhile, the Nigerian music industry is no doubt blessed with a number of talents but three of them that seem to have stood out more than the rest are Wizkid, Davido and Burna Boy.
In a poll created by Legit.ng, it was asked which music star among Wizkid, Burna Boy, Davido and Adekunle Gold had the best album of the year.
Burna Boy's Twice as Tall gathered 15.7% of the votes, Davido's A Better Time had 24.1%, Adekunle Gold's Afro Pop, Vol 1 had just 1.9% votes while Wizkid emerged the winner of the poll after gathering 58.6% of the votes.
Exclusive: Lil Kesh explains why he took a break from music | Legit TV
Source: Legit