The 'Sheroes' of our past: Inspiring stories of Margaret Ekpo, Sawaba, other women
Legit.ng organised Big Naija Independence prominent student contest to celebrate Nigeria's 60th Independence. The contest was aimed at spotting young talented students passionate about journalism and writing. A total of 650 students across over 50 tertiary institutions and colleges participated in the competition.
In this piece, Peace Oghogho Eke-efeme, a student of the University of Port Harcourt writes about the women who played very significant roles in Nigeria but are rarely remembered.
PAY ATTENTION: Click "See First" under the "Following" tab to see Legit.ng News on your Facebook News Feed!
Funmilayo Anikulapo Kuti, Margaret Ekpo, Hajiaratu Amarteifo Gambo Sawaba, no doubt you might not be familiar with all the aforementioned names, the first might ring a bell. Most people would refer to her as Fela's mom but she was way more than that, all the other women too were way more than just wives or mothers, they were strong valiant women who fought and struggled to take Nigeria where it is today.
It is sad that these women and a couple others are barely remembered or acknowledged for everything they had accomplished, which is why I am going to tell their stories.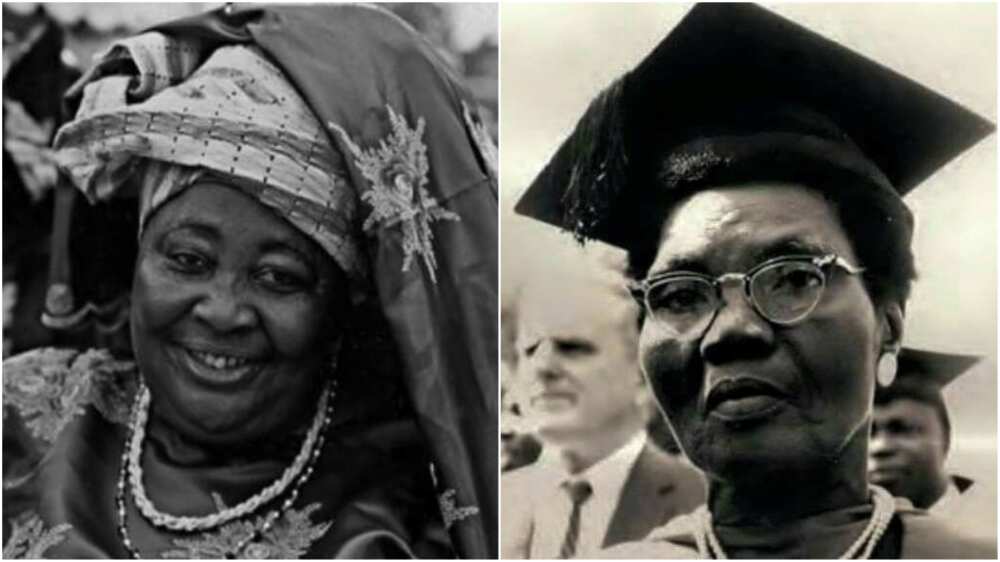 The Lioness of Lisabi
Funmilayo Anikulapo Kuti, nicknamed, 'the Lioness of Lisabi' was the definition of 'girl power', she was a teacher, a suffragist, a women's right activist, a politician. Funmilayo was the founder of so many organisations; she organised the Abeokuta Ladies Club (ALC) in 1932, which was later changed to the Abeokuta Women's Union (AWU) in 1946 and then, the Nigerian Women's Union (NWU) in 1949. Through all these changes the objective of the union remained the same; prevent the exploitation of women, eradicate poverty, improve living standard, create more educational, healthcare and social services for women. Under the presidency of Funmilayo, the AWU started the Egba women's tax revolt in 1947 against the special tax imposed on women by Sir Ladapo Ademola, the Alake of Abeokuta and in 1949 their strong protests and undying zeal led to the resignation of the Alake.
Funmilayo had been a co-founder of the National Council of Nigeria and Cameroon (NCNC), which was a decolonisation party, she was the only woman to hold an executive position in the NCNC. Funmilayo had played an active role in politics, especially in the pre-independence constitution of 1946, she had also been the only woman to join the Nigerian delegation that had gone to London in 1949 to lodge a formal complaint with the secretary of states for the colonies.
She was associated with some of the most anti-colonial movements in Nigeria and West Africa. She had worked tirelessly opposing every single unfair hand dealt to women by leaders or to Nigeria by the colonial masters. She had paved the way for a better Nigeria one protest and one campaign at a time and she had done this with the help of other powerful women.
Sawabiya
Hajaratu Amarteifo Gambo Sawaba made a name for herself when she stood up on a podium and spoke out in a room full of men, this demonstration earned her the nickname Sawabiya meaning 'the redeemer'. She was the deputy chairman of the Great Nigeria People's Party (GNPP), leader of the Northern Element Progress Union (NEPU) which was an anti-corruption and anti-colonialism union. She was one of the women who worked with and was mentored by Funmilayo Anikulapo Kuti.
As she led NEPU, she worked very hard to achieve various goals, she even had to go door to door to meet women who were not allowed to attend political events. She fought against colonists, fought for empowerment in a region filled with elites, she fought against child marriage, forced labour and for western education to be fully established in the North. She was so influential in NEPU that the party's policy was arranged in a set of rules called 'The Sawaba doctrine'.
Her hard work and consistency had earned her as much haters and lovers, she was thrown in jail 16 times; during her first prison experience in Kano, where she was arrested for canvassing for women's support, the moment she was released she started speaking again against the poor conditions of the prison.
An Efik Warrior
Margaret Affiong Ekpo, an Efik woman was a women's right activist, a politician and a member of the NCNC, where she became active in Nigeria's struggle against colonialism. This strong woman had contributed greatly to the political development of Nigeria, she fought for women's involvement in politics and government programs. Her nationalist journey began when she attended a political rally in place of her husband in 1945, where she heard Herbert Macaulay, Nnamdi Azikiwe and Mazi Mbonu Ojike speak about independence. She organized the market women's association Aba and then in 1954 established the Aba Township Women's Association. Her awareness of the struggle all over the world for women's right made her want better for women in her country, pushing her to continue to fight against the oppressive political and civil role colonialism played in subjugating women. In 1950 she teamed up Funmilayo Anikulapo Kuti to protest the killings of people protesting colonial practices at a coal mine in Enugu. In 1953, she was nominated by the NCNC to the Regional House of Chiefs. Her political career ended at the onset of the civil war, as she was put in prison by the Biafrans.
The Iyaleje of Ikija
Elizabeth Adekogbe was the Iyaleje of Ikija, she was a nationalist, a women's right leader, teacher, headmistress, journalist and traditional aristocrat. She was the leader of the Ibadan-based Women's Movement of Nigeria (WMN). Under her leadership, the WMN's objectives were universal suffrage, admission of women to native authority councils, the nomination of members to the Western House of Assembly, enrollment of more girls in schools and with consistency and hard-work may of these objectives were achieved. Adekogbe worked with Funmilayo and Margaret Ekpo to demand a revision of the constitution and to set up the Federation of Nigerian Women's Organization (FNWO) whose objectives where adult suffrage, a better place for women in the revised constitution and education for women.
These women and so many others not mentioned here had fought very strongly for Nigeria's independence and a better standard of living for women, we all are enjoying benefits of their hard work and bravery. I hope their stories continue to be told now and many more years to come.
Independence day: Ojota to University of Ibadan was N2 then - Trader | Legit TV
Source: Legit