Legit.ng listed among prestigious top publishers on Facebook
Legit.ng, Nigeria's number one online news and entertainment portal, has achieved yet another major milestone in our bid to inform, educate and entertain the citizens of Africa's most populous country and the world at large.
Legit.ng was deservingly listed as one of the Top 25 web publishers on the social media website, Facebook for the month of November 2020.
The group is so prestigious that only top media houses across the world ever make their way into it.
On this list are websites of media houses with global acclaim, publishers that are known and respected for their objectivity and integrity. These include Daily Mail, CNN, Fox News, New York Times, NBC News, Breitbart, Washington Post, National Public Radio (npr.org) and The Guardian UK among others.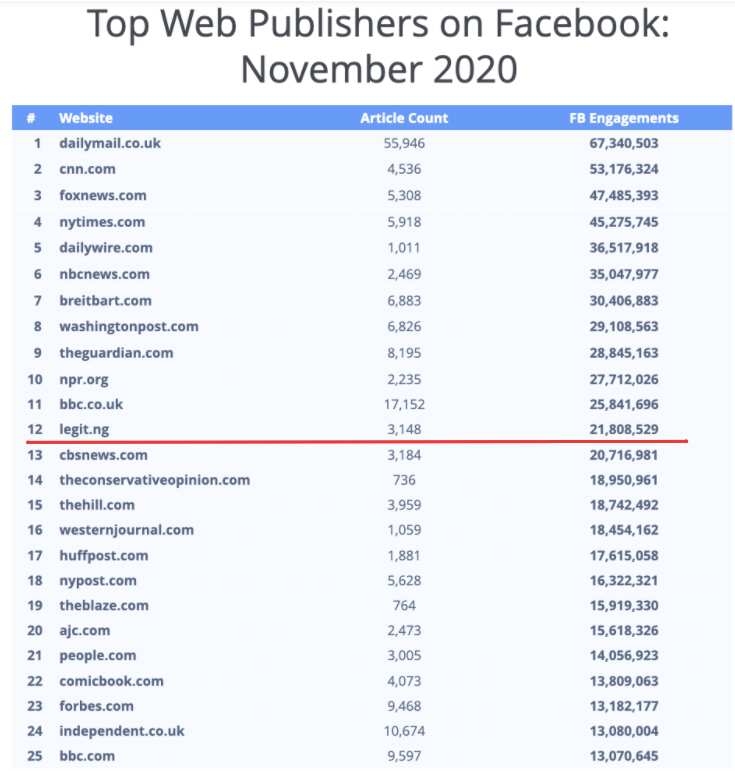 Legit.ng's amazing statistics
According to the data made available by Newswhip, Legit.ng came in on the list at number 12 ahead of top media websites like bbc.com, forbes.com, cbsnews.com, New York Post (nypost.com), independent.co.uk and a host of others.
The websites that made the November list were majorly from the United States of America and Britain. Nigeria's Legit.ng was the only African web publisher that made the list.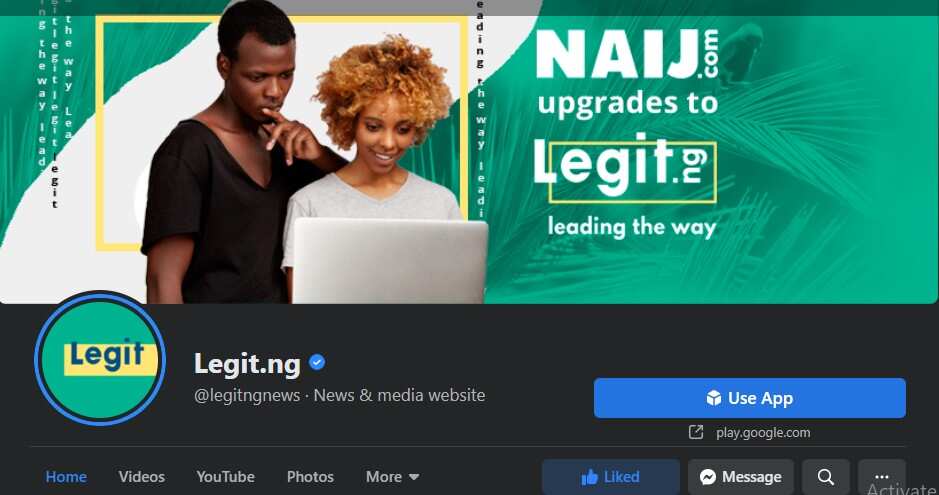 The data provided by Newswhip further showed that Legit.ng published 3,148 articles on Facebook in November alone and garnered a massive 21,808,529 engagements, the highest by any web publisher on the African continent for the month.
How did we do this?
Legit.ng's outstanding result in November as seen in the data above is the product of constant improvement on the kind of content that we serve to our readers.
We make sure that our content ideas are people and data-driven. This way, our readers always get what they want to see.
Making this prestigious list of Top 25 web publishers on Facebook is indeed a deserved recognition for Legit.ng and its teeming readers across the world.
To reap some of the awesome benefits of this huge engagement on Legit.ng, reach out to our marketing team for advert placements and you are guaranteed to smile to the bank.
Source: Legit.ng