Nigerians react as Buhari says it's 'amazing' ASUU stayed home for so long
Reactions have followed President Muhammadu Buhari's statement on the eight-month-long strike by the Academic Staff Union of Universities (ASUU).
PAY ATTENTION: Click "See First" under the "Following" tab to see Legit.ng News on your Facebook News Feed!
The president who described the strike as amazing accused the lecturers of not taking into consideration the larger challenges facing the country in their demands.
Buhari was quoted to have said:
"The Minister of Labour is working hard at it. It is amazing how ASUU will stay out of classrooms for so long. There's a need for our elites to understand the challenges facing the country."
Nigerians in their usual ways have quickly taken to social media to give diverse opinions on the ASUU strike as it affects the country.
According to @kemosula on Twitter, the government has no moral justification to blame the lecturers.
"Am not in support of ASUU lingering strike action simply, there is no sense in it. But this government has no moral justification to condemn the action by referring to economic condition. Do they consider economic conditions? Why don't the government stop Garba Shehu and Adesina's salaries for months because of economic condition or even reduced it for the same reason?"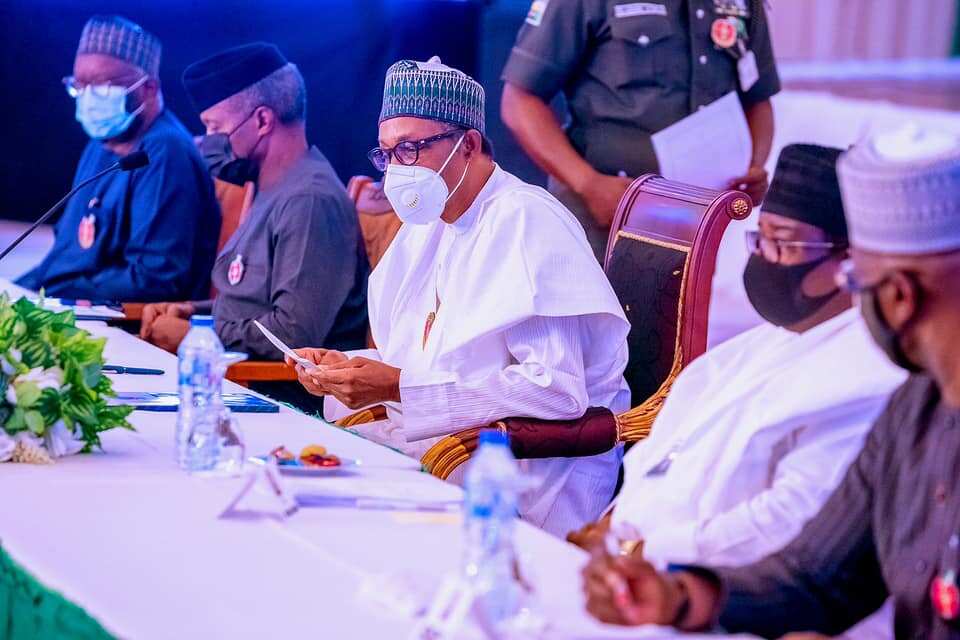 @StephenAwe4 wrote:
"Not as surprising as arrested and pardoned Boko Haram members earning more than university lecturers. Also not as amazing as Nigeria exporting crude and buying PMS from Niger Republic that has only one refinery."
@obalola20 said:
"It is not ASUU's fault that the strike is going to 8 months. If the government had acceded to ASUU's request or shifted ground as they now did, I believe ASUU would have called off the strike. The government is budgeting billions of naira to maintain themselves but play lip service to education"
@Ememobonglive wrote:
"Let's be honest! ASUU's own is simply too much. This organisation has been going on strike since the early 90s. We understand that conditions are bad but sometimes you also have to consider the students? You are churning out half-baked graduates and it's showing."
@UTorsar added:
"Only ASUU with all these demands. They have truly not taken into consideration other challenges facing the country. Neither have they cared for the educational welfare of students. Bunch of heartless people."
@Doc_steena said:
When they are collecting and sharing billions, including cars and excessive feeding budget, you didn't ask for consideration...people are asking for their salaries and allowances, you are asking them to consider, make I no use hunger address you. Take your time!"
@Innovick1 on his part said:
"FG should apply no work no pay style. ASUU issue is just too much. They want to destroy government universities so that their private Universities will thrive. Question: How does their fight benefit the Nigerian student? It is for their own selfish interest."
@DavidBaloguns also wrote:
"It takes an educated person to appreciate the value of education. You are owing ASUU salary and still trying to make it look like a light matter. With all the billions of dollars you have been borrowing, nothing has been committed to the improvement of tertiary education."
@gem_59485 also added:
"It's amazing this government wants everyone to be making sacrifices without any specific leadership examples from its side. They live on affluence at the expense of the civil populace."
Meanwhile, Legit.ng had reported that there was a verbal exchange between the minister of labour and employment, Chris Ngige, and the leadership of the ASUU.
The union's president, Prof. Biodun Ogunyemi, blamed the federal government for the union's failure to call off the strike.
In reaction, Ngige described the claims by the union's boss as false and misleading.
Soldiers have killed 92 Boko Haram members in the past week - Major General Enenche | Legit TV
Source: Legit.ng