Nigerian Teachers: How Much They Earn And Their Concerns
- The teaching profession in Nigeria comes with its challenges with salaries and other emoluments being major
- In the country, teachers' welfare comes with the type of school they work with or their mode of employment
- While some earn as ridiculously as N20,000, some private schools pay as much as N250,000 or more
PAY ATTENTION: Click "See First" under the "Following" tab to see Legit.ng News on your Facebook News Feed!
The average Nigerian teacher is used to the term: 'Your reward is in heaven'. However, they are never comfortable with this even if they sometimes take it as part of jokes.
Though it is supposed to be a prayer for the efforts of these child-moulders in formal learning institutions, many of them see it as a bleak reminder of the situations they have found themselves in terms of salaries and welfare.
It is noteworthy that this term got very popular with the teachers, especially during the military era when people of the profession found it very difficult to take care of their families and were seen as major debtors.
Just recently, President Muhammadu Buhari lifted the hopes of the teachers in the country when he announced an immediate review of their salaries and wages.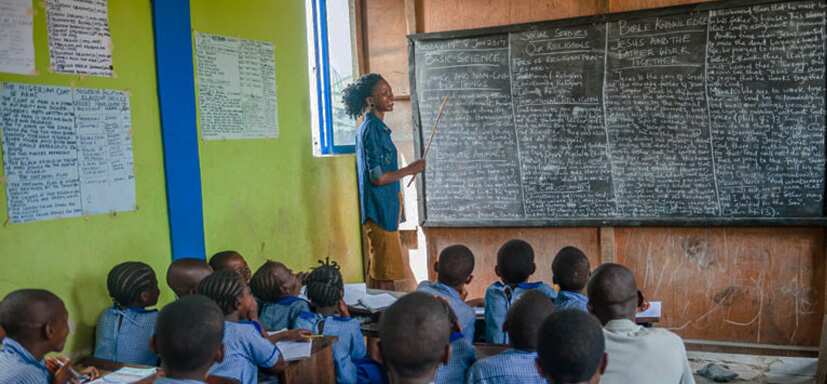 Though this has not gone down well with some state governors, who are also major stakeholders concerning the welfare of teachers, it is believed the action would boost the morale of the teachers as part of what the federal government calls a move to build a stronger educational system.
How much do Nigerian teachers earn?
Teachers in Nigeria are divided into two categories: Those who teach in government schools and others who operate in private establishments.
For the first set, it is known that their salaries also vary depending on the state of the country where they are employed (since some of them are still battling with issues of minimum wage) or whether they are being paid by the federal government.
Just before the pronouncement of the president, 'Level 8' teachers under the federal government earned between N40,000 and N66,000 monthly. This wage range is different from that of the states of the federation. In schools managed by states, teachers, in some cases, are said to earn between N20,000 and N70,000 monthly.
For private schools, there is a huge discrepancy in the payment of teachers. While some teachers get as little as N10,000 monthly in some 'mushroom' schools, it could be confirmed the more organised the school, the better the welfare of teachers is handled.
Some of these private schools pay between N50,000 and N250,000 and, in some other cases, more depending on the qualification of a teacher.
Reasons teachers prefer public schools irrespective of poor pay
1. Job security: It is very difficult for the government to sack a teacher under it. It is only in very rare cases that this can happen.
2. Promotion: Teachers in public schools enjoy promotions from levels, offices and positions to others. This hardly takes place in private schools.
3. Pension and other benefits: Unlike teachers in private schools, those employed by the government often anticipate about 35 years of service after which they get pension and gratuities. While serving, they also get some benefits including allowances.
4. Easy access to loans: Teachers in public schools get easy access to government loans where available. This is not so with those in private schools.
PAY ATTENTION: Install our latest app for Android, read best news on Nigeria's #1 news app
5. Unions and professional associations: Teachers in public schools enjoy being in unions and other professional associations that help to fight for their welfare and ensure mutually beneficial relationships between them and their employers.
Staying poor in Nigeria is better than traveling abroad by road - Returnee | Legit TV
Source: Legit.ng