50+ thoughtful alone quotes on importance of enjoying solitude
Even though being alone allows us to recharge and has a lot more benefits, it is no secret that it may be hard to get comfortable with being alone. For those who enjoy solitude, being alone is a gift, but to those who often feel lonely, the thought of being alone is a nightmare. Here are some thoughtful being alone quotes that you will surely enjoy.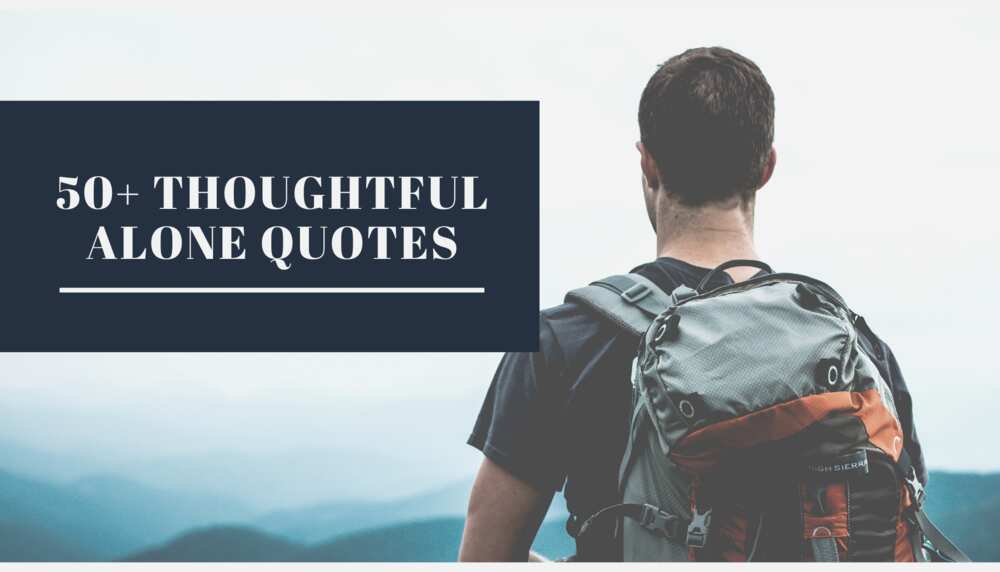 These quotes about being alone in life will help you realise that you are not the only one who does not like being alone. Everyone experiences loneliness at one point or another. So, do not beat yourself up for it, just try to enjoy your solitude.
Enjoy reading our list of happy alone quotes and sad ones as well.
Popular being alone quotes
Check out this list of the most famous be alone quotes.
It's far better to be unhappy alone than unhappy with someone — so far. - Marilyn Monroe
Laugh and the world laughs with you, snore and you sleep alone. - Anthony Burgess
It's easy to stand with the crowd it takes courage to stand alone
I used to think that the worst thing in life was to end up all alone. It's not. The worst thing in life is ending up with people who make you feel all alone. - Robin Williams
Sometimes, you need to be alone. Not to be lonely, but to enjoy your free time being yourself.
You smile, but you wanna cry. You talk, but you wanna be quiet. You pretend like you're happy, but you aren't.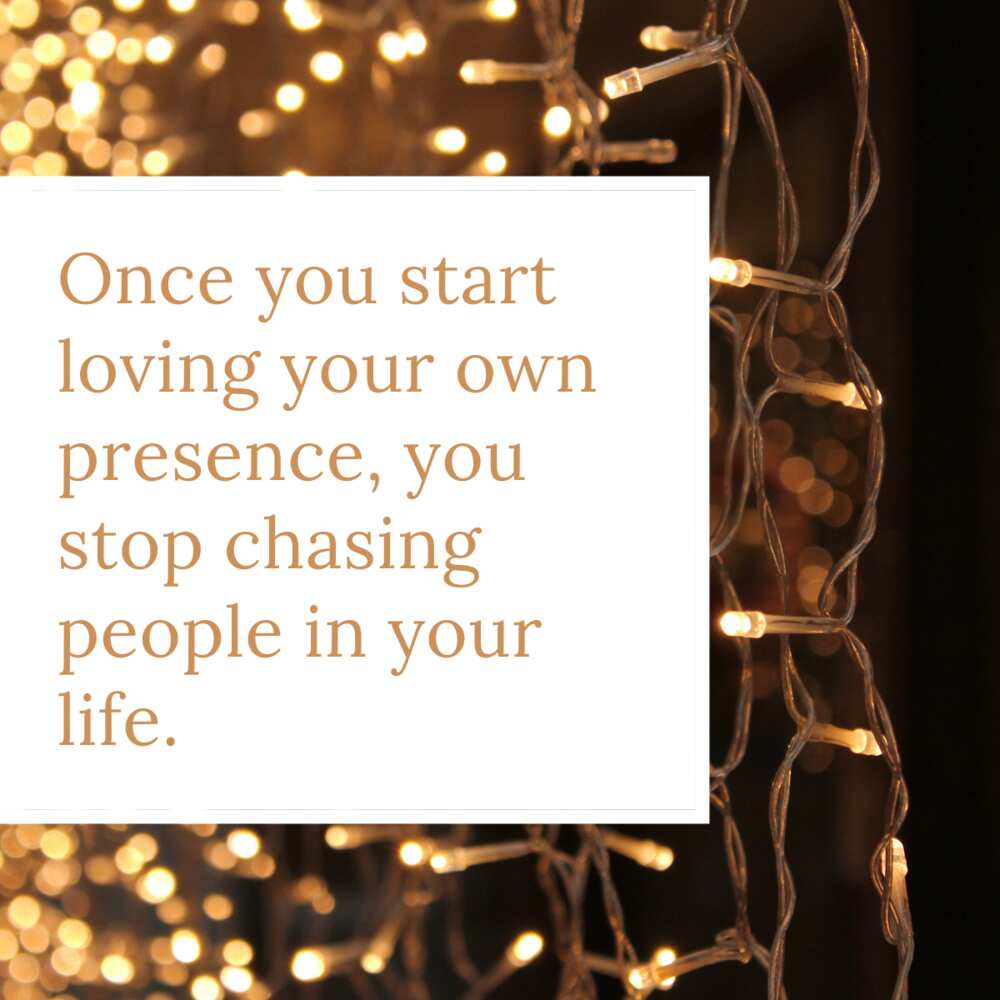 I think it's good for a person to spend time alone. It gives them an opportunity to discover who they are and to figure out why they are always alone. - Amy Sedaris
We're born alone, we live alone, we die alone. Only through our love and friendship can we create the illusion for the moment that we're not alone. - Orson Welles
Loneliness is an emotion and being alone can be a choice.
Sometimes, you just need a break. In a beautiful place. Alone. To figure everything out.
What a lovely surprise to finally discover how unlonely being alone can be. – Ellen Burstyn
As I get older I'm more and more comfortable being alone. -Sienna Miller
Loneliness adds beauty to life. It puts a special burn on sunsets and makes night air smell better. -Henry Rollins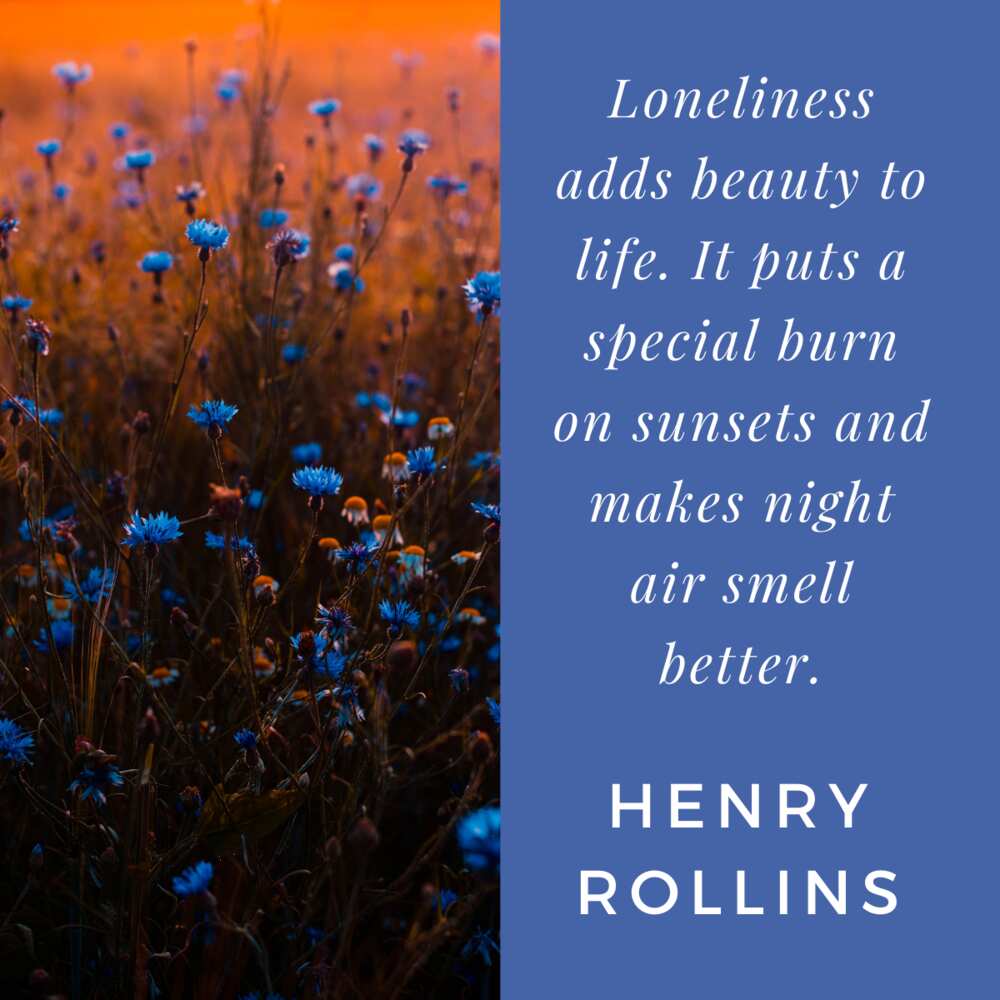 Once you start loving your own presence, you stop chasing people in your life.
Sometimes you just need to be alone and let your tears out.
Never say you are alone for you are not alone, your God and your genius is within.
The soul that sees beauty may sometimes walk alone.
I live in that solitude which is painful in youth, but delicious in the years of maturity -Albert Einstein
Nothing can bring you peace but yourself. -Ralph Waldo Emerson
Being alone has a power that very few people can handle. -Steven Aitchison
Better to be with no one than to be with the wrong one.
I'm learning a lot about myself being alone.
The sun is alone too. And he's still shining.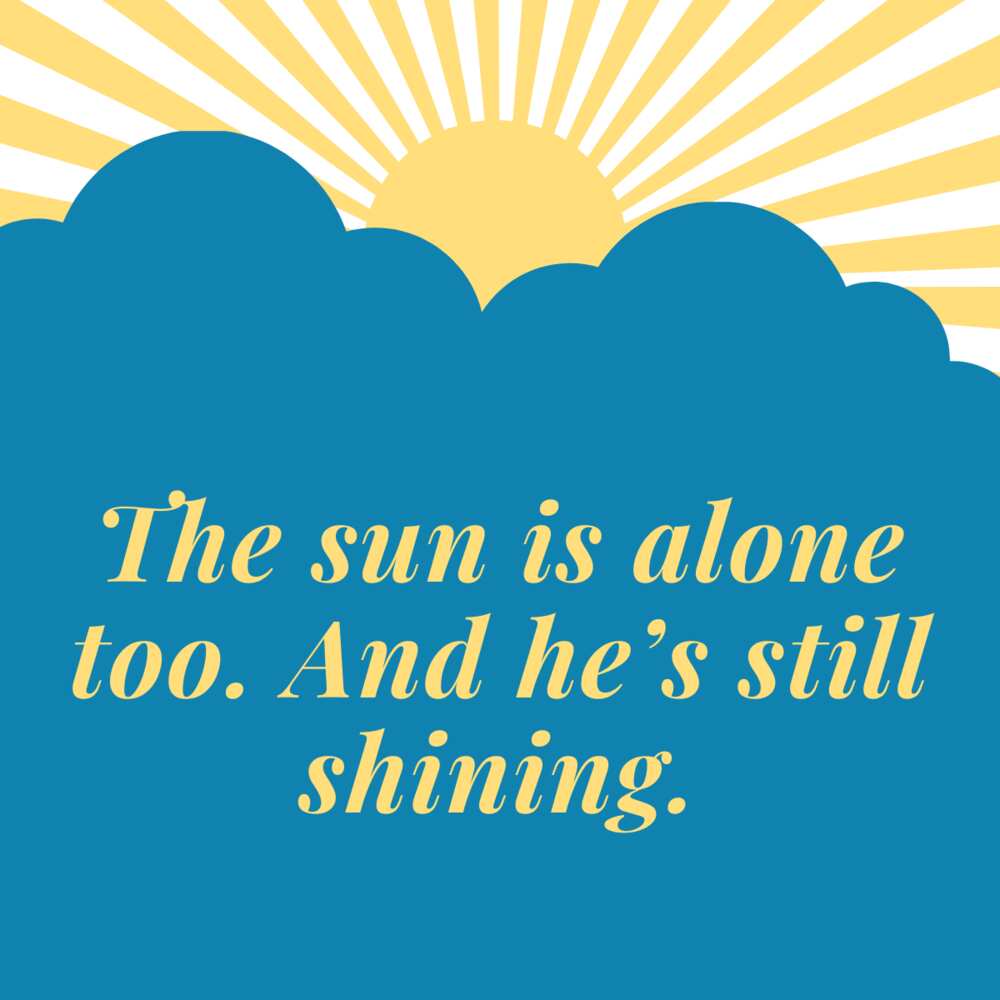 Loneliness expresses the pain of being alone and solitude expresses the glory of being alone. -Paul Tillich
I had already found that it was not good to be alone, and so made companionship with what there was around me, sometimes with the universe and sometimes with my own insignificant self; but my books were always my friends, let fail all else. - Joshua Slocum, Sailing Alone around the World
Sometimes, you find yourself in the middle of nowhere, and sometimes, in the middle of nowhere you find yourself.
Those who fly solo have the strongest wings.
Your life will get better when you realize it's better to be alone than to chase people who don't really care about you.
I enjoy being alone, my soul is at peace in the silence.
You may feel lost and alone. But God knows where you are and has a good plan for your future.
Being alone & actually sitting with our own thoughts can lead to such growth and realizations that are rare in our everyday busy lives. – Kourtney Kardashian
There are worse things than feeling alone. Things like being with someone and still feeling alone.
If you want to be strong, learn to enjoy being alone.
The trouble is not that I am single and likely to stay single, but that I am lonely and likely to stay lonely.
I think it's very healthy, to spend time alone. You need to know how to be alone. You need to know how to be alone and not be defined by another person.
Happiness is being alone with your own thoughts.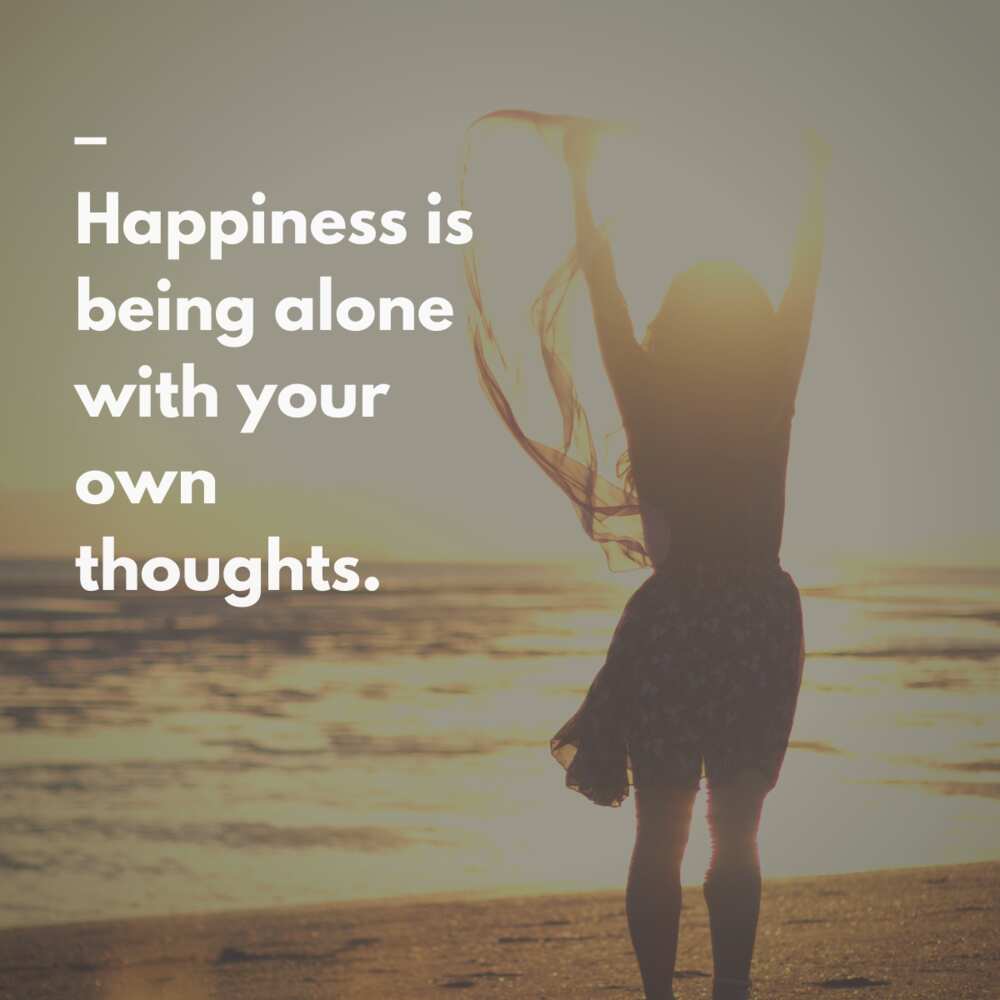 We are all alone, born alone, die alone, and—in spite of True Romance magazines—we shall all someday look back on our lives and see that, in spite of our company, we were alone the whole way. I do not say lonely—at least, not all the time—but essentially, and finally, alone. This is what makes your self-respect so important, and I don't see how you can respect yourself if you must look in the hearts and minds of others for your happiness. - Hunter S. Thompson, The Proud Highway: Saga of a Desperate Southern Gentleman, 1955-1967
Being alone has a power that very few people can handle.
The hardest walk you can make is alone. But it's the walk that will make you stronger.
Until you get comfortable with being alone, you'll never know if you're choosing someone out of love or loneliness. - Mandy Hale
Now, let's list some being happy alone quotes.
Quotes about being alone and happy
Here are some uplifting happy being alone quotes that will help you learn how to appreciate your solitude.
I think it's good for a person to spend time alone. It gives them an opportunity to discover who they are and to figure out why they are always alone.- Amy Sedaris, I Like You: Hospitality Under the Influence
Learn to be alone and to like it. There is nothing more empowering or freeing than learning to like your own company. – Mandy Hale
I love to be alone. I never found the companion that was so companionable as solitude. - Henry David Thoreau
My alone feels so good, I'll only have you if you're sweeter than my solitude. - Warsan Shire
I have to be alone very often. I'd be quite happy if I spent from Saturday night until Monday morning alone in my apartment. That's how I refuel. - Audrey Hepburn: Many-Sided Charmer, LIFE Magazine, December 7, 1953
If you want to be happy, learn to be alone without being lonely. Learn that being alone does not mean being unhappy. The world is full of plenty of interesting and enjoyable things to do and people who can enrich your life. - Michael Josephson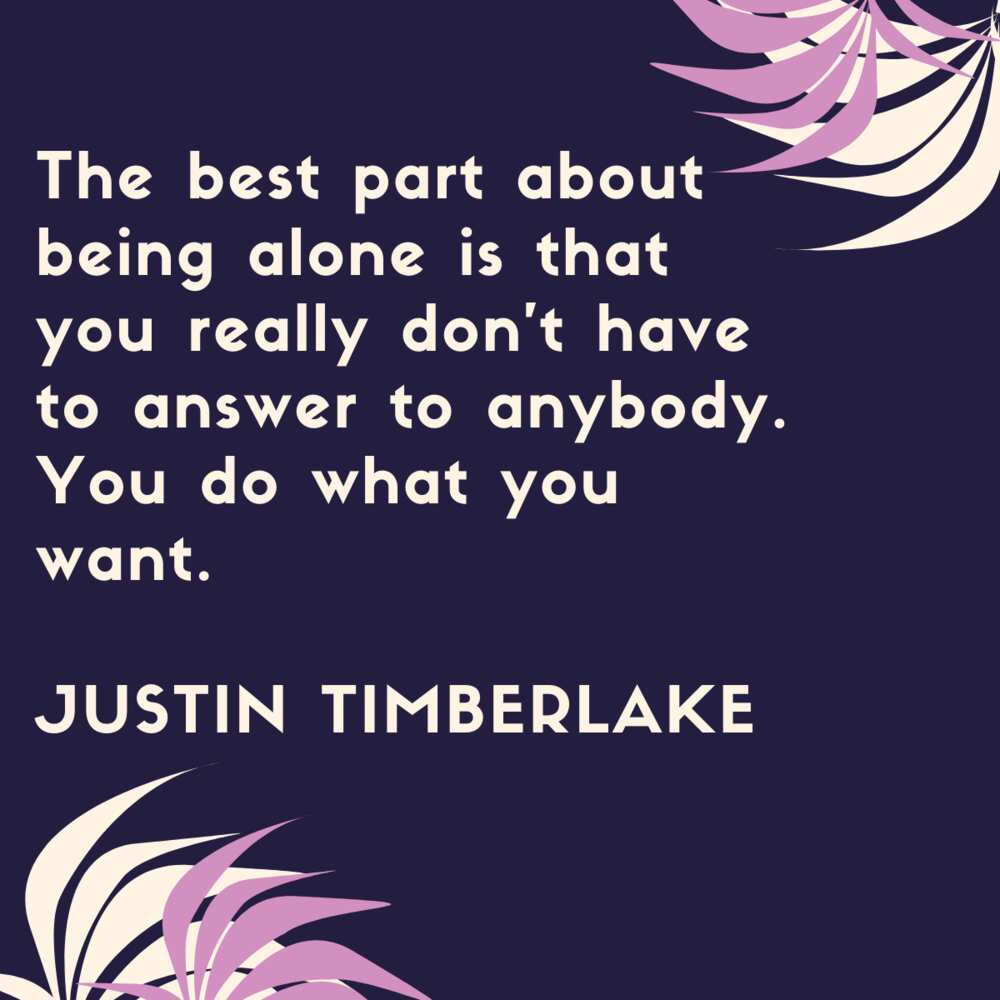 The best part about being alone is that you really don't have to answer to anybody. You do what you want. - Justin Timberlake
Being solitary is being alone well: being alone luxuriously immersed in doings of your own choice, aware of the fullness of your won presence rather than of the absence of others. Because solitude is an achievement. - Alice Koller
Standing alone doesn't mean I am alone. It means I'm strong enough to handle things all by myself.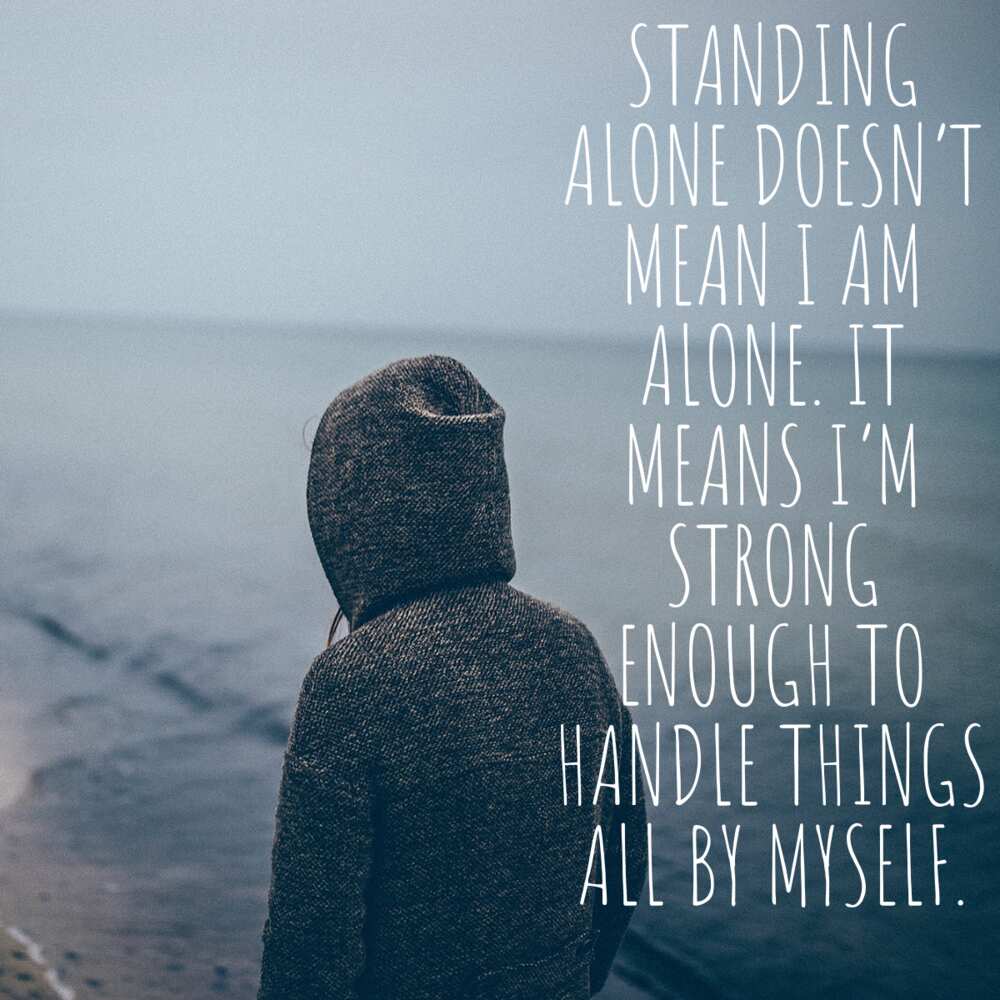 I'm fascinated with myself and love hearing the sound of my own voice. I'd like to hear what I have to say. A lot of people don't like being alone because they truly don't like themselves, but I love me. – Gene Simmons
Truth is, I'm generally happiest when it's just me. It's okay to be madly in love with yourself. – Richelle E. Goodrich
Alone by herself she built the kingdom that she wanted.
It is not easy to find happiness in ourselves and it is not possible to find it elsewhere
Hopefully, these alone but happy quotes have shown you that there is nothing wrong with being alone. In fact, you should learn to cherish your me-time.
Sad alone quotes
Here are some rather sad quotes about being alone.
I don't want to be alone, I want to be left alone. - Audrey Hepburn
I am not alone because loneliness is always with me.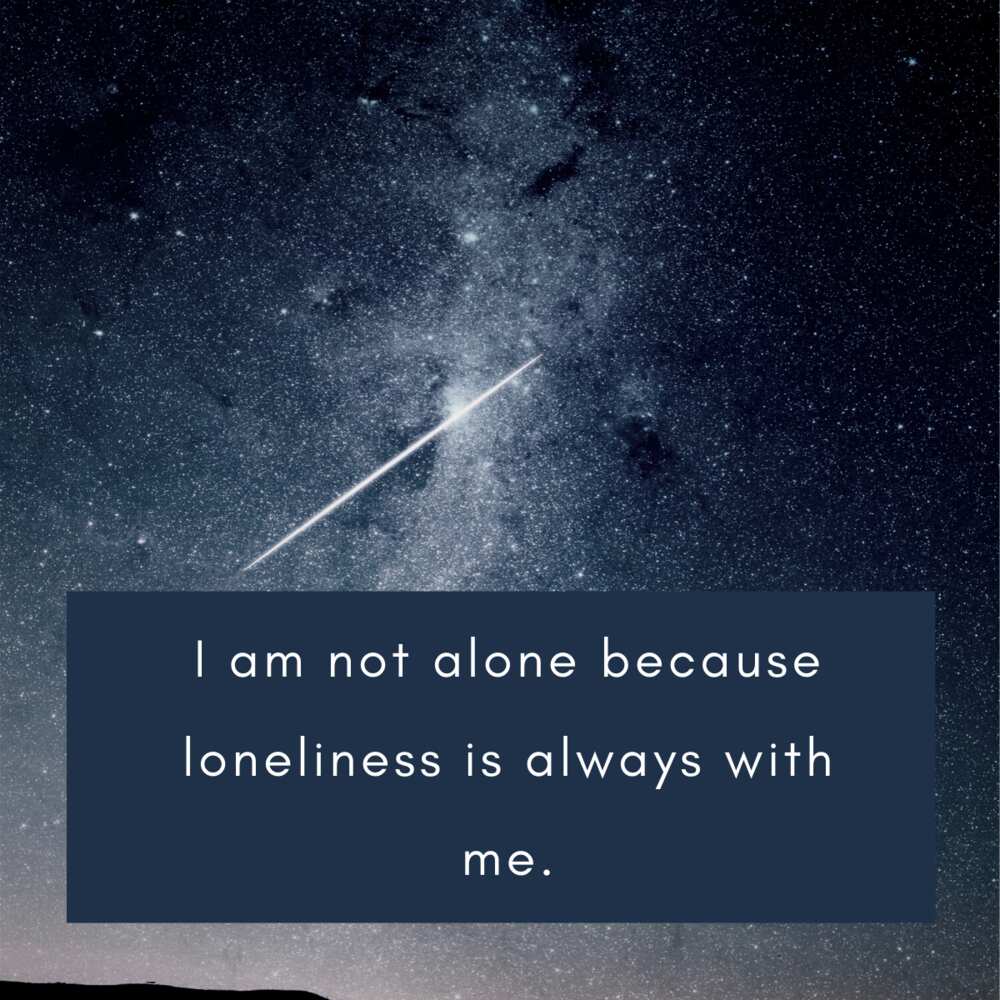 The loneliest people are the kindest. The saddest people smile the brightest. The most damaged people are the wisest. All because they do not wish to see anyone else suffer the way they do.
Nobody knows about the little melt downs I have when I'm alone. They only know about the smiles and laughs I show them.
When you have nobody you can make a cup of tea for, when nobody needs you, that's when I think life is over. – Audrey Hepburn
Don't go away. I don't want to be alone. I can't stand being alone. - Arnold Rothstein
The most terrible poverty is loneliness, and the feeling of being unloved. - Mother Teresa
Being alone is more painful than getting hurt.
If you could read my mind, you'd be in tears.
She was drowning but nobody saw her struggle.
I want someone to be afraid of losing me. No one has and I don't think no one ever will.
Loneliness is my least favorite thing about life. The thing that I'm most worried about is just being alone without anybody to care for or someone who will care for me. - Anne Hathaway
Lonely is not being alone, it's the feeling that no one cares.
Sometimes it's better to be alone, no one can hurt you that way. - Tinku Razoria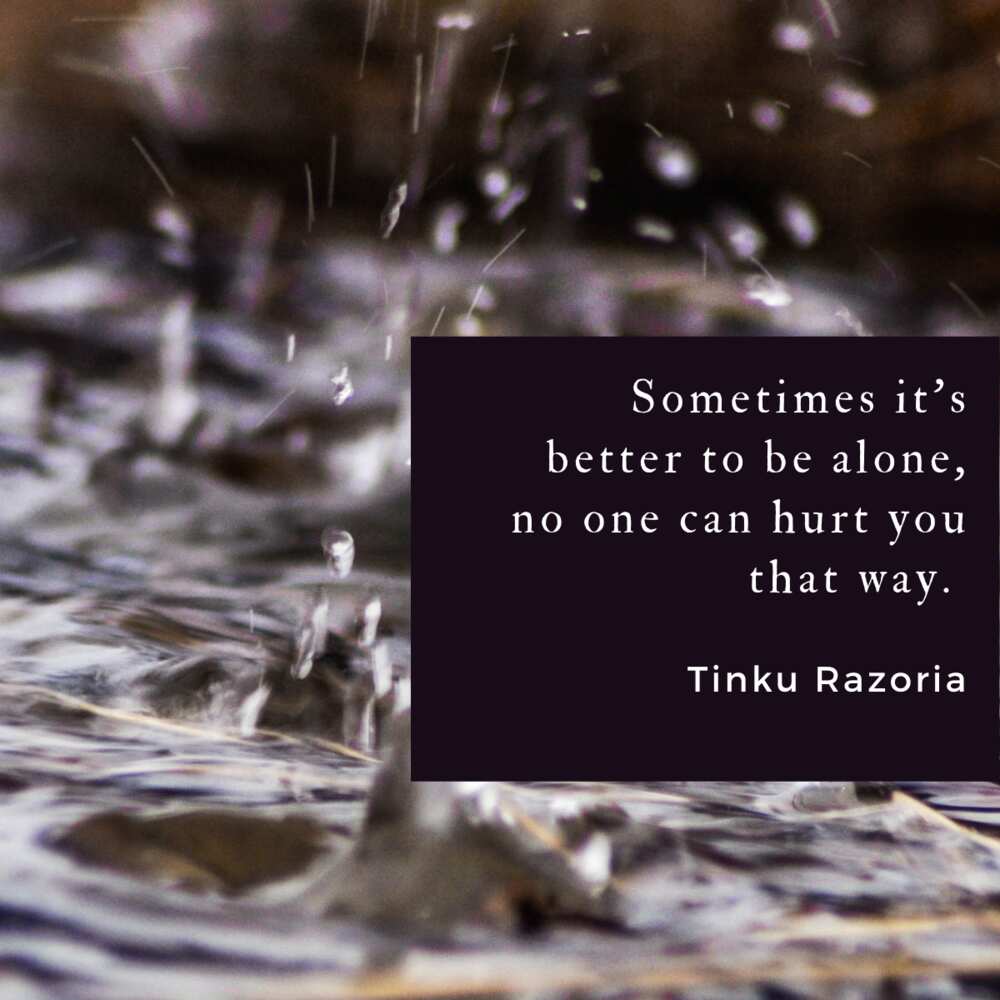 Sometimes I feel like I just want to be alone. But what I actually want is someone to just hold me and tell me everything will be okay.
Let me tell you this: If you meet a loner, no matter what they tell you, it's not because they enjoy solitude. It's because they have tried to blend into the world before, and people continue to disappoint them. - Jodi Picoult
Sometimes I just want to disappear and see if anyone would miss me.
What has really happened when you feel alone is that you've abandoned yourself. You have stopped taking care of your own basic needs — you don't value yourself, you don't listen to your own thoughts, and you don't take care of your physical, emotional, or spiritual self. This is what is causing you to feel alone. You have abandoned you. - Gregg Michaelsen
After going through our list of alone quotes, which quote about being alone did you identify with the most? Let us know in the comments section below.
READ ALSO: 30+ great queen quotes by and about iconic historical figures
Legit.ng recently published a list of some of the most famous queen quotes ever uttered. These quotes are undoubtedly full of wisdom that may help one navigate through life.
Everyone can stand to learn from these wise sayings. If you would like to get some wisdom from them, check out the list of queen quotes by Legit.ng.
Source: Legit.ng