Buhari government promises to sanction discos selling meters
- Nigerians must not pay for meters, the federal government has insisted
- In fact, the government says it is ready to sanction any disco doing that as meters are to be provided at no cost to Nigerians
- The distribution of free meters to customers had been flagged off sometime in October
PAY ATTENTION: Click "See First" under the "Following" tab to see Legit.ng News on your Facebook News Feed!
Dicos have been warned not to sell meters to Nigerians in any capacity. The warning was given by the federal government.
Specifically, the federal government vowed to sanction anty Disco caught selling meters or asking Nigerians to pay money to get the item.
This was disclosed by the special adviser to the president on infrastructure, Ahmed Zakari.
He gave the warning at a stakeholders' engagement on electricity tariff, organised by the FGN/NLC-TUC Ad-hoc Committee, News Agency of Nigeria (NAN) reports.
He said:
"We have made it clear through the regulator's direct order as well as the intervention from the Ministry of Power that these meters are to be provided to Nigerians at no cost.
"Even for meters that will be paid for through the MAP, there is a directive from the regulator to the discos that they need to find a way to reimburse citizens over time.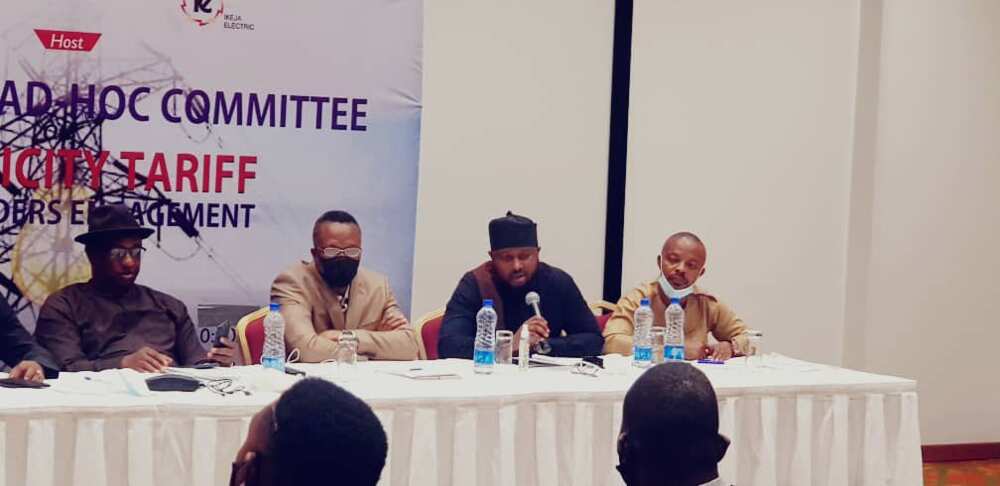 "If we find any disco or its representatives selling these meters or exploiting Nigerians to be able to get them, we will sanction such disco."
Meanwhile, Nigerians are not happy with the federal government. They believe the government is not sincere when it comes to monitoring of the Discos.
Christian Belvins Kemakolam-Nwanosike on his part wrote:
"If you do normal and proper investigation, you would find out that a greater percentage of those that have this in their houses paid for it and are still paying."
Kabir S Imam said:
"The Discos don't want to end estimated billing because they reap from what they didn't sow. I have personally asked KEDCO to disconnect my light and hereby ask every Nigerian to join me and say no to estimated exploitation."
Gabriel Utomi added:
"FG "the toothless bulldog" that can only bark but cannot bite. Who is monitoring to ensure that the orders are implemented and where are the meters? Citizens will know when FG is serious. For now they are having fun and deceiving themselves. Time will definitely tell."
Olusegun Adebayo said:
"I bought my own meter for 48k and I paid 5k for registration and capturing."
Obinna Ekwo claimed that:
"This our government is never serious, audio statement without actions. Are truly looking for them? They are selling with receipt. Check any of disco website , they are selling it there too. So who is looking for who?"
ThankGod Chibuzor said:
Ogunniran Oluwafemi Enugu state. My family paid over N43, 000 to procure the pre-paid meter through the Enugu Electricity Distribution Company (EEDC). And for over four-month now, we are yet to get what we paid for. Govt. Should come out clean. Let's know who are those collecting these monies from poor Nigerians."
Ogunniran Oluwafemi added:
"Government can't tell me that they are not aware that Disco are selling the meter, even the price has increased from about 48k the former price to about 52 k now. Let government go and make his finding from AEDC."
Chijioke Ezenwa concluded that:
"I paid 48500naira for each of my meters and also paid 20000naira installation fees for each. I know we have right to get it free. But it might take 10 to 50years to get it free."
Meanwhile, Legit.ng had reported that Nigeria's power grid collapsed on Sunday, November 29, plunging some parts of the country including Kaduna, Kebbi and Zamfara into a total blackout.
The unfortunate development was announced by the Kaduna Electric in a statement on Sunday afternoon, saying the "collapse occurred at about 11:26."
Abdulazeez Abdullahi, head of corporate communication of the power unit, appealed for calm and assured that the power supply "shall be restored as soon as the grid is back up."
Fashola EXCLUSIVE Interview: How Nigeria Can Have Uninterrupted Power Supply | - on Legit TV
Source: Legit.ng