Legit.ng tells what Ngozi Nwosu, Ronke Odusanya, Adekunle Gold are like behind the camera
Many things happen behind the camera before a good celebrity interview can be achieved. From nervousness to makeup touch-up, to celebrities coming in moody but eventually loosening up because they had a swell time in our studio, there is more to the 'perfect' celebrity interview than meet the eye.
Legit.ng as the №1 online news and entertainment platform by the audience in Nigeria, has the responsibility of bringing Nigerian celebrities closer to their fans through exclusive and live interviews.
By doing this, we bring authentic and straight from the horse's mouth facts about your favourite celebs. Our live-streamed videos also afford our numerous readers to get to meet and ask their favourite celebs questions they have been dying to ask them.
PAY ATTENTION: Click "See First" under the "Following" tab to see Legit.ng News on your Facebook News Feed!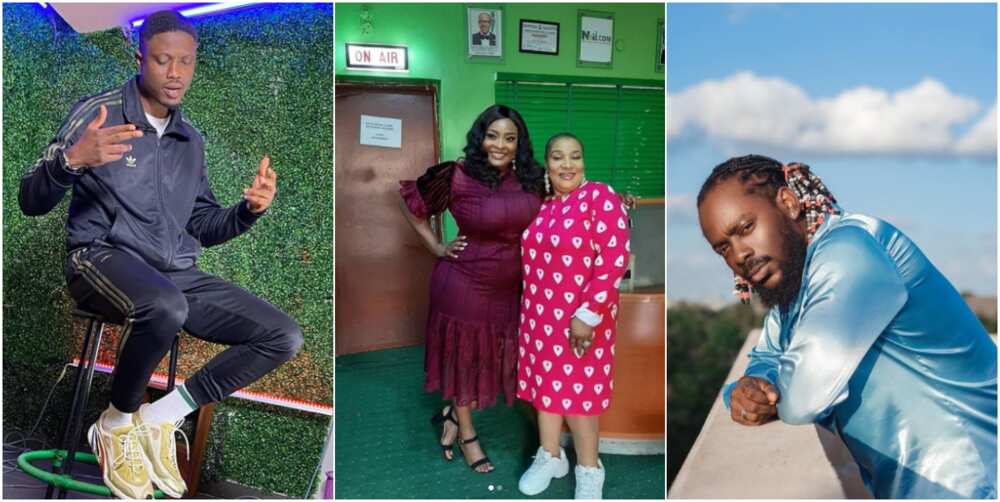 Tracking down celebrities for interviews has never been easy for journalists all over the world. Most times, celebrities have their calendars booked or emergencies on a date set to have them in the studio to be interviewed.
And since Legit.ng's mission is to be the guide that leads the way through the news, we know getting exclusive interviews from celebrities will help get facts on trending issues from them.
During celebrity interviews, Legit.ng always features breaking news immediately through well researched and thought out questions and this ensures our readers never miss important updates about their number one celebrities.
Abisola Alawode of the video department has been our host handling the main interview session and he shared his experiences with celebs before the camera rolls. According to him, the goal is not to embarrass or make our guest feel uncomfortable. All efforts are made to put them at ease. He said:
"In my years of experience interacting and interviewing celebs, I've found that a relaxed celebrity will give you more information than you originally aimed to extract from such a person."
Legit.ng is saddled with the responsibility to bring to you news you can trust, to deliver value and high-quality articles. After getting celebrities to our studio, getting them to relax usually isn't a one-man job. It usually involves a few numbers of staff, including Sola Sanusi (HOD Entertainment) and Dolapo Amodeni (video team), helping out to set the mood for the interviews.
Actress Ngozi Nwosu
When we had veteran actress Ngozi Nwosu come in for an interview, Dolapo and Sola helped make her feel at ease before the main interview with the host, Abisola. The actress had to commend the team afterwards for making her comfortable because she had had unpleasant experiences at other media houses.
Watch the full interview with Ngozi Nwosu on Legit TV
Actress Ronke Odusanya
Actress Ronke Odusanya was another actress who arrived at the Legit TV studios with a preconceived notion that online media houses not only couldn't conduct decent interviews, she also believed they do not have competent staff who are well-versed in how to handle celebrities.
This notion was changed after our interview was done. She also commended the team for our professionalism. She particularly was impressed with the high-quality equipment Legit TV had at our disposal.
Watch the full interview with Ronke Odusanya on Legit TV
Singer Adekunle Gold
Our interview with singer Adekunle Gold was filled with a lot of drama before it even began. Legit TV had been trying to get Adekunle for ages before he was convinced to have a chat with us. There were days when we would receive calls from his then publicist about his visitation. We would set up, make all necessary arrangements and he wouldn't show up due to unforeseen circumstances.
However, after a lot of back and forth, he finally visited our studio and the interview went very well. It currently has over 50,000 views on our Youtube channel.
Watch the full interview with Adekunle Gold on Legit TV
Rapper Vector
The rapper Vector is one of the few celebrities who had been interviewed at Legit.ng twice. The first was just a regular interview held mainly to keep his fans abreast of his recent activities. The second was held at his request because he was impressed with how well the first interview went. This was thick in the middle of his beef with his then-rival now turned friend, rapper MI Abaga.
In fact, a clip from that interview was used by MI to try and score points against Vector which is why he had to return to Legit TV to respond to MI's post. This shows how celebrities have recognised Legit.ng's work with celebrities to be of the highest standard.
At Legit.ng, we are ready to go the extra mile, feature breaking news immediately, and ensure our readers never miss important updates.
It was never an easy task interviewing BBNaija Lockdown, Season 5 housemates. Legit.ng had covered the last four editions of the popular reality show and interviewed over 90% of the housemates. Each season comes with its own unique challenges. The Lockdown housemates couldn't come to our studios because of the pandemic so we had to improvise.
All the interviews had to be conducted remotely via Zoom and to say it was stressful is an understatement. From technical issues to time-wasting, it took a lot to ensure that all housemates made an appearance on Legit TV. Abisola recalled:
"I particularly remembered my interview with Vee. I was kept waiting for over 40 minutes before she came on screen. But at the end of the day, the interview went well."
Watch the full interview with BBNaija playlist on Legit TV
PAY ATTENTION: Do you have news to share? Contact Legit.ng instantly
Source: Legit.ng