Year in review: 10 Instagram comedians we absolutely loved in 2020
2020 has been a lot for everyone, but in the midst of the chaos and uncertainty, Nigerians still found humour in comedy skits.
Not all heroes wear capes, as they say, Nigerian Instagram comedians came through with hilarious and relatable content all through the year.
As the year 2020 gradually comes to an end, Legit.ng has compiled a list of popular Instagram comedians who genuinely made us laugh.
PAY ATTENTION: Click "See First" under the "Following" tab to see Legit.ng News on your Facebook News Feed!
1. Taaooma
From Mama Tao's brain resetting slap to Tao who is always at the receiving end, to her brother, and to her cheating husband, the young comedian has never missed a skit.
There's also a sprinkle of Taju the mechanic and Mama Chidinma in between.
2. Lasisi
Lasisi graduated from a wide-mouthed angry young man to sinzu the yahoo boy.
He found a very hilarious method of revealing their day to day of the notorious fraudsters.
Let's not forget mama Itohan who is always picking beans, lawyer atomic bomb, and Nike's sugar zaddy.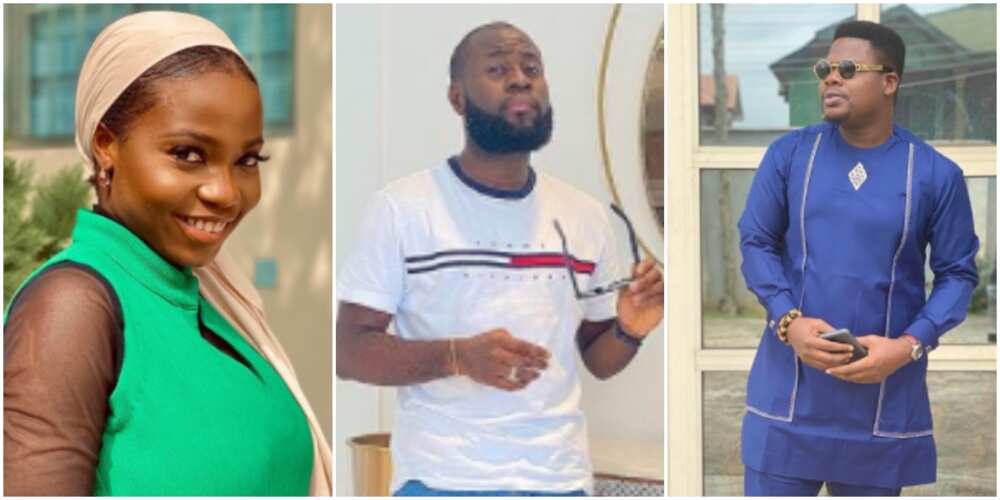 3. Twyse
When you see a family and no member is sane, it's always going to be a compound problem.
Twyse gave us hilarious content back to back with his family members and of course their church pastor.
4. Mr Macaroni
If you have read to this point, oooin! You're doing well!
Mr Macaroni sent us howling with laughter with his unlucky sugar day character.
He is always quick to send money to young women but gets nothing in return.
We also love the part where his daughter brings home different unsuitable men as suitors.
5. Twinz Love
These girls are a menace to their mother, how do you cope with not just one, but two annoying girls pranking you daily?
From pregnancy scares to pretending to have become wayward, we love how they bring out the Yoruba woman in their mother every time.
6. Josh2funny
At this point, if you do not picture him in his short Ankara gown and upside down hymn book, are you even there?
We especially enjoyed sister Felicia's horrible song renditions, and of course the #dontleavemechallenge that went viral during the lockdown.
7. Broda Shaggieeds to get a hold of Josh's oversis ed coats!
7.Broda Shaggi
Shaggi asks if you have any question of the day and then goes all the way to give wrong answers only.
We also loved his hilarious collaborations with other comedians and actors in the entertainment industry.
8. Woli Agba
How this pastor ended up with his set of choir boys is baffling? Every single one of them is a problem.
We, however, love the comedy and bants in their chaos. Their hilarious birthday shoutouts are a must-watch as well.
9. Steve Chuks
The great part of his comedy is that he constantly brings up relatable female characters.
Even if you do not know them all, Madam Gold and Cleopatra will never leave your head.
10. Craze Clown
Craze Clown is also known as papa Ade, and when you say that name, you can almost feel an imaginary slap. Do you think Tao is suffering from the different degrees of slaps and backhand from her mum? Ade was there first.
We totally love how Papa Ade and his son drop relatable Nigerian father and son content.
PAY ATTENTION: Do you have news to share? Contact Legit.ng instantly
Dontleavemechallenge: Josh2funny slams comedians who claim to have started the trend | Legit TV
Source: Legit Nigeria