Bleak Christmas As Prices Of Foodstuff Soar 100% In Southwest Nigeria
- What could count for a bleak Christmas is currently being experienced in the southwestern part of Nigeria with the prices of food
- The News Agency of Nigeria (NAN), a government news medium, carries out a survey and comes out with the report
- The report lists some of the possible reasons for the hike in food prices as suggested by the traders
PAY ATTENTION: Click "See First" under the "Following" tab to see Legit.ng News on your Facebook News Feed!
If nothing urgent is done, it might be a bleak Christmas celebration as a survey by the News Agency of Nigeria (NAN) has shown a 100 percent hike in the prices of foodstuff in the southwestern part of the country.
The report further shows that those who spoke about the development expressed deep concerns and called on the government to act and save the situation.
While some of those who spoke linked the hike to COVID-19, some others said the price increase for the foodstuff could be as a result of the high cost of transporting them.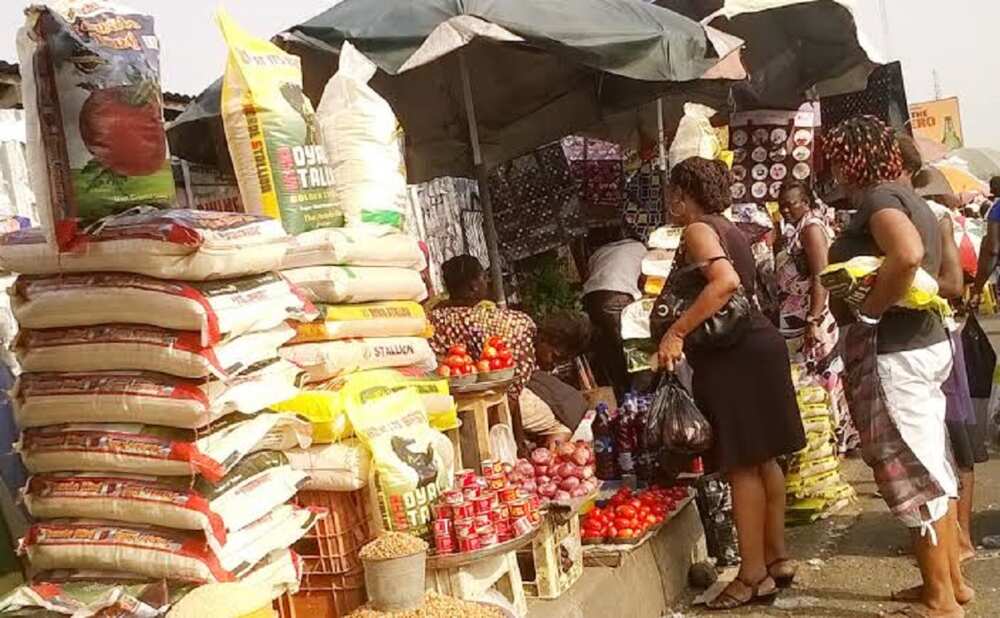 There has been a recent increase in the price of petrol in the country while Nigeria's borders remain shut.
NAN reports that rice, beans, onion, maize, millet, sorghum, tomato, pepper, palm oil and yam are some of the foodstuffs that have suffered price increase.
At the Ota market in Ogun, the report said its survey showed that the price of onions had almost doubled as a bag, which was sold for N50,000 in October, now sells for between N90,000 and N100,000.
It is learnt that as a result of this, four small pieces of onions, which were N50 in October are now N200.
According to the report, a dozen of big yam, which was sold for N4,800 in October, is now between N9,000 and N10,000.
It quoted Saheed Ismaila, a yam seller at the Shasha market in Akure North local government area of Ondo state, as saying that five pieces of medium yam tubers had been hiked in prices from between N1,500 and N1,800 in October to between N2,500 and N3,000.
He said:
"We are selling based on how much we bought the item. We usually travel to Minna and Abuja to buy them and we have to add the cost of transport, hence the price increase."
Speaking also, Toyin Adams, a palm oil seller at Shasha market, Akure, said a 25 litre keg of palm oil now costs N13,500 from N11,000.
In Abeokuta, a bag of beans at the Kuto market now N28,000 from between N19,000 and N23,000.
The report said the survey, however, revealed a downward trend in the prices of garri, tomato and pepper in some of the markets.
PAY ATTENTION: Install our latest app for Android, read best news on Nigeria's #1 news app
The report quoted the chairman of the Onion Sellers' Association in Oyo state, Alhaji Adeola Azeez, as asking the government to provide modern storage facilities for the preservation of onions in the country.
This, he said, would help to prevent frequent scarcity of the commodity, particularly during off-season.
Staying poor in Nigeria is better than traveling abroad by road - Returnee | Legit TV
Source: Legit