9 reasons we are loving GOtv Nigeria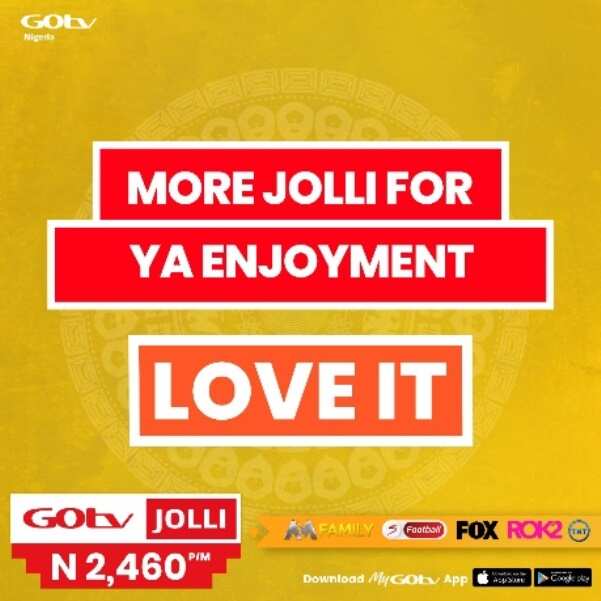 Over the past nine years, the pay-tv operator on Digital Terrestrial Television (DTT), GOtv Nigeria, has remained consistent in ensuring subscribers get the best deal at an affordable rate. The customer-focused organization, which marked nine years of operation in October, have shown through their numerous campaigns that their main goal is to ensure that many households enjoy top-class television entertainment delivered via the most modern broadcast technology on the DTT platform.
The company not only provides its subscribers with wide access to affordable information and entertainment which has a rich mix of informative, educative and entertaining programming, but they also empower young Nigerians to make them contributors to the economic and social well-being of the country with youth empowerment initiatives.
With its latest pay-off line, 'Love it' let's take a look at 9 ways GOtv Nigeria has endeared itself to Nigerians and become a preferred option for families.
1. Promotion of Local Content: GOtv continuously promotes local content on the three Africa Magic channels broadcasting exclusively vernacular content, as well as the family-oriented channel, AM Family which provides viewers with a variety of local programmes as well as popular Nigerian series/dramas such as; The Johnsons, Flatmates, Halita and Ajoche. This has given producers a lucrative outlet for their craft and has brought investments in the acquisition of local creative content.
2. Impressive Sports and International Content Line-up: GOtv parades a right mix of content and delivers it to people from different walks of life with different viewing needs – whether it's riveting reality shows, the excitement of international football leagues or the latest blockbusters. Subscribers get the best of the Spanish and Italian football leagues, select matches of the English Premier League, UEFA Champions League romantic telenovelas, action dramas, reality programming, documentary, entertaining kiddies' content and many more.
3. Enhanced Service Options: GOtv has consistently invested in technology that enables subscribers to manage their accounts without hassles. Subscribers get to manage notifications settings, change their subscription package, update contact details, fix decoder errors, pay for their GOtv accounts and view their payment history using their mobile devices without physical presence at the company's outlets. The various self-service options are My GOtv App, USSD Code *288#, Paga, Quickteller, ATM, Bank Apps, MultiChoice Outlets/Sabi Men and Toll-free numbers that cut across the four dominant telco networks in Nigeria.
4. Naija-centric Packages: These localized packages exclusively designed for the Nigerian market, offer quality content at great value for subscribers. With the GOtv Max, subscribers get to enjoy the widest variety of choice entertainment including the best selection of sport at NGN3600 and get over 75 channels; GOtv Jolli package guarantees affordable, unmissable viewing across 68+ channels, with flexible payment options so subscribers save without compromising on entertainment at NGN 2460; GOtv Jinja offers over 50 channels at N1,640.
5. Promotion of Sports in Nigeria: Beyond providing top-notch entertainment for its subscribers, GOtv has also helped in reviving boxing in Nigeria. GOtv is currently the biggest supporter of Nigerian boxing through the immensely successful GOtv Boxing Night, which is widely regarded as the biggest boxing show on the continent. GOtv's intervention, which began in 2014, was conceived to revive the sport reeling from decades of gross underfunding and poor organization. Alongside GOtv Boxing Night runs the GOtv Boxing NextGen Search, talent discovery and nurturing scheme that has provided an impressive number of future boxing champions since its launch in February 2016.
6. Commendable Empowerment Schemes: The GOtv Sabiman schemes provide young Nigerians with technical training that enables them to resolve various issues related to the GOtv service. Sabimen go door-to-door in their assigned neighbourhoods to resolve issues of connection and assist subscribers to renew their subscription through e-payment platforms. A similar initiative is the GOtv Canvasser Scheme through which young people are provided basic marketing skills to enable them to make GOtv products more accessible to subscribers. Another social-economic empowerment initiative is the "Moms and Pops", which makes just a little capital requirement from participants to be GOtv sales agents. GOtv through these schemes has empowered over 6,000 young Nigerians and employed more than 10,000 dealers, retailers, installers and sales agents.
7. Advanced DVB-T2 digital broadcasting standard: GOtv premiered the advanced DVB-T2 digital broadcasting standard. This guaranteed premium-grade audio-visual quality and at the same time showed readiness to lead the country's march towards digitization.
8. Support of Digital Switchover in Nigeria: In addition to being the first operator to adopt the use of DVB-T2 in Nigeria, GOtv Nigeria is the first DTT operator to back the Federal Government's efforts at raising awareness about the digitalization process. In support of National Broadcasting Commission's (NBC) digital migration flag-off in Jos, Details Nigeria launched the "Digilevelz Don Land, No Carry Last" campaign, which covered 26 cities across the country and boosted public awareness and understanding of the process.
9. Pioneering Audio Channels: In another pioneering move, GOtv Nigeria became the first DTT operator to carry audio channels on its platform with the launch of Wazobia FM and Naija FM.
[Sponsored]
Source: Legit.ng