- Donald Trump's media allies appear to be considering that he might lose the presidential election
- The media allies noted that how Trump acts now will go a long way in determining how history will perceive his presidency
- Media outlets such as Fox News are urging the president to act with "grace and composure"
PAY ATTENTION: Click "See First" under the "Following" tab to see Briefly.co.za News on your News Feed!
Rupert Murdoch is a staunch supporter of US President Donald Trump but it appears that the winds of change are blowing and his massive media empire is turning against Trump.
The tone of messages coming out of Murdoch-owned media outlets is not supporting Trump's allegations of voter fraud and have focused on Trump's legacy.
The media outlets are stating that how he chooses to leave office will affect how his presidency is perceived in the future.
Legit.ng learned that it sounds as if the media are accepting the very real possibility that Trump will not get a second term and will lose the election to Joe Biden.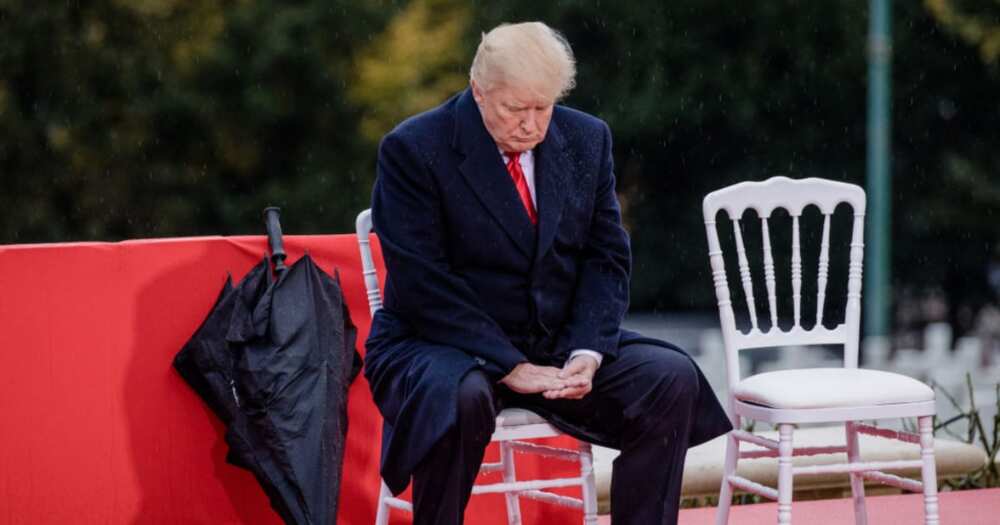 The Guardian has reported that Laura Ingraham, a Fox News host who has been a strong Trump supporter revealed that she believes that Trump must act with some grace and composure.
Ingraham said in part:
"If and when it's time to accept an unfavourable outcome in this election, and we hope it never comes, but if and when that does happen, president Trump needs to do it with the same grace and composure he demonstrated at that town hall with Savannah Guthrie. So many people remarked about his tone and presence. Exactly what he needs."
"Now losing, especially when you believe the process wasn't fair, it's a gut punch. And I'm not conceding anything tonight, by the way. But losing, if that's what happens – it's awful. But president Trump's legacy will only become more significant if he focuses on moving the country forward."
The Wall Street Journal has published a piece with a similar message to Laura's which acknowledges Trump's right to fight in court but his legacy will suffer if he refuses to accept a legitimate defeat at the polls.
"Mr Trump's legacy will be diminished greatly if his final act is a bitter refusal to accept a legitimate defeat," the piece warns."
Right now the fate of the election will be decided by a few states and if there is a recount and Biden's lead does not change, it would result in a win for the Democrats and Joe Biden will be the 46th president of the United States of America.
In other news, reports have emerged that Donald Trump is unwilling to concede defeat even if Joe Biden is declared the winner of the presidential election.
Inside sources at the White House reportedly made the disclosure amid reports that the election results placed the Democratic candidate in a strong position for the presidency.
According to CBS reporter, Ben Tracy, the Trump campaign team is planning to launch lawsuits over his claims of voter fraud among other allegations.
PAY ATTENTION: Install our latest app for Android, read best news on Nigeria's #1 news app
Street Gist: Will Nigeria be a better place with Trump as president? | Legit TV