Homeless men start blossoming farm to empower themselves
- A team of homeless men has turned their predicaments into inspiration with their decision to start farming
Their idea came after their country went into lockdown and they found themselves with no food and nothing to do
- One of the homeless men, a Zimbabwean, took up the challenge to start teaching other homeless men how to farm
- Being one the best decisions they would ever take, the supposedly homeless men are now some of the happiest with the outcome of their decision
PAY ATTENTION: Click "See First" under the "Following" tab to see Legit.ng News on your Facebook News Feed!
The lockdown in many parts of the world has become an opportunity for prosperity for a group of homeless men who decided to venture into farming because of hunger.
The homeless men said to be from KwaZulu-Natal, Durban, are now some of the happiest people on earth because of their collective decision to go into farming.
The men, who had survived from begging and scavenging for food on the streets, found themselves wondering where they would find something to eat since the people they usually counted on were no longer out and about.
Unable to surmount the challenge of finding food or assistance, one of the men, a Zimbabwean national, decided to put his farming skills to work.
With the skills, he taught his homeless colleagues how to farm.
Together they decided to grow their own vegetable garden. That garden has now turned into a small-scale farm.
Journalist and author Sue Derwent recently stopped by the farm to make a purchase and she has left nothing short of impressed by the men's innovation and determination.
She is now encouraging others to head down to the farm and show some support.
"This is homeless helping themselves. Honestly you can't believe what these guys have achieved, without any chemical sprays or any of those things.
"Just a vacant lot they were housed in during hard lockdown, their bare hands and a couple of spades."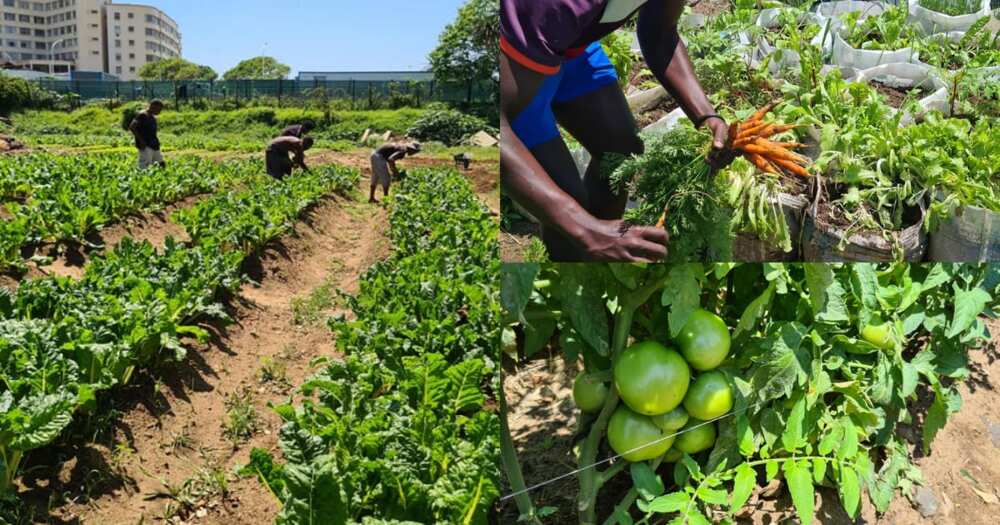 Legit.ng Eke William Chibuzor, a Nigerian graduate, made farming a real deal.
PAY ATTENTION: Install our latest app for Android, read best news on Nigeria's #1 news app
Eke is a double degree holder: graduated from Federal Polytechnic Nekede where he studied business administration and management at both OND and HND levels and also read business management at Imo State University in 2016.
I didn't know I could build a house by selling puff-puff | Legit TV
Source: Legit