Ayila Yussuf bio: What do we know about this Nigerian footballer?
Atanda Ayila Yussuf is a professional Nigerian football player. The athlete's diverse skills on the pitch have enabled him to play for big clubs like Ukrainian Premier League side Metalist Kharkiv and FC Dynamo Kyiv. The star has also played for the Nigerian national team, and all his performances have been great.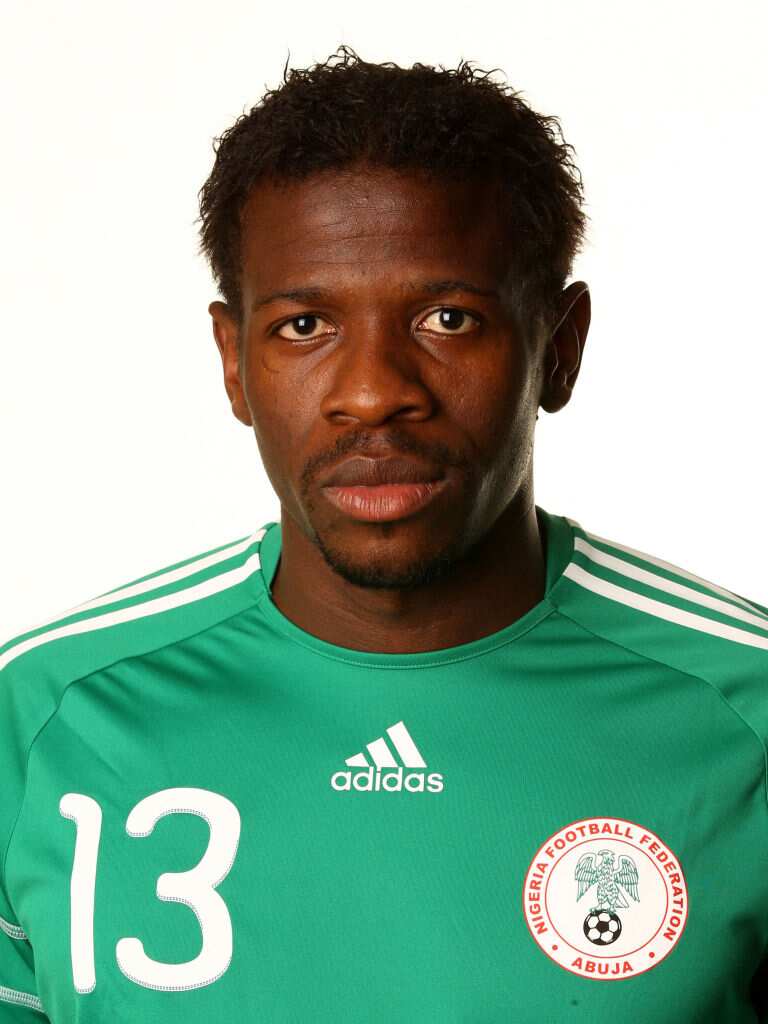 Yussuf is known for his fine technique and tireless energy on the pitch. These, among the other many skills he possesses, have set him apart from the rest, making him one of the greatest football players in Nigerian history.
Read on to learn more about Yusuf Ayila.
Profile summary
Full name: Atanda Ayila Yussuf
Date of birth: 4th November 1984
Age: 36 years old (as of 2020)
Birthplace: Lagos, Nigeria
Height: 1.83 m
Weight: 73 kg
Citizenship: Nigeria
Position: Defender - Centre-Back
Foot: Right
Agent: Matching Sport International
Ayila Yussuf's background
The talented football player was born on 4 November 1984 in Lagos, Nigeria. As of 2020, he is 36 years old.
Career
When he was just 16 years old, Ayila signed a professional contract with Enyimba International F.C. He later joined Union Bank.
Dynamo Kyiv scouts had an eye on him and marked him out as a special talent because of his eye-catching performance during his stint at Union Bank.
Yussuf signed with FC Dynamo Kyiv in July 2003, snubbing the overtures of PSV Eindhoven and VfB Stuttgart. On 5 August 2003, he made his debut in the club's reserve team, FC Dynamo-2. Less than two months later, on 21 September, Yussuf made his senior team debut against FC Zirka Kirovohrad.
Unfortunately for the man, a serious knee injury ended his 2003-2004 season.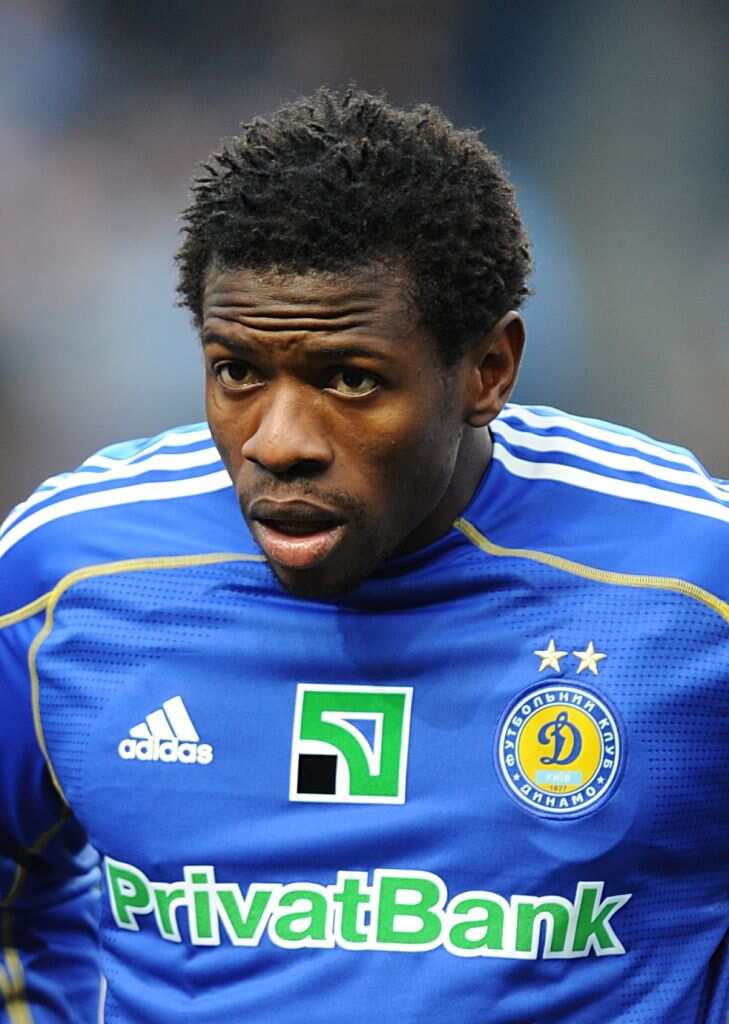 On 16 September 2004, he made his first appearance ever in the UEFA Champions League for FC Dynamo Kyiv - this was in a match against A.S. Roma. From 2003 to September 2012, Yussuf appeared in 120 games for the Ukrainian club.
The footballer was then loaned to Turkish Süper Lig side Orduspor on 31 January 2013. Speaking about the move, Atanda said,
I didn't go to the training camp with Dynamo Kyiv so now I'll have a good opportunity to regain best conditions playing in Turkish Süper Lig. I have a chance to show my best to Oleh Blokhin.
After a loan spell in Turkey, Yussuf still had not regained the first-team spot and played for the reserve team of Dynamo Kyiv, Dynamo-2 Kyiv.
On 18 February 2014, he joined league rivals Metalist Kharkiv on a loan deal due to his lack of first-team opportunities at the capital outfit.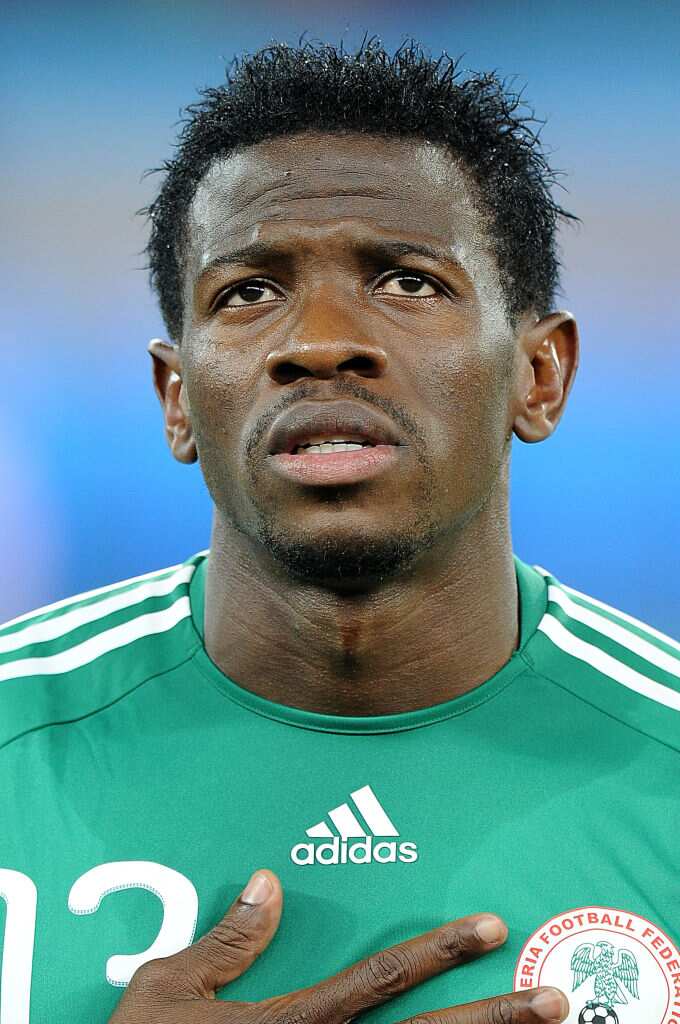 Ayila has also played for the Nigeria national team since 2005. He helped the country's national squad win the Africa Cup of Nations in 2006 and 2010.
Ayila is represented by Matching Sport International, the same agent that represents Stephen Odey, Tolu Arokodare, Sikiru Olatunbosun, Olaide Badmus, Badr El Kaddouri, and Tony Koutouan.
Career summary
02/2014 - 06/2015 - Metalist Kharkov - Defender
07/2013 - 02/2014 - Dinamo Kyiv II
01/2013 - 06/2013 - Orduspor
07/2003 - 01/2013 - Dinamo Kyiv
Yusuf Ayila net worth
According to Famous Intro, his net worth is $100K - $5 Million. Additionally, Transfer Mrkt reports that his highest market value was €3.50M. This was recorded on Feb 18, 2010.
Controversies
In May 2013, Futaa.com reported that Yusuf Ayila was at the risk of facing a prison sentence in Ukraine following his refusal to attend court summons in Ukraine.
The footballer was accused of allegedly dumping his wife Aishat Gbemisola and daughters Aliyat and Sefinat Yussuf in Kyiv since October 2011.
The report continued to state that despite being served two summons, Ayila had failed to appear before a Ukrainian court on both occasions in Kyiv.
Ayila, who was reported to have married another woman, Ololade Aderogba, in his native Nigeria, had allegedly stopped paying rent, their children's upkeep or contacting his first wife.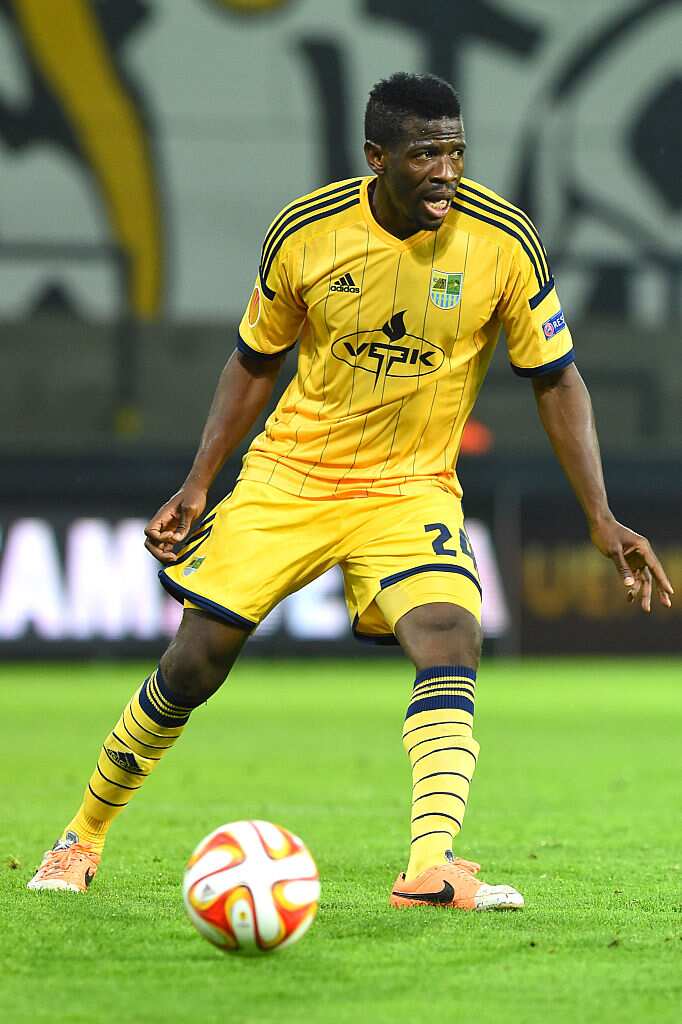 The former wife, Aishat Gbemisola, and the footballer are said to have been together since August 1998. All hell broke loose when the former Union Bank footballer abandoned Aishat in France after she gave birth to their second child there in September of 2008.
His long time friend, Taye Taiwo, was then contacted and the defender cleared her hospital bills and took Aishat and the children into his home in Marseille.
After several months in France at the Taiwos, the couple's families in Nigeria got involved, and Aishat Gbemisola reluctantly returned to Ukraine to join him.
In 2011, Ayila allegedly walked out of their apartment in Kyiv and barred his family from visiting him at his new place. The footballer was allegedly sorting out the accommodation and other bills but then requested they move into a cheaper and smaller apartment, which they complied with.
But Gbemisola alleged that Yussuf had stopped contacting her since he married his new wife in Nigeria and refused to pay their bills.
She also claimed that she had been tricked into handing her passport and her kids' documents to Yussuf for renewal of their visas, but he confiscated those passports.
Gbemisola revealed,
"He stopped taking care of his children, and is holding on to our passports so we can't even go anywhere...All he does is send me text messages and emails insulting and calling me names. His family have refused to get involved but supported his new marriage….Before it got to this stage, I sat him down and ask that we go our separate ways since he has started acting funny but he said that's not true. Only for him to leave us and go back to Nigeria to marry someone else. The matter is in court now. They have informed his club that he failed to comply with two court orders, now he must face the consequences of his own actions. Apart from his father, other members of his family are not only wicked but heartless as well. They all watch him treat his own children like this and look away. Only a deep heartless man can do what he has done. I know there is nothing we can do but only God and the court remain powerful to reward him accordingly."
Responding to the allegations, Ayila said,
"Firstly, I'll like to state categorically that Gbemisola is not my legal wife as widely reported. She is the mother of my two kids. We met years back and started a casual date. The trouble started when I asked her to bring my children for holiday in Ukraine. One day, while I lived with her, I opened Gbemi's wardrobe in Ukraine and found different charms, including a snake inside a bottle filled with gin."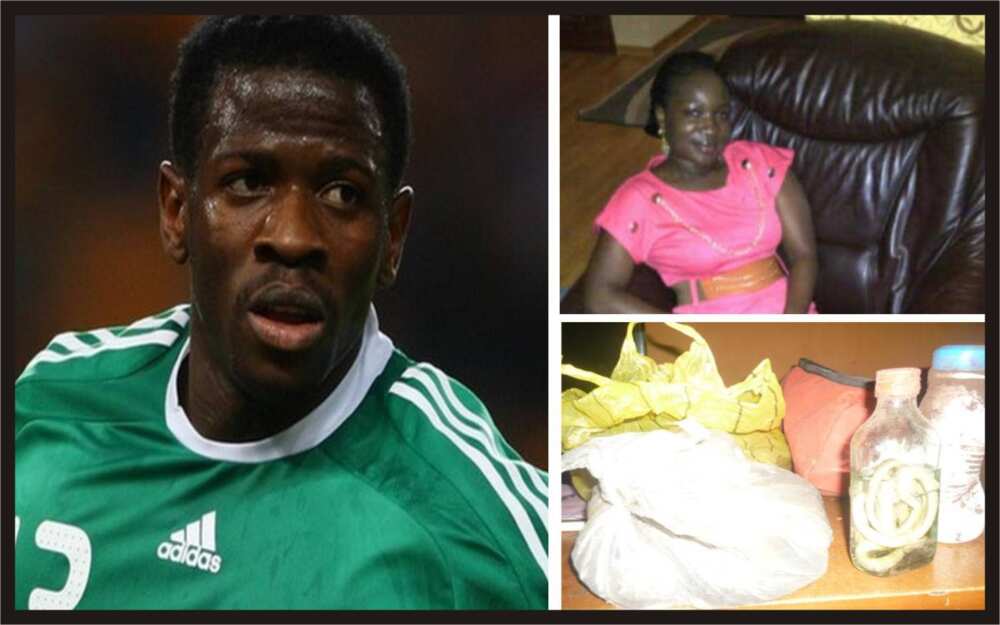 The footballer continued, accusing Gbemisola of witchcraft, and saying that this is what led him to leave their shared home:
It was a confirmation of the feelers I got from family and friends that she is fetish and had been using charms on me. I felt uncomfortable living under the same roof with her. In view of this development, I told her to return to Nigeria, to which she refused. At that point, I told her I can't cope with her bad habit anymore; that she had to go back to Nigeria or I'll leave the house for her.
He also stated that he had actually been providing for his family, even though he did not live with them:
I had to leave the house in Ukraine to get another apartment when she refused to leave. Yet it never stopped me from paying the house rent, even after my departure to Orduspor, Turkey, my club. I kept paying the children's school fees and other bills...
In explanation of why he took her passport, Ayila said,
...later discovered that her Visa will expire in a few months' time. I sent her a mail asking her to leave Ukraine and go back to Nigeria since she hadn't anything concrete doing and yet again she refused. I sent her another mail threatening to stop paying the rent in Ukraine by the end of April. When she refused to leave, I sent someone to collect her passport lest she tarnishes my image and career.
Ayila also said that he was giving Gbemisola 1 Million Naira as monthly allowance. As for the said mistress, Ayila defended that he was legally married to her, and described her as a very responsible, God fearing lady who is his wife and not a mistress, as claimed by his estranged wife.
Just like many other athletes, Ayila Yussuf has had his highs and lows. Even though he is not tied to any club right now, his prowess on the pitch cannot be overlooked.
READ ALSO: Obafemi Martins biography: age, partner, salary, net worth
Earlier, Legit.ng had taken a look into the life of Nigerian football player Obafemi Martins, a successful footballer whose speed, tenacity, and prowess on the pitch have made him reputable.
He has played for several clubs such as Newcastle, Inter Milan, and Seattle Sounders FC., and has managed to make tremendous achievements in the sporting industry.
Source: Legit.ng