LIVE UPDATES: Americans decide Trump, Biden's fates as US presidential election begins
Today, Tuesday, November 3, is the day for the United States' presidential election: Americans will be trooping out in millions across the states to vote for the president who will lead the country in the next four years.
PAY ATTENTION: Win a prize of N115,000, N75,000 or N38,000: participate in Big Naija Independence contest by Legit.ng
The two contenders in the election are President Donald Trump of the Republican Party and Joe Biden of the Democratic Party.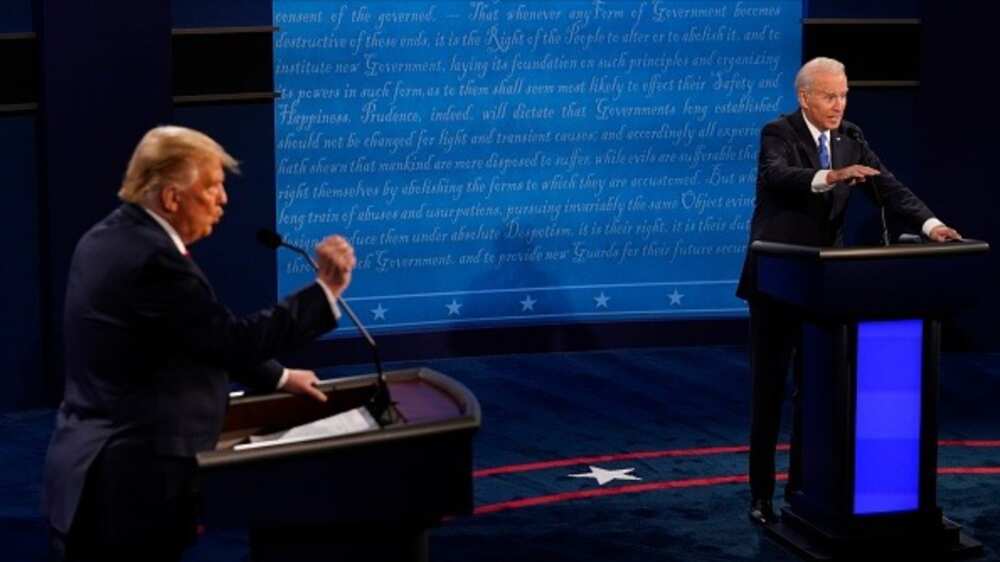 Will Americans re-elect Trump for another four years or will they replace him with former vice president Biden?
Legit.ng will provide you with insightful and credible live updates of the election as Americans cast their ballots:
Stay tuned!
Trump acknowledges his Nigerian supporters
President Donald Trump has sent a message acknowledging his supporters in Nigeria who trooped out to campaign for his re-election.
On his Twitter page, Trump on Tuesday, November 3, said that this match for him is a great honour.
Hillary, ex-president Bill Clinton cast their votes
Former US secretary of state, Hilary Clinton and her husband who served as the president of the nation, Bill Clinton, have both cast their votes in the ongoing presidential election.
On his Twitter page on Tuesday, November 3, the former US president disclosed that he and his wife have cast their vote for Joe Biden and Kamala Harris.
In his opinion, Clinton claimed that the duo will end divisions in the nation and build a better future for all Americans.
He tweeted:
"Hillary and I just proudly cast our ballots for Joe Biden and Kamala Harris.
"They will work tirelessly to heal our divisions and build a better future for all of us. If you haven't done so already, vote today!"
Oregon governor declares state of emergency
In anticipation of possible civil unrest that may ensue from the outcome of the ongoing US presidential election, the governor of Oregon, Kate Brown, has declared a state of emergency, especially around Portland area in order to beef up security.
According to a report by the New York Times, Brown has called on the Oregon state police and the Multnomah County sheriff to take over the management of public safety in the city and has also ordered the National Guard to have its operatives on standby for crowd control.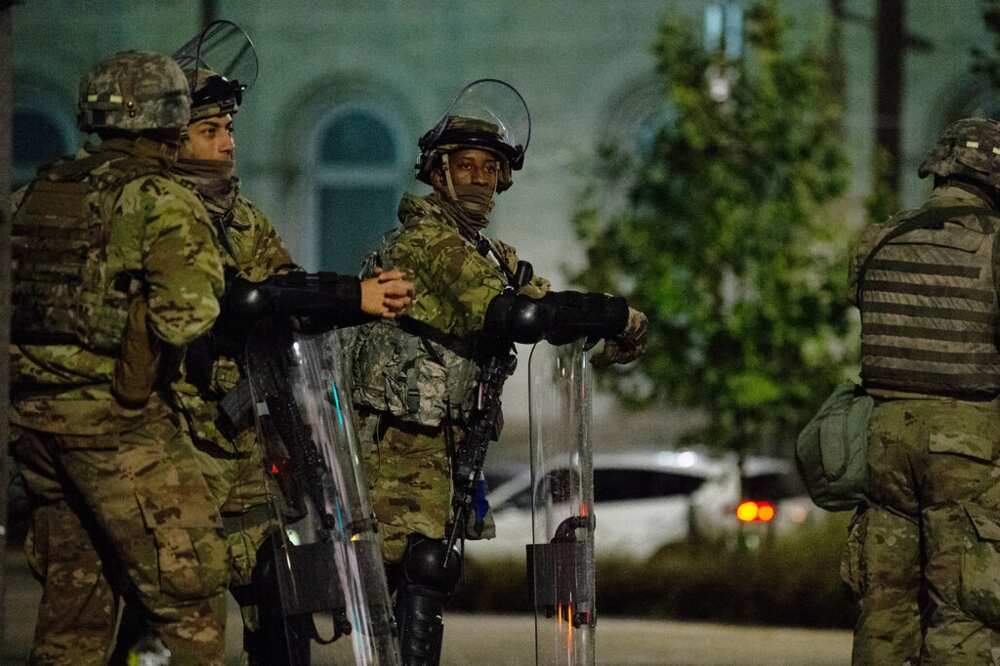 The governor said:
"We know that there are some people who might use peaceful election night protests to promote violence and property destruction. That behaviour is not acceptable."
Bill, Hillary Clinton Cast their Ballots
The 42nd President of the United States, Bill Clinton and his wife, former presidential candidate, Hillary, have voted.
Of course, they voted for Joe Biden.
Bill tweeted: "Hillary and I just proudly cast our ballots for Joe Biden and Kamala Harris. They will work tirelessly to heal our divisions and build a better future for all of us. If you haven't done so already, vote today!"
Fears of Electoral Violence: Fences Built Around White House!
Amid the fears that the outcome of the US presidential election may spark protests, the Trump-led government has built a massive 'non-scalable' fence around White House.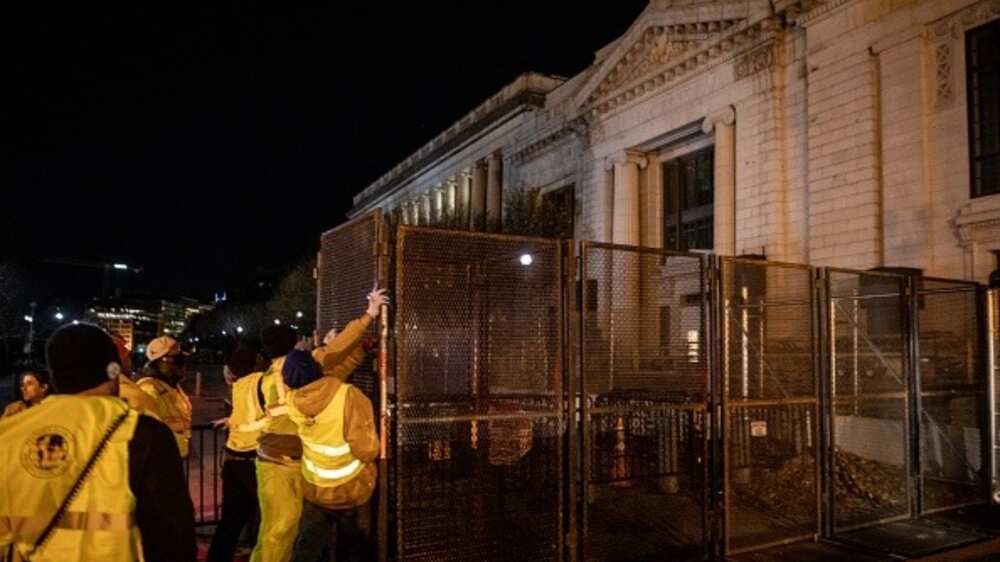 Voting Underway in New York and Other Places
Polling stations have opened in New York, New Jersey and Virginia in an election which, according to Aljazeera, is widely seen as "a referendum on Trump and his divisive presidency that Biden urged Americans to end to restore "our democracy".
Polls have also opened in North Carolina which is a battleground for President Trump and Biden.
Prominent Republican Group Abandons Trump, Endorses Biden
An Asian American Republican group, tagged National Committee of Asian American Republicans, has officially endorsed Joe Biden, BBC has reported.
Legit.ng gathers that the influential political group which supported Trump in 2016 has now backed Biden, encouraging its thousands of members to vote for the Democrat.
The group in a statement said they supported Trump in 2016 because they "wanted an outsider to rattle the system".
However, they are now withdrawing their support because, according to them, Trump is "destroying the whole building."
Joe Biden has an Important Message for Republicans!
As voting continues in different parts of the US, Biden has sent an important message to Americans, particularly the Republicans and others who are not supporting him.
The Democrats' presidential candidate who is hoping to unseat President Trump said he will work with both Democrats and Republicans if elected.
He tweeted:
"I'm running as a proud Democrat, but I will govern as an American president.
"I will work with Democrats and Republicans, and I'll work as hard for those who don't support me as for those who do.
"Because that's the job of a president."
Predictions in Favour of President Trump's Victory
Though Democrat's Joe Biden is leading in major polls, there are at least 10 predictions in favour of President Trump's victory.
Legit.ng highlights 10 out of the predictions here.
Fears of Violence Mount as Americans Cast their Ballots
In an unusual twist of events in the politics of the US, there are fears that there may be post-electoral violence.
Business leaders are now urging calm and bracing for potential mayhem that may spill from the outcome of the presidential election, Aljazeera has reported.
Legit.ng gathers that many US cities where retail stores were being boarded up to minimise the impacts of potential damages.
Dancing to Victor or Defeat? Trump Dancing in Several Campaign Grounds
As the 2020 US presidential election continues, a collage of videos of President Trump dancing has surfaced on Twitter. Enjoy it below:
Biden Secures First Election Day Victory, Trump Takes Second!
A report by CNN indicates that Joe Biden has taken all 5 votes in Dixville Notch, a small township which is one of the first to announce results on the election day.
However, in Millsfield, President Trump won with 16 votes to Biden's five, according to Daily Mail.
Photos of Americans Trooping Out for Early Voting
Here are some visuals from the US on the last day of early voting: Monday, November 2.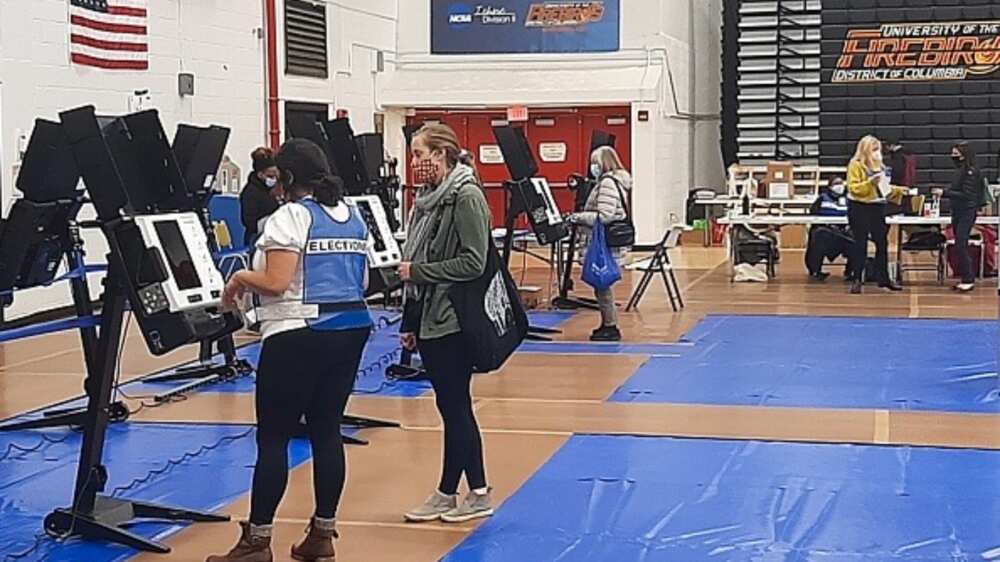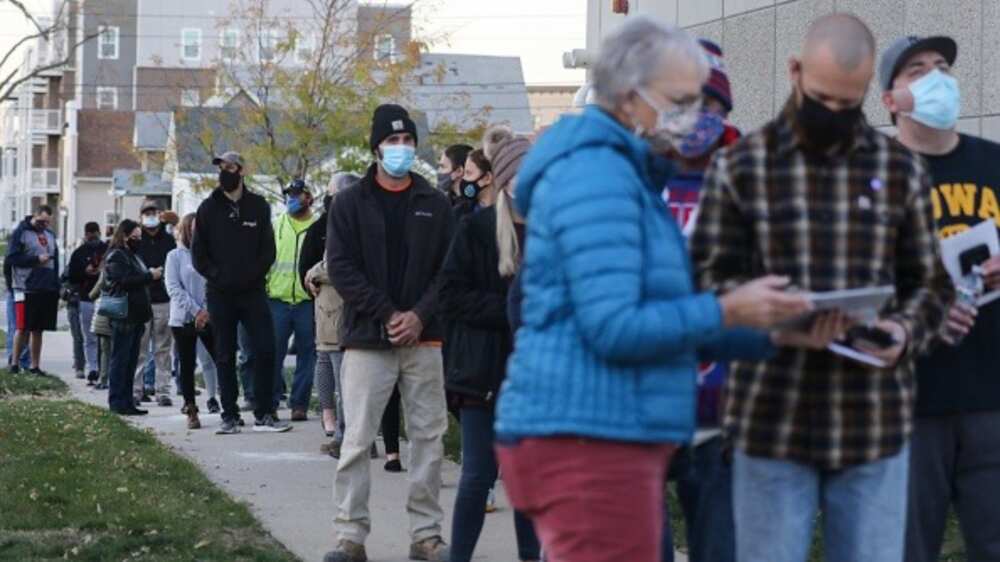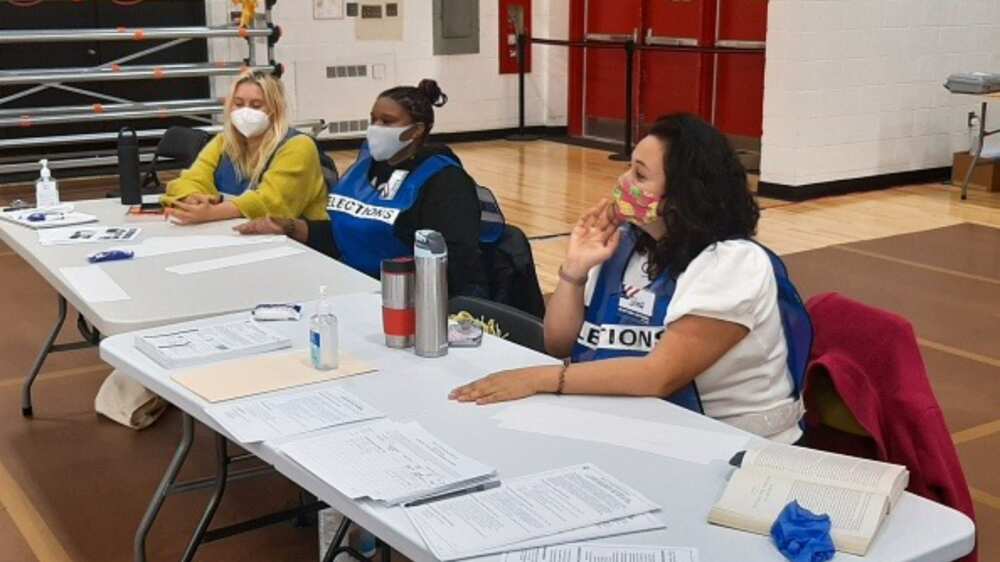 Voting Begins!
Michael Skolnik, the founding partner of The Soze Agency, tweeted that the first vote in the US presidential election has been cast in Dixville Notch by a Republican member who is allegedly voting for Democrats' Joe Biden.
The tweet: "The first vote that has been counted in this year's election, has been cast in Dixville Notch, NH by a lifelong Republican who is voting for Joe Biden."
Some Quick Information about the US Presidential Election
The US presidential election, unlike Nigeria's, is not determined by popular votes. The Americans use a system called the Electoral College to determine the winner of the presidential election.
Read about the Electoral College system here.
Though the election is officially holding on today, Tuesday, November 3, millions of Americans had voted before the election day.
According to CNN, 96 million people have already voted.
The 2020 US election campaigns have gulped over N3 trillion from both Democrats and Republicans.
Though they are not always accurate, major polls have predicted Biden to be ahead of Trump
The winner of the election will be sworn in on Wednesday, January 20, 2021. He will assume office at noon on the said day.
Read more about the timelines of the election here.
Street Gist: Will Nigeria be a better place with Trump as president? | Legit TV