Senate to Fashola: Stop telling lies against us to Nigerians
- The Nigerian Senate is accusing Babatunde Fashola, works and housing minister of telling lies against the National Assembly
- The Senate accuses Fashola of peddling fake figures concerning the state of roads in Benue state
- The upper chamber further breaks reveals the figures approved by the National Assembly to Fashola's ministry in 2020
PAY ATTENTION: Click "See First" under the "Following" tab to see Legit.ng News on your Facebook News Feed!
The Senate on Sunday, November 1, warned Babatunde Fashola, works and housing minister, not to pitch the National Assembly against the people of the country.
The Nation quoted Fashola as recently saying Nigerians should hold the National Assembly responsible for the state of the country's roads in Benue state.
The report said Fashola made the comment in Abuja when he was visited by some leaders from Benue.
According to the report, Fashola claimed that N600 billion proposed for capital expenditure was not approved by the National Assembly.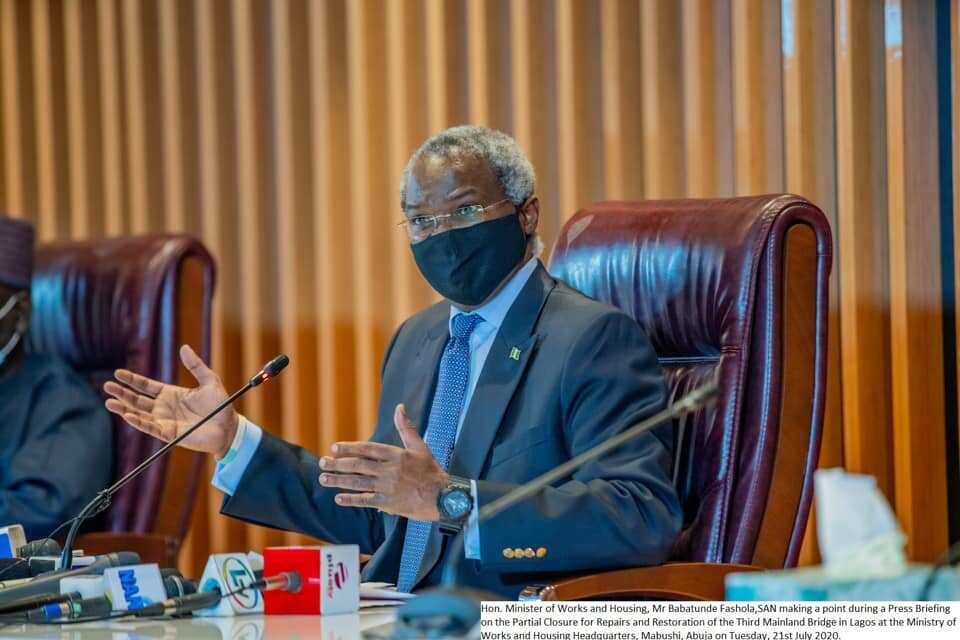 Reacting to Fashola's allegation, however, Senator Ajibola Basiru, chairman of the Senate committee on media and public affairs, said the minister lied.
He said there was no way the Senate could be held responsible for what has happened to the roads in Benue and other parts of the country.
He said in a statement:
"The records needed to be set right so that the two arms of government should not be seen as working at cross purposes in the course of delivering dividends and good governance to electorates."
He noted that the 2020 capital expenditure proposed by the executive and passed by the National Assembly was N265 billion.
He added that the executive arm later came with a revised capital budget of N256 billion, which was also approved by the National Assembly.
According to him, the 2021 appropriation bill currently being considered by the legislators has a capital expenditure of N363 billion.
He then expressed surprise that Fashola got an alleged non-existent figure of N600 billion.
Concerning the allegations by Fashola that the National Assembly prioritised constituency projects over others, the senator said Fashola was only trying to buy sentiments and pitch Nigerians against the lawmakers.
PAY ATTENTION: Install our latest app for Android, read best news on Nigeria's #1 news app
He said:
"It should be emphasized therefore that never has allocations specifically meant for other projects ever been diverted to constituency projects as constituency projects have their allocations in the budget."
Legit.ng had quoted Fashola as recently urging Nigerians not to be too expectant.
He urged people expecting a miracle from the federal government to focus on the state and the local government because they are closer to the grassroots.
APC sacks NWC, appoints caretaker committee | Legit TV
Source: Legit