Opinion: Why I want Donald Trump to win US presidential election, opinion by Aanu Adegun
In this opinion, AANU ADEGUN writes on the need for President Donald Trump to win the America presidency for another four years. The Legit.ng journalist based his reasons on the entertainment the US president brings to the table.
PAY ATTENTION: Win a prize of N115,000, N75000 or N38000: participate in Big Naija Independence contest by Legit.ng
Let us set aside the issue of Dr Ngozi Okonjo-Iweala and the refusal of President Donald Trump's administration to back her for the World Trade Organization job. I want to believe Trump or no Trump, our girl will still emerge the DG. So, having cleared that, let me return to the thrust of my opinion: I honestly want Trump to win a second term ticket.
My reasons:
Right from my teenage days, I love western novels, both crimes and adventures. I am an avid reader of James Hadley chase and later of Louis L'amour. In these novels, we have great characters. And to me, Trump is a novel character. I would not love that to just go away like that. I love my fiction and Trump is a source of mighty fiction - for me.
I enjoy hearing him speak. It gives me pure delight. I love his short and mini sentences. Only Trump will speak with unfinished statements and still makes it sound 'fantastically great".
How many United States presidents will invite a senatorial candidate to canvass for votes in a rally and still tell her this?
"Martha, just come up fast. Fast. Fast. Come on. Quick. You got one minute! One minute, Martha! They don't want to hear this, Martha. Come on. Let's go. Quick, quick, quick. Come on. Let's go."
or claim he is immue from coronavirus like a superman.
"I went through it, now they say I'm immune. I feel so powerful. I'll walk into that audience – I'll walk in there – kiss everyone in that audience. I'll kiss the guys and the beautiful women. I'll just give you a big fat kiss."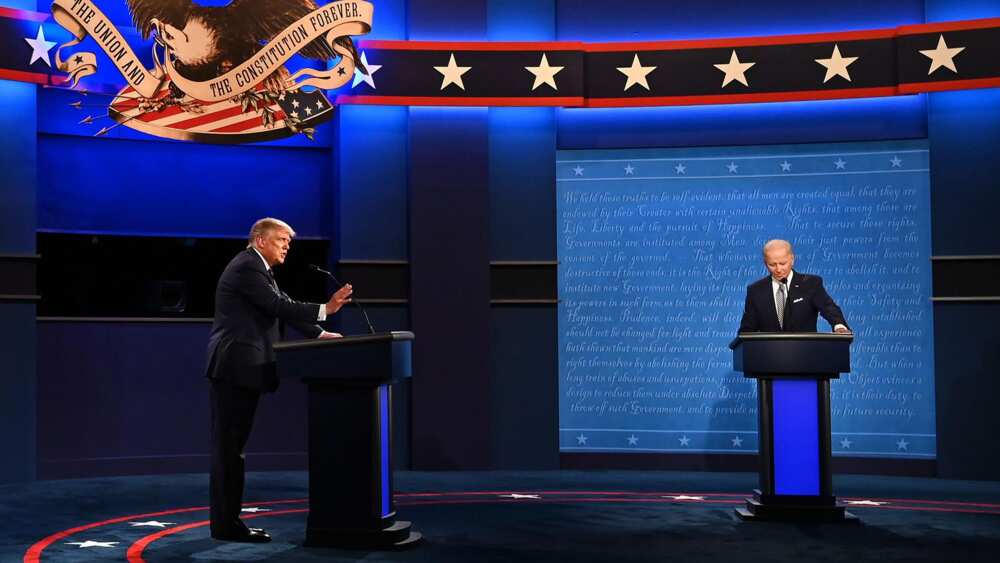 What about Trump's name calling attitude? This particular characteristics of the US president reminds me of my primary and secondary school days when name calling was the order of the day. Imagine a sitting US president as an adult doing things we did in primary schools? Why would I want such a president to lose his reelection bid when I know that if he loses, I won't be prividged to experience the once in a lifetime opportunity again.
Imagine the following name calling from the president of the greatest country on earth:
What about his bizzare conspiracies theories or his blatant misinformation techniques? Or even his suggestion that disefantant should be used to cure coronavirus.
Hear him:
"So supposing we hit the body with a tremendous — whether it's ultraviolet or just a very powerful light — and I think you said that hasn't been checked because of the testing. And then I said, supposing you brought the light inside the body, which you can do either through the skin or some other way, and I think you said you're going to test that, too."
"I see the disinfectant that knocks it out in a minute, one minute. And is there a way we can do something like that by injection inside or almost a cleaning? As you see, it gets in the lungs, it does a tremendous number on the lungs, so it would be interesting to check that."
"And then I see the disinfectant where it knocks it out in a minute. One minute. And is there a way we can do something like that, by injection inside or almost a cleaning?
"So it'd be interesting to check that."
Pointing to his head, Trump said: "I'm not a doctor. But I'm, like, a person that has a good you-know-what."
I say this: Fantastic Trump.
So, dear ladies and gentlemen, the tweets and statements above reinforces my reasons for wanting President Trump to continue in the White House for another four years. I love entertainment and the president of mighty America is dishing it out in large quantities. Why would I want the show to end now? Please forget other factors, here are mine.
Disclaimer: The views and opinions expressed here are those of the author and do not necessarily reflect the official policy or position of Legit.ng.
Your own opinion articles are welcome at info@corp.legit.ng— drop an email telling us what you want to write about and why. More details in Legit.ng's step-by-step guide for guest contributors.
Contact us if you have any feedback, suggestions, complaints or compliments. We are also available on Twitter.
Covid-19: Trump fulfils promise to Nigeria, presents 200 Ventilators to health ministry | Legit TV
Source: Legit