Young man embarrassed for attempting to steal Davido's phone in Ghana
- A young Ghanaian man has been captured on a camera attempting to steal Davido's phone from his hand
- The singer was being mobbed when the man tried to hit his hand so that the phone falls to the ground
- Davido acted quickly saving himself and the phone from the thief who started begging him
PAY ATTENTION: Click "See First" under the "Following" tab to see Legit.ng News on your Facebook News Feed!
A young Ghanaian man has embarrassed himself when he attempted to steal Davido's phone but he was unsuccessful.
He was part of a large crowd following the Nigerian singer when he stretched his hand to hit Davido's hand.
The thief expected that the phone would fell off from the singer's hand for him to take it from the ground, however, his plans did not work.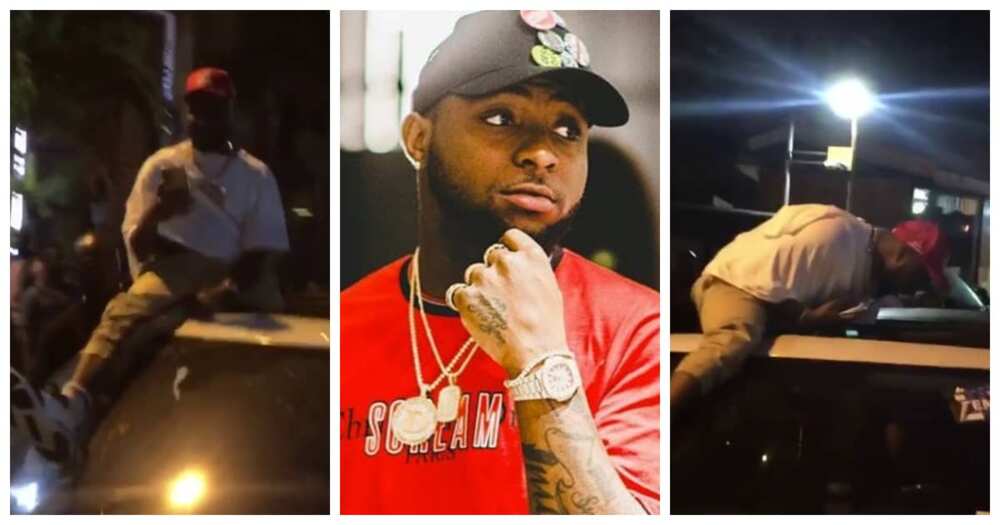 Davido acted fast and pushed the phone into his pocket to avoid losing it. The young man, looking very disappointed, started begging Davido and bowing his head from the camera.
Many people have reacted to the video attacking the thief.
Jeffery, for instance, seems to know the young man and mentioned his name:
jefferyamoahh: "It no be rema that."
Efya wrote in the Akan language that there are thieves everywhere:
efya_no_worries1: "eii like seriously Akromfoc wc krom."
Adjowa wondered why the thief hit Davido's hand:
__adjowa__: "Na why did he hit the guy's phone."
Rashid remembered when Davido's wrist watch was stolen in Ghana when he visited in 2019:
_rashidgh: "Last year he come Ghana mk boys steal ein watch this time he is careful."
David said the man wanted to steal from Davido:
konedavidkonney: "Eeeii boy's , street boy wan steal street boy."
Fhast Fhorwed was surprised:
fhast_fhorwed: "Ah but what he want do before?? Sn*tch the phone??."
Empire described Davido as a real hard guy:
dcreisempire: "Davido be real hard guy, he took the guy's phone then threw it on the floor. "
Meanwhile, Davido has been hanging out with Stonebowy since he touched down in Ghana.
He was in the news for being angry with the operators at the Bloombar for bouncing his boys. The boys were said to be in possession of a product that was not allowed in the club.
However, Davido got angry and screamed that he could buy the club 10 times.
I am not jealous of Davido – B Red | Legit TV
Source: Legit.ng