- President Donald Trump and First Lady Melania will be going into quarantine after both tested positive for coronavirus
- The president showed great hope in the face of the medical challenge as he said that they would come out of it all strong
- The development has since generated a lot of reactions online as people had many things to say from wishing him well to castigating his administration
PAY ATTENTION: Click "See First" under the "Following" tab to see Legit.ng News on your Facebook News Feed!
Massive reactions have trailed the news that American President Donald Trump and his wife, Melania tested positive for Covid-19.
The president made the announcement on his official Twitter handle in the early hours of Friday, October 2.
The post has since drawn thousands of engagements with its likes nearing a million as at the time of writing this report.
While many in the comment section wished him and his wife well, others used it as an opportunity to vent their political anger.
It should, however, be noted that the president infused words of hope in his post as the last sentence of his tweet read: "We will get through this TOGETHER!"
On her Twitter post, the first lady advised everyone to keep staying safe as she said that all planned schedules have been cancelled indefinitely.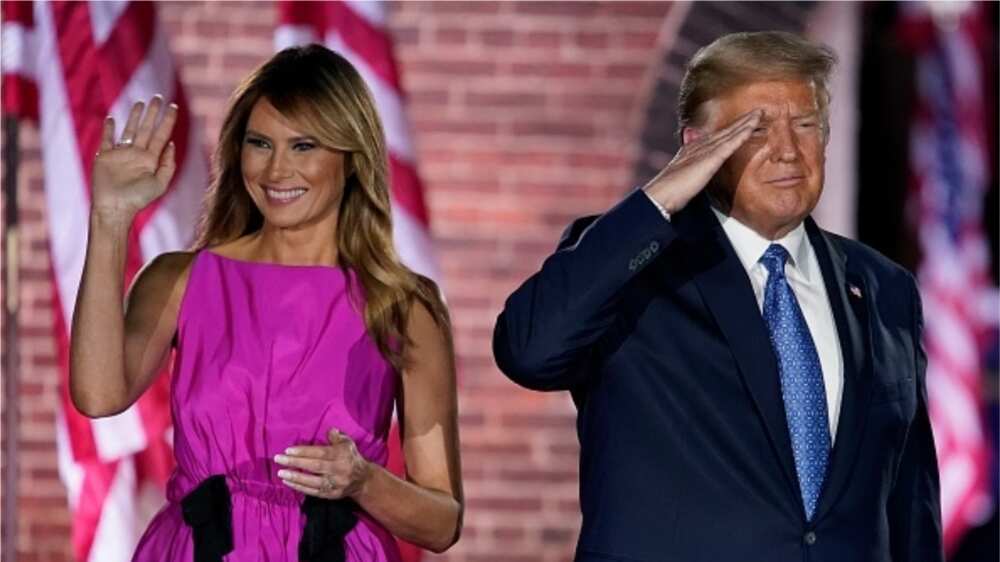 Below are, therefore, some of the reactions the post got:
@doyinokupe said:
"Jehova Rapha is the Lord that healeth thee, He shall heal thee and @ flotus speedily in the Nsme of Jesus by whose stripes u were both healed."
@RhomaMcguire said:
"Not sure I even believe you tested positive. You lie so much I don't believe anything that comes out of your mouth. If you do have it all I can say is it's about time it home. Now it will be a terrible thing instead of something that doesn't harm hardly anyone. Karma"
@2FistsOfRage said:
"My mother is in the hospital with double pneumonia from covid struggling to breathe. All from you failing to do your job. I cant say I have one ounce of pity for you. I'm a strong believer in karma"
@breezy_breh23 said:
"It was probably Biden that gave it to you, older male, lower immune system. Also no mask. You've been around PLENTY of people, no mask no problem. Then the debate comes around and BOOM. You've got covid. thoughts???"
Meanwhile, Legit.ng earlier reported that the American president defended Nigerian-trained doctor Stella Immanuel after the latter claimed that there is a cure for the deadly coronavirus.
The president defended Doctor Immanuel when answering questions from CNN's Kaitlan Collins.
Coronavirus: Nigeria's health minister speaks on chloroquine as cure for COVID-19 | Legit TV