Nigeria at 60: Sanusi blames ethno-religious crises on political elites
- Ex-CBN governor, Sanusi, says contrary to popular belief, ordinary Nigerians are not behind ethnic and religious clashes
- The former Emir of Kano says politics elites are behind the clashes which they create in their fight for power
- The fight by this group of people for the country's leadership, he says, is for personal gains and not regional growth
PAY ATTENTION: Click "See First" under the "Following" tab to see Legit.ng News on your Facebook News Feed!
The former Emir of Kano, Muhammadu Sanusi, has identified those he believes are to blame for the religious and ethnic crisis Nigeria is currently going through.
The Cable reports that the royal father made the assertion on Thursday while taking part in a virtual conference, The Platform, organized by the Covenant Christian Centre in Lagos.
The Platform, which went virtual this year because of restrictions due to the coronavirus pandemic, is an annual conference that celebrates Nigeria's Independence Day.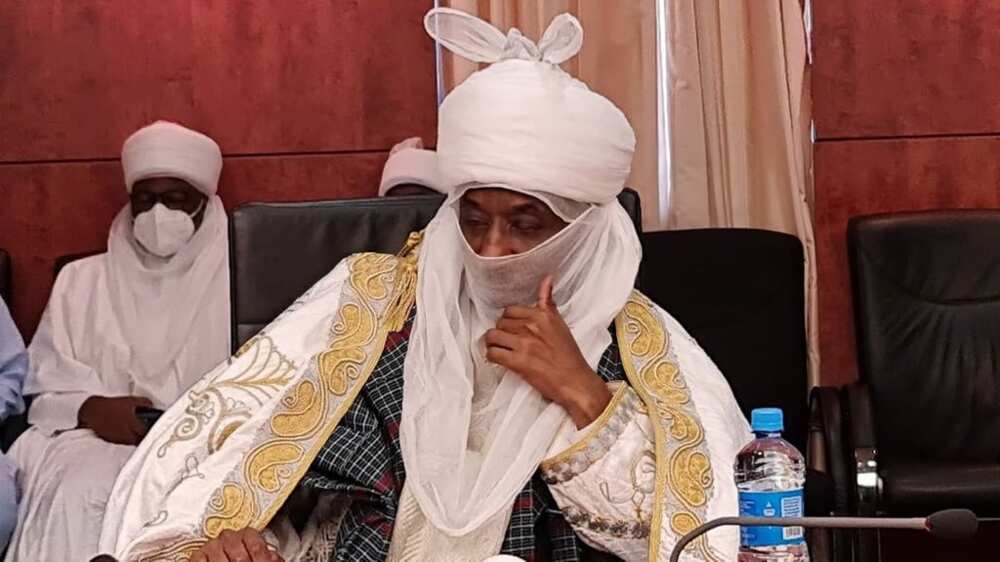 According to Sanusi, the political elites are behind all the crises. He noted further that they fight among themselves for the leadership of the country.
Sanusi said:
"Ethno-religious crisis is not so much from Nigerians but the Nigerian elites.
"We have identities in Nigeria but the construction of opposing identities, the political process, is basically the Nigerian elite competing among itself for a share of the national cake."
The former governor the Central Bank of Nigeria noted further that the fights among elites are actually for personal gains and not for the all-round development of the entire country or for a certain region.
"I don't think that the people who say they are fighting for Hausa, Igbo or Yoruba are really interested. I mean when they get there at the end of the day, it is about them and their families.
"There is nobody out there that is really representing north or south or east."
Sanusi's submission on the state of the nation differed from that of Nigeria's leader, President Muhammadu Buhari.
On his part, President Buhari blamed his predecessors for the country's current state.
The president, in his Independence Day speech, gave his leadership of Nigeria a pass mark in the face of unstable economic resources.
He claimed that the past governments lacked the courage to make the needed changes he is effecting in the country to save it from total collapse.
What's the most exciting thing about being a Nigerian? | Legit TV
Source: Legit