Nigeria at 60: Jonathan sends message of hope, says do not despair
- As Nigeria celebrates her diamond jubilee, ex-president Goodluck Jonathan has called on citizens to play their part in nation-building
- According to the former leader, though there have been challenges and setbacks, the nation has recorded progress in some areas like sports, entertainment and arts
- Jonathan said the people must work in solidarity to ensure that the national creed does not become a mere slogan
- The ex-president did not forget those who have paid the supreme price to keep the nation together as he paid a special tribute to them
PAY ATTENTION: Click "See First" under the "Following" tab to see Legit.ng News on your Facebook News Feed!
Former Nigerian president, Goodluck Jonathan, has felicitated with citizens on the occasion of the 60th Independence Day celebration.
Nigeria is marking her diamond jubilee on October 1, 2020, 60 years after gaining freedom from colonial rule.
In his message to Nigerians, Jonathan noted that October 1 commemorates Nigeria's political freedom.
Part of his message read:
"Sixty years ago, we made a procession of victory, as we bade farewell to colonialism and emancipated our lands from the clutches of servit*de. It was a day of hope, promises and great expectations amplified by the reality of freedom and the vista of vast opportunities.
He said though it may seem as though all the expectations have not been met, Nigeria has made progress in some areas such as sports, entertainment, arts, education and even in politics.
"The Green - White - Green has flown with pride, honour and dignity in the comity of nations, in the last 60 years."
According to the former president, Nigeria has been through times of progress and turbulent periods which resulted in setbacks.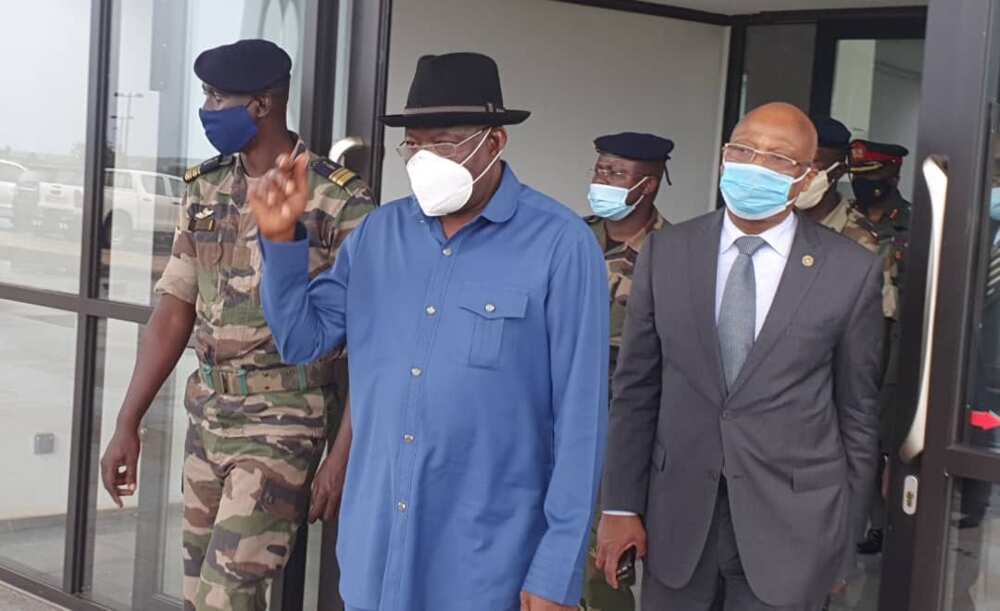 He, however, commended the fact that the nation has remained as one, and nurtured her democracy to 21 unbroken years, despite all the challenges.
Jonathan stated that everyone has a role to play in nation-building which he described as a journey.
Going further, the ex-leader called on the nation and its people to harness the greatness that lies within the nation's diversity and the strength of our population. According to him, we must focus less on our fault lines and instead pay attention on the silver lining within our lands.
He urged citizens to show love, unity and understanding in times of trials and never lose hope. He said these are required to build the nation and enable us live in the land of our collective dreams.
Jonathan also spoke about the coronavirus pandemic, calling on the people not to give up or live in despair as things will get better.
"Our success as a nation lies in the fervency of our faith, the strength of our unity and commitment to our national creed: unity and faith, peace and progress. Let us work in solidarity to ensure that this national creed does not become a mere slogan but a lived experience for all."
The ex-president paid a special tribute to those who have paid the supreme price defending and upholding Nigeria's unity.
Read his full message below:
Several Nigerians reacted to his message. Many thanked him for being a wonderful leader. Read some of the comments below:
Ayodele Olowo wrote:
"Your Excellency, Dr Goodluck Jonathan, my prayer is that God will give us a caring President like you. You have a large heart always struggling to give Nigeria the best whether in or out of government. Sir, God will give you long life to continue to give timely counsel to Nigeria."
Nse Godwin Bassey pointed out that Nigeria is not united. He wrote:
"In as much as I admire your courage and your goodwill for your beloved nation it's hard to accept the fact that we are one nation due to the margin between the ruling and working class down to the populace. God bless you sir GEJ."
Meanwhile, President Muhammadu Buhari had earlier addressed the nation. He spoke on insecurity, rule of law and other issues.
The president once again thanked Nigerians for entrusting him with their hopes and aspirations for a better and greater Nigeria.
What's the most exciting thing about being a Nigerian? | Legit TV
Source: Legit.ng News