Joaquina Kalukango bio: Age, parents, boyfriend, Lovecraft Country
Joaquina Kalukango is an actress, known for Lovecraft Country (2020), Instinct (2018), and One Night in Miami (2020). The actress' Broadway credits include The Color Purple, Holler If Ya Hear Me, and Godspell. Off-Broadway, Kalukango has appeared in Our Lady of Kibeho (Signature), Antony and Cleopatra (The Public Theater and Royal Shakespeare Company), Emotional Creature (Signature and Berkeley Rep), Hurt Village (Signature), and Rent (NWS). The actress currently plays Hanna in the new HBO drama Lovecraft Country.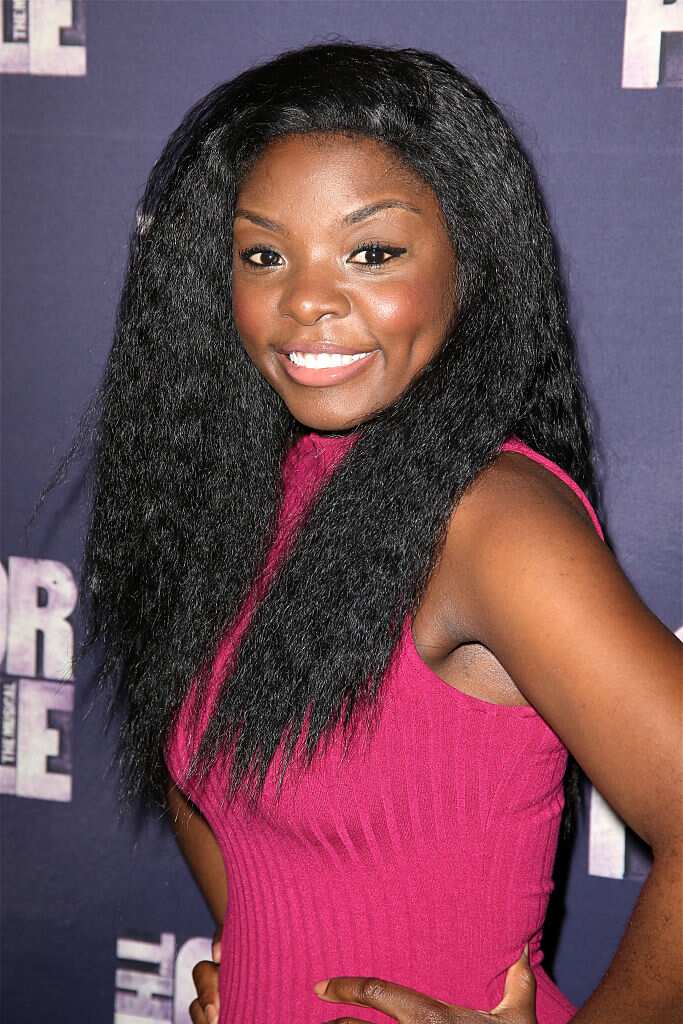 Here is Joaquina Kalukango's biography.
Profile summary
Joaquina Kalukango age: Unknown
Hometown: Atlanta, Georgia
Alma mater: The Juilliard school
Joaquina Kalukango biography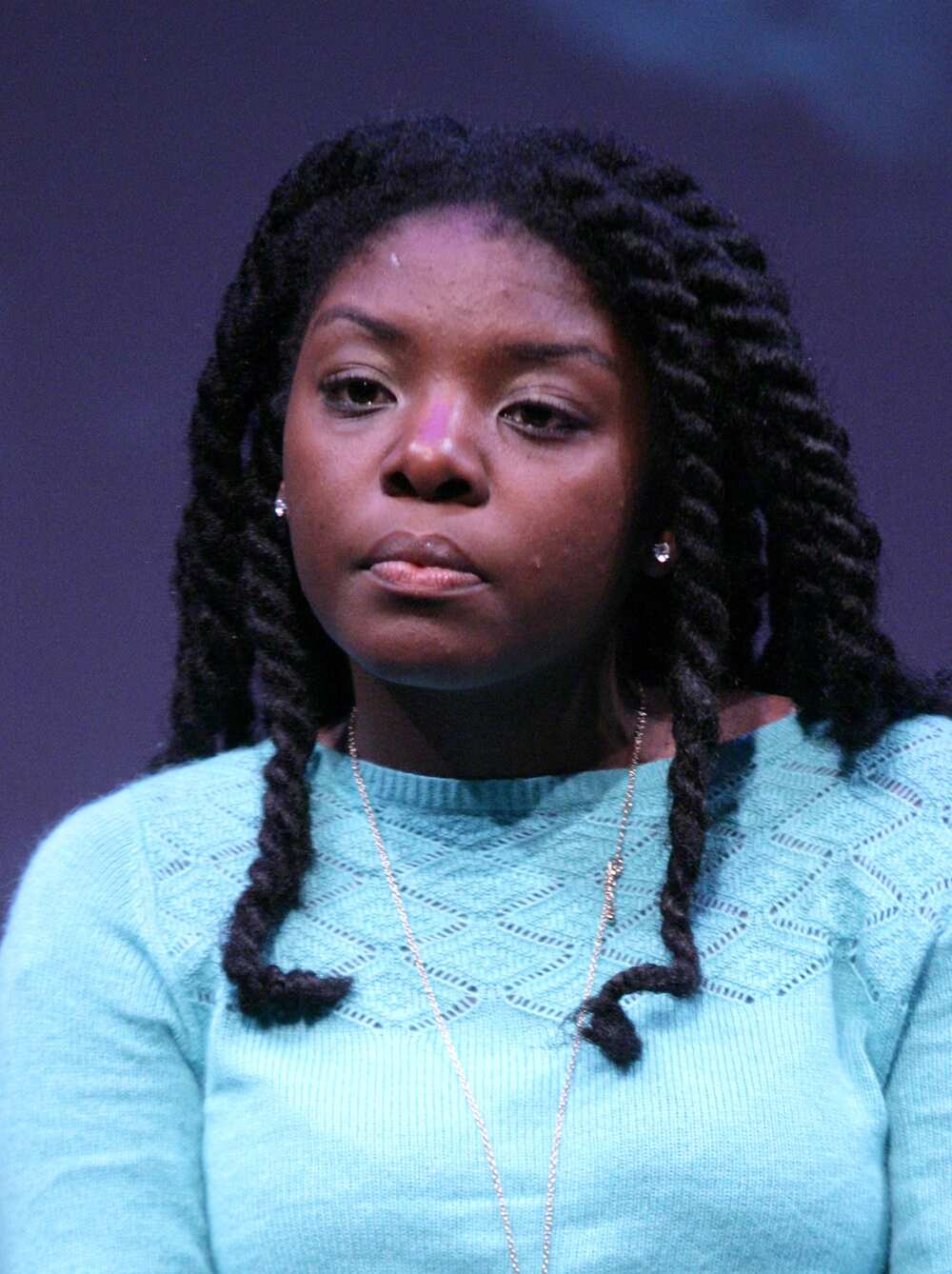 The actress grew up in Atlanta, Georgia, and it was her Tri-Cities High School production of Once on This Island that first piqued her interest in the theatre.
She recalls,
"I remember looking on stage and being like, 'I have never.' It was a whole body, full reaction, spirit just being completely moved,"
There isn't any available information regarding Joaquina Kalukango parents or siblings if any.
Education
Kalukango is a graduate of the Juilliard school.
Career
Joaquina Kalukano was seen on Broadway in the Tony, Emmy, and Grammy Award-winning revival of The Color Purple (Dec 10, 2015 - Jan 08, 2017) as Nettie. Her other Broadway credits include Holler If You Hear Me (Jun 19, 2014 - Jul 20, 2014) and Godspell (Nov 07, 2011 - Jun 24, 2012).
Off-Broadway, she was seen in:
The Red Letter Plays: F-ing A (Signature)
Our Lady Of Kibeho (Signature)
Antony and Cleopatra (The Public Theater and Royal Shakespeare Company)
Emotional Creature (Signature and Berkeley Rep)
Hurt Village (Signature)
Rent.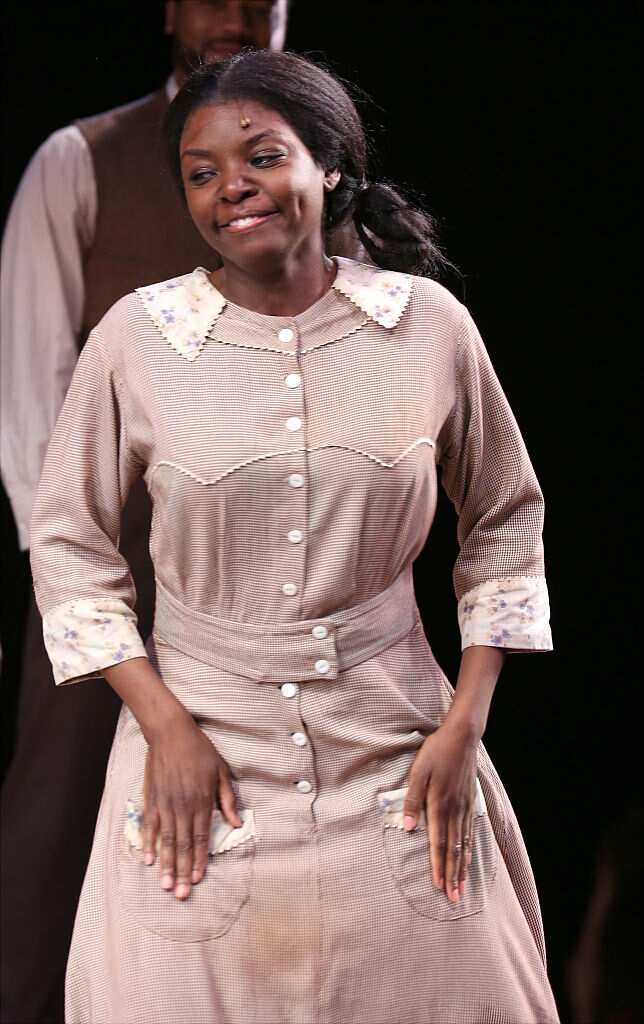 In 2019, she appeared in Slave Play, an Original Broadway Production, as Kaneisha, a black woman enrolled in "Antebellum Sexual Performance Therapy."
When Slave Play premiered off-Broadway, Kaneisha was played by Joaquina's friend and fellow Juilliard alum Teyonah Parris. In an interview with The Undefeated, Kalukango revealed,
After [Teyonah] told me she wouldn't be able to do the Broadway production, she told me I should audition. And when I read the play, I was so shocked and confused and I was like, 'Wait, T, you speak for how long? This whole third act is you, bruh? What?' It was scary and visceral and raw and it gave more questions than answers. That was exciting to me.
Slave Play is Jeremy O. Harris' provocative Broadway debut. The play's intricate discussions about the lingering presence of slavery in interracial relationships has stunned audiences.
To Kalukango, Slave Play provides the language needed to have a more productive conversation around racism in America.
"This play gives me the terminology for things that I was dealing with in institutions and schools...I never had the words to express myself, to understand what I was going through. And I think so many people come in and say, 'Oh my god, I'm literally dealing with this in school!' Or, 'Thank you for validating myself in this space. I see myself.'"
Slave Play ends with Kalukango's 12-minute monologue, a feat that led to her being named one of Broadway.com's Best Performances of 2019.
In spring 2020, she will also be seen in the musical adaptation of The Visitor, opposite David Hyde Pierce and directed by Daniel Sullivan at The Public Theater.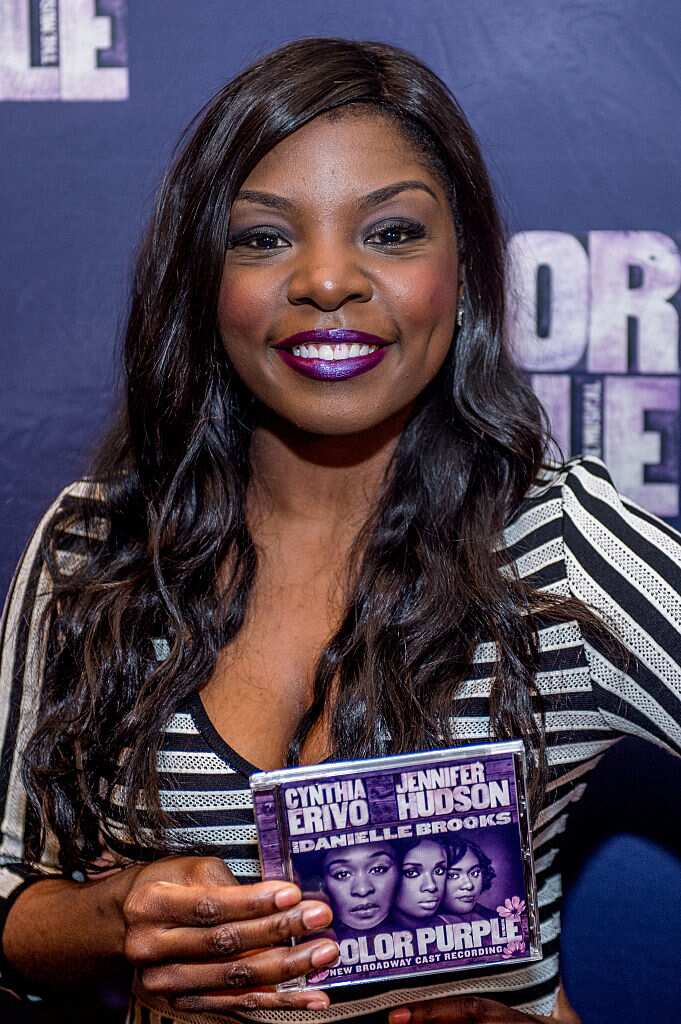 Movies and TV shows
On television, the actress has appeared in the following:
I Had a Dream (2015) - Betty Shabazz
Lovecraft Country (2020) - Hanna
One Night in Miami (2020) - Betty Shabaz
Instinct (2019) - Angela
When They See Us (2019) - Adelle
Red Dead Redemption II (2018) - The Local Pedestrian Population (voice)
Chained for Life (2018) - Michelle
Joaquina Kalukango Lovecraft Country role
In the HBO drama series, Kalukango plays Hanna, Tic's ancestor who stole the Book of Names from Titus Braithwhite.
Hanna was enslaved to Titus Braithwhite during the early 1800s, with whom she had an affair and became pregnant. She was the only known survivor of the great fire of 1833 where the Sons of Adam Lodge burned down.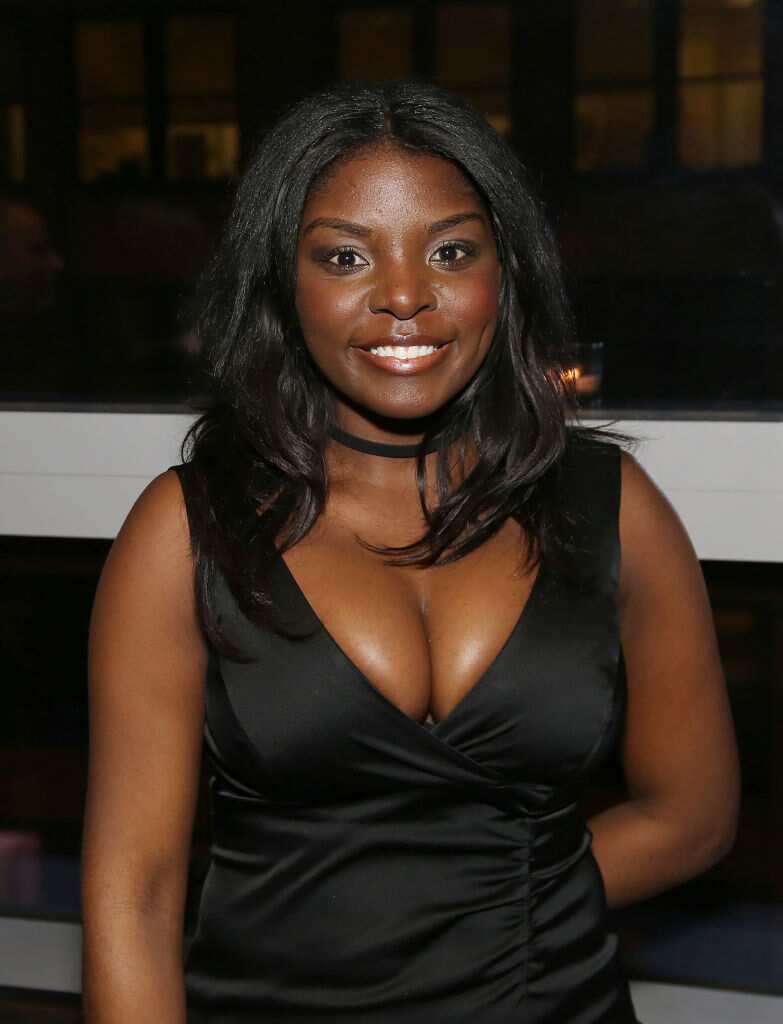 Awards
Drama Desk Award (2012) - She was nominated for the Outstanding Featured Actress in a Play award for her role in Hurt Village.
Theatre World Awards (2012) - Won the Theatre World Award for her role in Hurt Village.
Helen Hayes Awards (2014) - Won the Outstanding Lead Actress, Resident Play award.
Outer Critics Circle Awards (2020) - Won the Outstanding Actress in a Play award for her role in Slave Play.
Joaquina Kalukango boyfriend drama
In February 2016, the ex-boyfriend of The Color Purple actress was arrested near her theatre after allegedly threatening her on Facebook and in text messages that said "she'll feel it soon and you all will regret what you did," "The main event is coming just be patient," "Somebody's going to die," and "Pay for security."
Joaquina told producing group the Shubert Organization officials two days prior that she was worried after Cristopher Horton posted the threats against her on Facebook, the New York Post reported.
Horton screamed at Joaquina as she arrived at the theatre, prompting the terrified star to tell her stage manager, who notified security, sources said.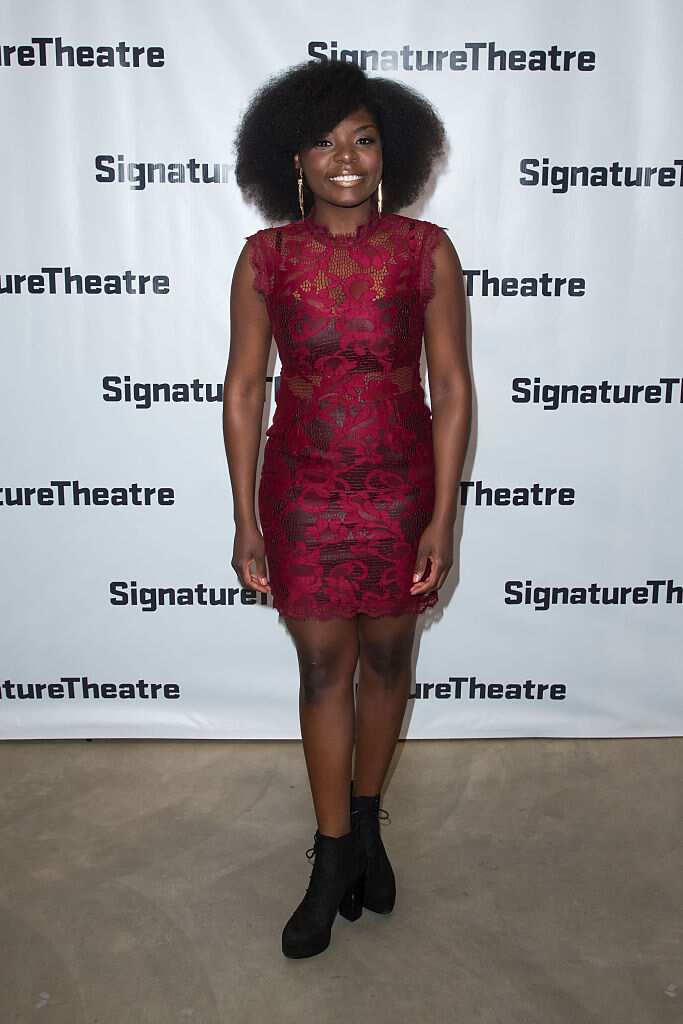 Christopher Horton allegedly showed up at the Bernard Jacobs Theater on 45th Street in the afternoon, when police found an eight-inch knife in Horton's interior jacket pocket.
He was charged with aggravated harassment and criminal possession of a weapon.
Despite having only a few television credits, Joaquina Kalukango has appeared in various productions in Broadway and Off-Broadway, making her one of the most iconic actors of her time.
READ ALSO: Abubakar Salim biography: age, height, nationality, net worth
Legit.ng reported about the life of English actor and producer Abubakar Salim. Salim is best known for his performances in Informer, The Jury, and 24: Live Another Day.
The actor currently stars in Raised by Wolves, the HBO Max drama series directed by Ridley Scott.
Source: Legit.ng