Useni says he is ready to fight to keep Nigeria together
- Jeremiah Useni has declared that he is ready to fight to keep Nigeria together
- The former military officer said this while reacting to calls for the break up of the country
- Going further, he said Nigeria's civil war experience was a bad experience
PAY ATTENTION: Click "See First" under the "Following" tab to see Legit.ng News on your Facebook News Feed!
Lt. Gen. Jeremiah Useni (retd), former military administrator of the defunct Bendel state and an active participant in the Nigerian civil war of 1967 to 1970 has declared that he is ready to fight again to keep Nigeria together.
He said this against the backdrop of some agitation for the breakup of Nigeria by some section of the country.
Useni who is a one-time minister of transport and aviation and minister of the Federal Capital Territory (FCT) disclosed this while giving an assessment of Nigeria after 60 years of independence.
According to him, there have been many experiences, both good and bad in the country, Tribune reports.
"Yes, I still believe in one Nigeria. If anything happens to give me the impression that somebody wants to divide Nigeria, I will fight to keep Nigeria one," he said.
Going further, he spoke on his experience of the civil war. According to him, the experience was not nice because brothers were fighting against brothers.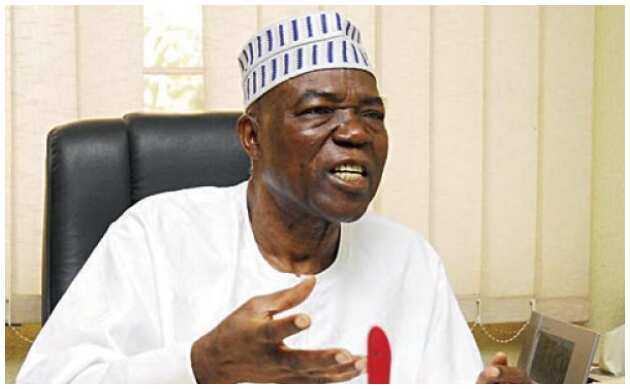 He stated:
"It was not nice, not nice, especially for us in the military where we found ourselves fighting one another. Most of us were trained in the same place; we went to the same academy and then suddenly, we found ourselves facing one another with guns.
"So, it was not a good experience. The only difference with what we are experiencing now is that some decided to call themselves Biafrans, not that they are not Nigerians.
"So, non-Biafrans fighting against Biafrans and Nigeria was not ready to carve another country out of Nigeria, but God helped us that it did not take as long as we are experiencing now, up to only three years, the whole thing was over. And when we thought we had peace, we started having these other problems like banditry, people fighting. During the Biafran war, it was one region confronting the remaining three."
Meanwhile, Legit.ng had reported that in what many people will term as a bad thing for the north, leaders from the north-central geopolitical zone announced their exit from the Arewa Consultative Forum.
The group claimed they reached the decision following the unending and worsening insecurity in northern Nigeria.
With this, they announced the formation of the North Central Peoples Forum (NCPF).
They said the new NCPF will be a platform to fight insecurity and marginalisation.
Yerima Shettima reveals what Igbos need to do to win presidency seat | Legit TV
Source: Legit.ng