Reactions as Trump gets third Nobel Peace Prize nomination
- President Trump has been nominated for the Nobel Peace Prize for the third time
- The US president was reportedly nominated by four Australian professors
- Various reactions from commendations to criticisms have been trailing the development on social media
PAY ATTENTION: Click "See First" under the "Following" tab to see Legit.ng News on your Facebook News Feed!
Reactions are trailing President Donald Trump's announcement of its reported third Nobel Peace Prize nomination.
The president of the United States made the announcement via Twitter on Tuesday, September 29.
He tweeted:
"The "Trump Doctrine" earns President Trump a third Nobel Peace Prize Nomination!"
President Trump's first nomination was in 2018 by Christian Tybring-Gjedde, a Norwegian politician for his efforts to bring reconciliation to North and South Korea.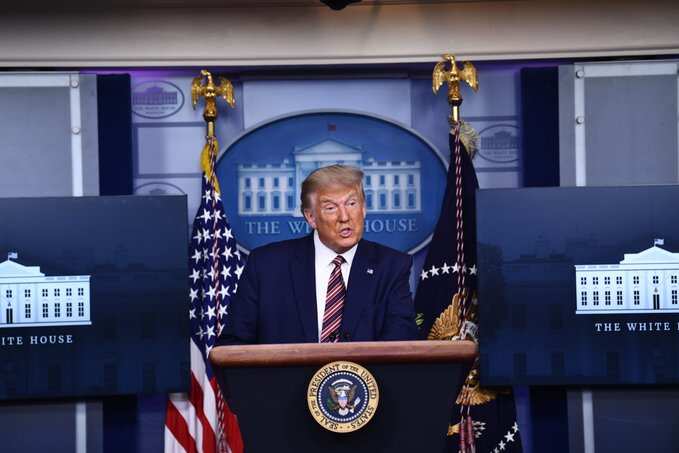 The US president's second nomination for the 2021 prize was also by Tybring-Gjedde, citing the president's role in the recent peace deal between Israel and the United Arab Emirates.
His third nomination was allegedly by some Australian professors.
Several American Twitter users have been expressing diverse views regarding the nomination which is coming a few months to the presidential election. Legit.ng collects some of the reactions below:
Lee Zeldin, a Republican lawmaker, tweeted:
"President Trump was just nominated AGAIN for a Nobel Peace Prize! Wow. And he's truly earned it...all of them."
FeistySun, @Feisty_FL, tweeted:
"Joe Biden says President Trump isn't smart and doesn't know much about foreign policy. Meanwhile President Trump was just nominated for a 3rd Nobel Peace Prize."
BrooklynDad_Defiant!, @mmpadellan, tweeted:
"Nobody whose lies are directly responsible for the deaths of 200,000 of their own citizens should EVER be nominated for, or ever receive, the Nobel Peace Prize. PERIOD."
HawaiiDelilah™, @HawaiiDelilah, tweeted:
"Hitler was nominated for the Nobel Peace Prize as was Stalin. Fortunately, it is almost guaranteed that the Nobel Committee is not going to give its coveted prize to a racist, sexist, xenophobic, corrupt, predatory, mendacious, Constitution-subverting, impeached tool of autocrats"
MARK SIMONE, @MarkSimoneNY, tweeted:
"President Trump has just received his THIRD nomination for the Nobel Peace Prize. Quite a record. Wonder why the media decided this story must be buried and not reported?? Seems like it's something America should be proud of."
PAY ATTENTION: Install our latest app for Android, read the best news on Nigeria's #1 news app
Meanwhile, ahead of the November 2020 presidential election in the US, President Trump and his siblings are facing a lawsuit courtesy of his niece, Mary Trump.
Mary accused the US president of committing fraud in an attempt to deprive her of millions of dollars associated with the family's real estate empire.
4 implications of Trump's ban on Nigerians from the USA | Legit TV
Source: Legit.ng