- Pauline Muiruri posted in the Facebook group Glam My Home asking for opinions on the pieces of cloth she had put on her wall as decor
- However, a huge number of netizens did not find her wall attractive and trolled her for the idea
- The trolling was just blessings in disguise because many well-wishers and companies came to her aid and gave her a myriad of goodies
- From wall decors, free photoshoots, lunch offers in big hotels, doormats, cakes etc, Muiruri was promised all
- However, the only challenge she faces is how she will reach her blessings given she is in Kilifi and she does not have money to travel to Nairobi where most of the well-wishers are based
PAY ATTENTION: Click "See First" under the "Following" tab to see Legit.ng News on your Facebook News Feed!
Kenyans online can be very mean sometimes. Instances of people such as celebrities being trolled on social media are not uncommon.
A woman identified as Pauline Muiruri posted in the Facebook group Glam My Home asking for opinions on the pieces of cloth she had put on her wall as decor
Muiruri said she did not even imagine her post could attract the amount of attention it got because, in it, she just posted how she had covered her walls with pieces of cloth.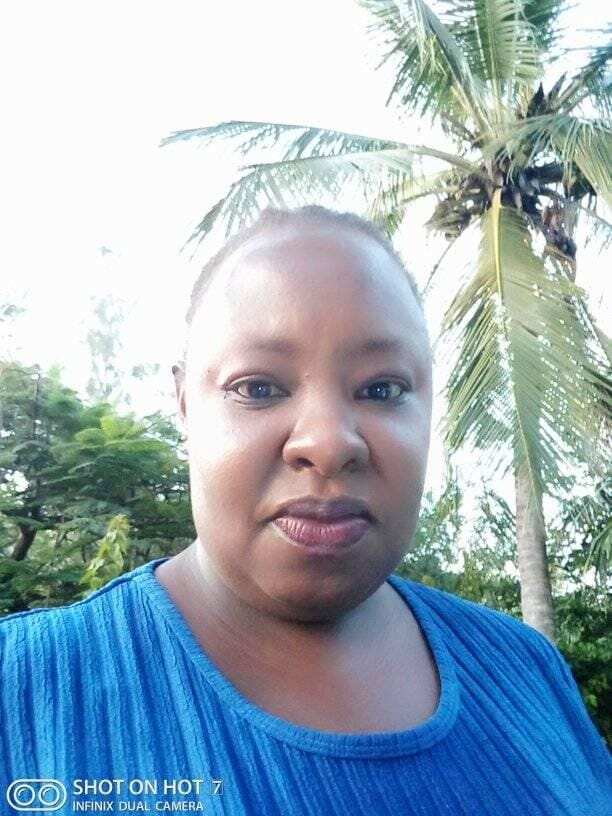 The Kilifi woman was just seeking opinions on her simple decorations because she was tired of her plain walls.
"My walls have been too plain; should I remove them (the pieces of cloth)," she posted in the group.
Immediately, netizens could not help but troll her for the modesty while others made fun of her.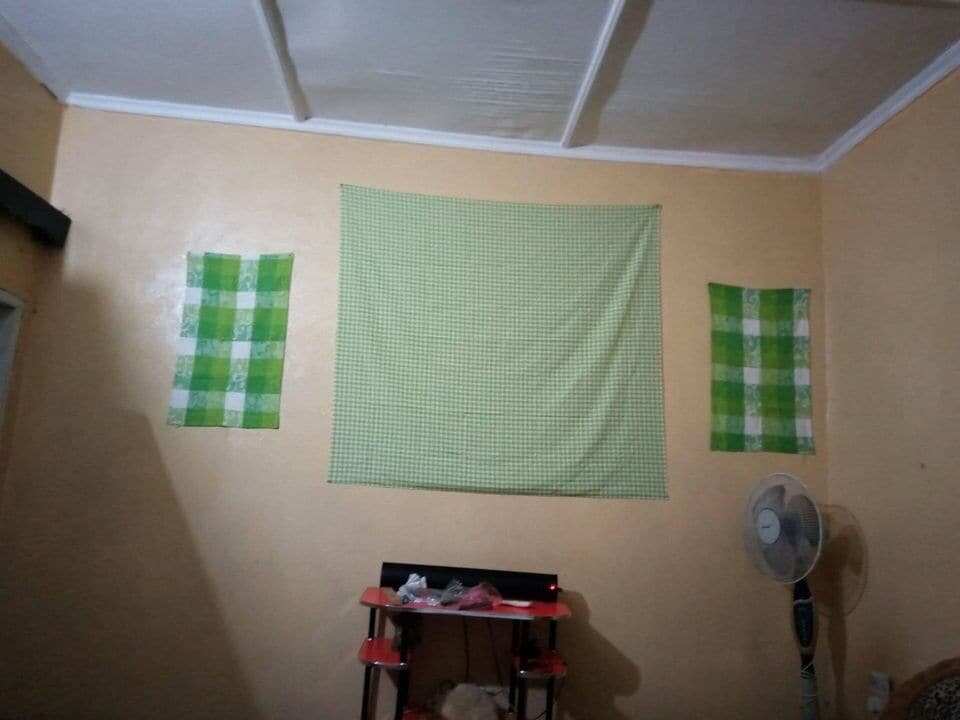 Here are some of the mean comments from members of the group:
"Ongeza hata kwa ceiling ukitaka (Put them on the ceiling if you want)," Ngatia Catherine wrote.
"Unapiga watu picha za passport kwa nyumba ama? (Are you taking passports pictures)," another woman, Sheshi Tiema asked her.
"Kamisi ndio poa (A petticot is even better)," Judy Gicheha Stanley said.
"Wewe fikiria zako ni kibanda cha chips tu (your ideas are so cheap)," one man, Godfrey Ni Mimi said.
Pauline Muiruri receives help
However, in the midst of this dark cloud, a silver lining emerged after one photographer, Jackson Mwangi, posted in the group that he was ready to offer free shoot for the woman and her family and also give her free wall mounts so that she could decorate her walls.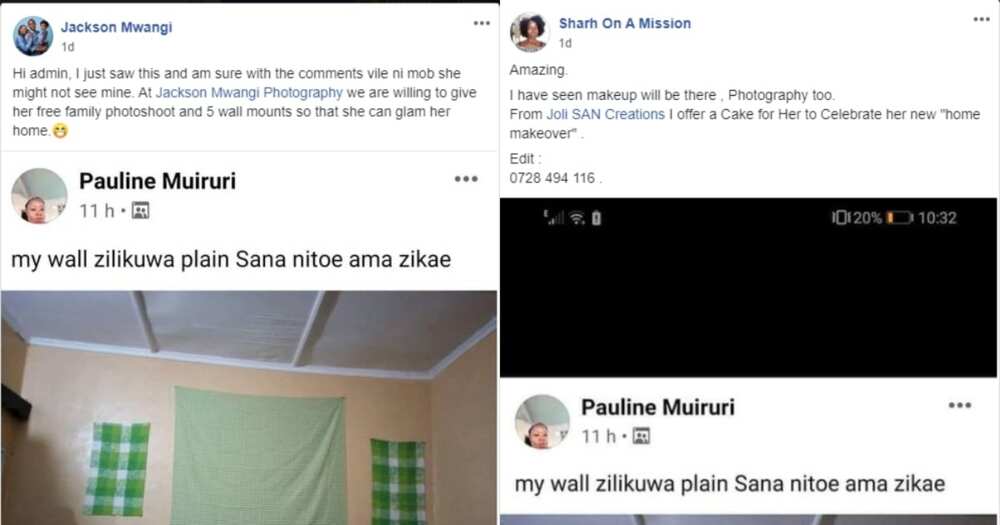 After the photographer's post, Sharh On a Mission also said she will give the woman a cake to celebrate her new home-makeover.
Shortly after, Beldina Kirito J also pledged to give her free lunch in Elegant Garden Hotel to "console her from the ridicule".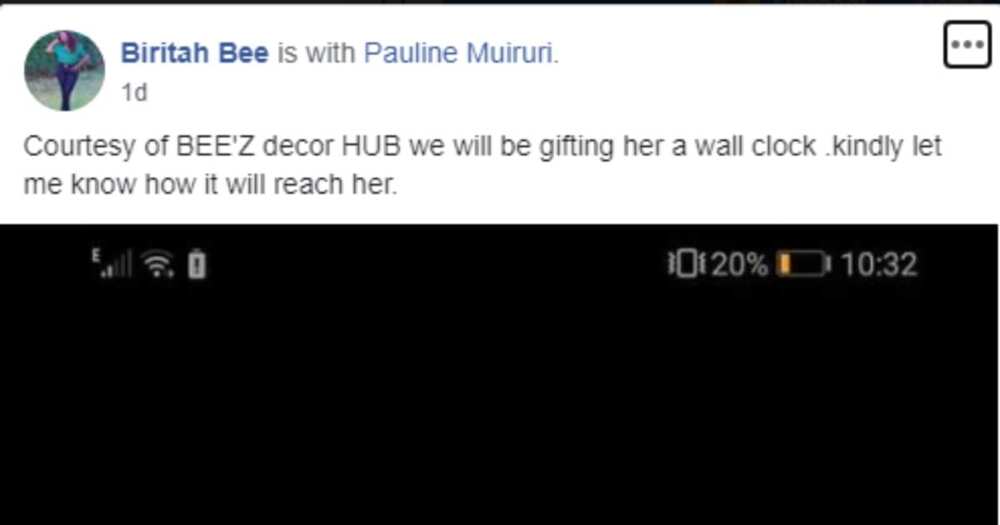 One by one, well-wishers and companies promising her shopping vouchers, luxurious doormats for her home, new African themed clothes, wall clocks, more lunch offers in huge hotels trickled in and what started out as an embarrassing situation left her basking in blessings.
Despite the blessings that have come her way, the Kilifi woman said distance is a great barrier since most of her well-wishers were based in Nairobi.
"The only problem is that most of these companies are in Nairobi while I am in Coast. I don't have the resources to finance my travel to Nairobi because coronavirus left me with no money," Muiruri said.
PAY ATTENTION: Install our latest app for Android, read the best news on Nigeria's #1 news app
She, however, said was figuring out while expressing her joy of all the blessings that have come in tow from her Facebook post.
In other news, isn't it wonderful to see the power South Africans have when they stand united? A young woman, Seluleko Qwabe, called on Mzansi for help to pay her tuition fees.
On Thursday, Qwabe detailed how she might be financially excluded from continuing her medicine studies at Wits because of the money they owe the higher education institution.
28-yr-old widow gets help after Legit.ng's report | Legit TV